Please select your dates to see prices:
---
The Leela Mumbai in Mumbai, India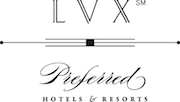 Journey through Southeast Asia and stop in one of Mumbai's finest luxury establishments, The Leela Mumbai, part of the LVX collection of Preferred Hotels & Resorts. In the heart of a bustling commercial and entertainment mecca, this property is nestled within 11 plush acres of landscaped gardens. Your urban retreat is brimming with verdant greenery and cascading waterfalls. Enjoy a hideaway while being conveniently located near popular local attractions. Renowned art galleries and downtown districts boast some of India's finest concert halls and theaters. Five notable stars awarded to The Leela Mumbai ensure dedicated service and VIP access to city happenings and events. A knowledgeable concierge will be your guide to the ins and outs of tourist attractions, business services, and leisurely pursuits.
Following a day touring the city, enjoy the added pleasure of refined amenities hand picked for each guest room. Featuring a harmonious blend of tradition and contemporary themes, neutral color palates are inviting and light filled. Spacious and airy guest rooms provide a warm and secure abode for sound sleep. Discover the hotel art gallery, acquainting yourself with national Indian aesthetics. A shopping arcade and serene spa leave little to be desired, making your hotel the ultimate travel destination.
Location of The Leela Mumbai
The Leela Mumbai
Sahar, Andheri (East)
400 059
Mumbai, India
Nearest Airport: BOM
Amenities for The Leela Mumbai
General Information
423 Guest Rooms
Dining
24-Hour Room Service
Bar & Lounge
On-Site Amenities
Beauty Salon
Spa on Property
Laundry Service
Fitness Center
Flower Shop
WiFi
Currency Exchange Service
Art Collection
Outdoor Pool
24-Hour Concierge
In-Room Amenities
Flat-Screen Televisions
Luxury Linens
Nearby
Shopping
Art Galleries
National Park
Interests
City
Culture & Arts
Hotels
Reviews for The Leela Mumbai
---
The greeting never ends when you arrive at Leela Mumbai, starting from the pickup at the airport till when I enter in the room. The most friendly staff, room always supercleaned, delicious food at any of the restaurants. Leela has an exotic atmosphere that let you feel good
vincenz0palma - Singapore, Singapore
---
Once again we spent a few memorable days at the Leela Hotel and as usual we were not disapoointed by the experience. Services provided by the Club Room staff were exemplary and the team made every effort to meet our needs. From the doormen and bell boys, to the support staff at breakfast, we were always greeted with smiling faces, by individuals who are the face of Leela and for my family and I, we have grown accustomed to seeing consistency of a standard that is competitive in all respects.
JaimeRebelo - Bandar Seri Begawan, Brunei Darussalam
---
If you are a regular guest at the Leela Mumbai one may think you will get used to their staff and service . The thing here is they never take you for granted and this is reflected in their attitude and service . In fact if you are a repeat guest , rest assured they will go out of the way to make sure you did not make the wrong decision . Tiny things which one may just leave to House keeping staff ; at Leela Mumbai will have the manager of House keeping visit you in your room with her entire staff to check whether it has be fixed and that too to your satisfaction . Apology noted and chocolates adorn your room table and flowers too. That they value the money you pay and your time shows a huge understanding of their motto Guest is God! Miss Tarannum and her wonderful staff are worthy of praise and more . Don't take my word for it ! Go stay with them and check it out .. happy holidays in Mumbai people with Leela Mumbai . Have fun !
---
The hotel has a great location. A lot of parking. Courteous hotel employees. Clean rooms. Great food to devour in, you can never go wrong with Indian foods! Fast wifi and there are more amenities! Me and my colleagues had a wonderful stay!
---
My stay at the Leela has always been very pleasant. I very much enjoy being there. From the time you get out of the car at the hotel, you are met with very warm hospitality. This is a reflection of their professional staff. I've been coming to Mumbai for the last 18 years and still, in addition to the staff's attitude, the hotel's grounds and interior have always been kept in immaculate condition. The hotel's facilities are noteworthy. The rooms are very spacious and well kept. I never have problems sleeping. The gym and spa are very modern. There are ample varieties of food, drink and ambiance offered in the resturants and bar on property. As someone who has travelled the worlds major cities since 1989, it's easy to note those who provide a service with a sense of pride in their occupation. Service is not just critical in the hotel industry, but necessary. It is this caliber of employee(s) that ensures the hotel's above mentioned areas are maintained to the high standard demanded by the serious international traveller. Would I recommend this hotel, absolutely!
Magellan747 - Atlanta, Georgia
---