Please select your dates to see prices:
---
Bayerischer Hof in Munich, Germany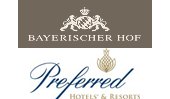 When Bayerischer Hof first opened it's doors to globetrotters in 1841, an international hospitality star was born in Munich. With a selection of 350 luxurious guest rooms, world class luxury is brought to you in the purest style. A long tradition of unparalleled service is the reputation of this internationally acclaimed Preferred Hotels & Resorts property, part of the Preferred Hotel Group. Royalty, Presidents, and superstars of the globe have been guests for centuries, allured by effortless style clad in neutral tones and elegant furnishings. Six different room styles are offered to guests, richly appointed with spa inspired washrooms. Whether watching a movie in the new cinema lounge, or toasting with pre-dinner drinks at one of six bars, Munich's finest is within reach during your European getaway.
From the center of Munich, arrive in style, walking distance to monuments, museums, and a host of restaurants. Stroll quintessential cobblestone lanes on your way to Alte Pinakothek, home to the city's most famous artwork and international collections. On a beautiful day, lounge in the Chinese Pagoda under clear blue skies at the Englischer Garte. A popular stomping ground for locals and visitors, people watching over Japanese tea, or walking in a sprawling garden is a wonderful way to enjoy the beauty of Germany.
Location of Bayerischer Hof
Bayerischer Hof
2-6 Promenadeplatz Munich
80333
Munich, Germany
Nearest Airport: FMG
Amenities for Bayerischer Hof
General Information
350 Guest Rooms
Dining
6 Restaurants
6 Bars
On-Site Amenities
Pool
Laundry Service
Live Entertainment
Limousine Service
Lounge
Theater
In-Room Amenities
Bathrobes
Direct Dial Telephones
Mini Bar
Marble Bathrooms
Luxury Linens
Luxury Bath Amenities
Activities
Excursions
Nature Walks
Sightseeing
Business
Business Center/Services
Nearby
Historic Sites
Shopping
Train Station
Art Galleries
Museums
Restaurants
Parks
Theatres
Public Transportation
Nature Reserve
Interests
Culture & Arts
Family
Reviews for Bayerischer Hof
---
Really well located in a fairly quit center city location, the sense of warm and welcoming hospitality is immediately apparent as you enter. Elegant but comfortable this is our favorite hotel in Munich, after trying some others. Very unique spa and indoor pool on the top floor (6) , high above the city;s rooftops and several outstanding dining options in the hotel. All the rooms and suites are individually decorated and no two are alike. Service is highly individualized but not intrusive.
---
Stayed there for 3 nights and have nothing to complain about. The location was perfect, the rooms very comfortable, and the shower is just so perfect. The service received, from reception to the breakfast servers were impeccable. I would definitely recommend for others to try!
---
We have stayed here before many years ago and it was interesting to see the hotel now! We came to see the Christmas Markets. We were only planning on staying a few days but because the hotel was so nice we ended up staying all week. It was so nice to come home to this hotel. We had exceptional service in every way. When we ordered room service every detail was perfect, even the cookie with the coffee. I would like to say Thank You to Toni Mertl for the exceptional welcome. We liked the traditional breakfast very much, very good selection. We did have a hard time getting coffee every morning which was weird, maybe not enough staff? We had an easy time at the rooftop spa, appointments were easy to get and well done. The spa area was a slightly slippery though. The pool is a very comfortable temperature, we were served very nice drinks there and there were plenty of towels. The steam room was not functional most days though but sauna was fine! We used this a welcome retreat at the end of the days. We went outside to the rooftop ice bar in the snowy blizzard, loved it!! Great drinks there as well and nice to come back inside to the fireplace. We had tea in the downstairs lobby many days also. That was one of our favorite things. We were really impressed with great detail that came with our teas. The selection was very nice. One small thing in the lobby was that we found it impossible to get waited on most days, maybe we were unaware how to do this. The front desk was helpful. We used the concierge several times and they were a great resource on planning our adventures. The doormen were the best and helped us carry thing around every single day. The room had good storage, the bathroom floor was heated, the beds very comfortable. We did sleep with the window open and it was perfect. We appreciated greatly how tidy the room was on our return, even our clothes were rehung and all put back together. We also loved the little chocolate turn down on the pillows. This will always be a great memory for us. Thank you for this lovely stay!
Marypak - Washington DC, District of Columbia
---
Probably, Hotel is one of the best in the Munich. It is not my first time in this hotel. Every time i choose this hotel and enjoy it. This time it was an annoying stay here. Room service was awful. My order was not ready even after an hour then when called for any information, was answered -" you need wait more, it is not our problem " even i told i can wait about 5 or 10 mins more. But it was not enough. And room service staff is not friendly! Secondly, i would like to say something about housekeeping, staff is really good! But they serve very, slowly, whatever we asked! We stayed there for 5 days, and every day the same problem! So annoyed during this stay in this hotel! Be careful when choosing hotel!
---
Stayed here for 1 night. Booked the Standard room on booking.com (as it cost 1/2 of what it would have cost booking directly on their website) and got a free upgrade to Superior upon arrival. The service at the reception was top. The room (297) was small but nice; however the furniture was FAR too big for the small room and one could hardly move... Great shower! The SPA has a nice pool, was a real disappointment. The sauna is absolutely not taken care of. Its dirty, there was a pile of at least 2 m hight of dirty towels, around the pool all beds were occupied by dirty old towels of people that had left since ages, there were glasses and plates standing around everywere; the water was always empty and the jars far too small; the floor was dangerously slippery; etc. - a hotel that makes it "roos top SPA" a main selling point really needs to do something here! The Bar on the rooftop was great and not very expensive. The best about the hotel is the perfect location.
---