Please select your dates to see prices:
---
Kivotos in Mykonos, Greece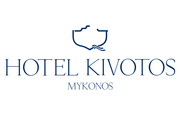 Just minutes outside the main town on the hypnotic Greek Isle of Mykonos, the alluring Kivotos resort boasts an enviable setting on the magnificent Bay of Ornos. This former private mansion, now an award-winning boutique hotel, offers 40 lovely guest rooms and suites, each individually decorated by celebrated artists local craftsman. Thoughtful amenities include marble bathrooms, modern furnishings, and scenic views. Among the hotel's two swimming pools, you will find a seawater sanctuary with underwater music - a testament to the true enchantment of the senses that Kivotos offers its distinguished guests. Experience exquisitely elegant design and style grace every touch, at Kivotos.
Mykonos is a destination known for its beautiful Cycladic architecture, picturesque windmills, and cosmopolitan nightlife. Its beaches attract travelers from around the world, but you will find a swathe to call your own on the private stretch of sand belonging to the hotel. Invigorate yourself at the water sports facility with windsurfing, canoeing and scuba diving - as Mykonos is one of the few Greek islands where diving is allowed. In town, visit the Panagia Paraportiani church, several museums, and the Alefkandra Quarter, where a sunset drink overlooking the water is a must. Back at the hotel, La Meduse restaurant serves gourmet cuisine, and the hotel's private Prince de Neufchatel yacht is available for cruises.
Amenities for Kivotos
General Information
40 Guest Rooms
Dining
Private Dining
2 Restaurants
2 Bars
24-Hour Room Service
Swim-Up Bar
On-Site Amenities
Beauty Salon
Spa on Property
Complimentary Newspaper
Laundry Service
Fitness Center
Private Beach
WiFi
High-Speed Internet Access
Valet Parking
Art Collection
Gardens
Cigar Lounge
Outdoor Whirlpool
Car Rental
Chapel
2 Outdoor Pools
24-Hour Concierge
In-Room Amenities
Turndown Service
Air Conditioning
CD Players
Hair Dryers
Mini Bar
Satellite Television
Marble Bathrooms
Flat-Screen Televisions
Whirlpool Bathtubs
Luxury Linens
Luxury Bath Amenities
Individually Designed Rooms
Activities
Bicycling
Sailing
Pilates
Scuba Diving
Snorkeling
Yoga
Billiards
Yachting
Squash
Business
Meeting Rooms
Business Services
Reviews for Kivotos
---
We stayed here with our adult children and we were all very impressed. The staff and service was outstanding. Our accomodations were wonderful with great linens and toiletries. The food was always good, whether at the pool or breakfast buffet. We would certainly stay there again if our travels took us back to Mykonos. Highly recommend.
Peggy B - Marathon, Florida
---
Expensive boutique hotel with a great view. The room size and decor was great with a nice pool and a great spot for a private dinner in the sea. The staff was also friendly. Close access to the city centre.
---
I was very careful to choose the correct hotel. I didnt want a party hotel or a hotel that played music around the pool. Mykonos is not cheap. I booked a suite. I was not impressed with our room, the bathroom was old fashioned and tiny. The room decor not great considering the cost. They played music round the pool which is a pet hate for me and i did ask for them to switch off but they didnt even when no one was really around. We resorted to sit on the small patch of private beach. However by the afternoon you can hear the music from the nearby strip of restaurants on the beach. This place was not for me. Mykonos has nothing Greek about it and is very over priced.
MartineDavis - London, United Kingdom
---
This hotel was one of the worse hotels I have ever been to Villa reeked of cat urine and cigar/cigarette odor We traveled half way around the world and were extremely disappointed to find the condition of this hotel
---
Hello readers, We are a rather demanding couple when it come to our vacation, but we are very cautious as well, because we have been deceived many times in the past by social media and booked our stay to hotels whose page in the social media did not at all correspond to reality!! This year, we decided to stay at Kivotos in Mykonos as it was fit best for our tastes and our choice could not be more right. A boutique hotel with just the right number of suites and as a result, the environment was as perfect as much as it was comfortable. The small gardens are a true ornament to the hotel. The same thing can be told about the private beach where you can enjoy your swim with tranquility as it's a beautiful bay on the island, so close to Mykonos town, but yet so far away from its hustle and bustle. Despite the fact that Kivotos has around 40 suites, it offered the exact same things we would find in a luxurious hotel complex, without the tumultuous noises of a crowded hotel. In retrospect, it was the ideal hotel for our holidays in Mykonos and as our demands were met in a perfect way we will definitely be back for summer 2018!!
Renepapa - Emirate of Dubai, United Arab Emirates
---