Please select your dates to see prices:
---
Myconian Utopia Resort in Mykonos, Greece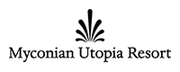 Overlooking the deep blue waters of the Aegean Sea from its commanding position 100 meters (300 feet) above famed Elia Beach in Mykonos, the Myconian Utopia Resort is one of the new crown jewels of the Myconian Collection of Luxury Hotels, Resorts and Villas and a proud member of Relais & Chateaux. Combining the breathtaking magnificence of unspoiled nature with the sophistication of contemporary design, Utopia stands out as the pinnacle of exclusive, tailor-made hospitality on the island of Mykonos.
Designed to have a "green conscience", the Myconian Utopia Resort was built utilizing environmentally friendly techniques, with each suite or villa meticulously outfitted using locally sourced and sustainable materials. Hand-cut stone, rich exotic woods and an extensive range of custom-made furnishings fuse modern opulence with traditional craftsmanship to bring you what can only be described as a sanctuary for the senses in a dream-like destination.
Location of Myconian Utopia Resort
Myconian Utopia Resort
Elia Beach
84600
Mykonos, Greece
Nearest Airport: JMK
Amenities for Myconian Utopia Resort
General Information
50 Guest Rooms
On-Site Amenities
Beauty Salon
Concierge
Pool
Spa Services
Laundry Service
Wellness Center
Butler Service
Helicopter Service
Valet Parking
Personal Shopping Service
Chauffeur Service
24-Hour Fitness Center
Complimentary WiFi
Reviews for Myconian Utopia Resort
---
We were only in Mykonos for one night on our Honeymoon. When we got to the airport the stay hold a sign outside with the hotel name on it and then check off your name and tell you which bus to get on. We were ushered straight to a breakfast buffet with champagne (our flight came in early due to the airline strike), but took us to the wrong hotel which wasn't a huge deal because the whole collection sits on the same cliff side. Once we got to Utopia it was beautiful. I loved that everything was white and had a drift wood feel. They don't put prices on drinks at the bar by the pool but they were about $12-15 which is what we'd expected. The only thing I disliked was when you arrive to check in the concierge takes you on a tour of the whole place and introduces you to all the people working in every section. Some people may like this, but my husband and I just wanted to kick our feet up and enjoy our room with an amazing view of the Aegean Sea, but instead we spent the next 30 minutes having to tell this guy how awesome his hotel was. Other than that, the staff is attentive (overly at time) and the view is breath taking. Definitely recommend if you are looking for a place to just relax. Note, if you are from the US or Florida to be exact, the water is still REALLY cold in May. Hope this helps!
U7416XEjessicap - Oviedo, Florida
---
This hotel reminds me a lot of the SLS in LA, or the Clift in San Francisco, with a Philippe Starck inspired design. As it is such a small hotel, you come to know the staff pretty quickly and get comfortable fast. It's also part of the collection of surrounding resorts, so if you start to feel a little claustrophobic, just walk down the hill a bit to another hotel and check out tons more bars and restaurants. It is pretty far from the beach though, so you'll find yourself waiting for a bus to bring you down the very steep road more than you'd like. The pool has a great vibe and a beautiful view, but do yourself a favor and book a spa treatment or two. Worth every penny.
adambarbersf - San Francisco, California
---
Great disappointment. Coming to Myconian Utopia be careful! We booked a week at this hotel. From the airport we came by car. On site for over an hour we were sent from one entry to the next entry of Myconian hotels, because the 5 star Hotel Myconian Utopia was closed! We were not warned about it! Finally we were directed to another hotel, Avaton Myconian. The first thing we were told when entering the lobby was a credit card request! When we expressed surprise that this is not the hotel we hired, the receptionist was surprised by our disappointment. We were told that Utopia was closed due to low occupancy and we would be staying at another hotel. The manager of the hotel was trying to convince us that we would stay in a better hotel, because it is the bigger, the newer, and we would get a better room. The room was ordinary. Hotel was bigger, but we did not want it. The Utopia Hotel we chose consciously. We liked the design, size, location at the top of the hill. The Avaton completely did not fit our taste. If it was possible (return flight we had bought in a week!) We would definitely give up staying at this hotel. We like to travel and always choose 5 star hotels in order to avoid unpleasant surprises. This time it did not work. Myconian hotels are not cheap. So we warn others not to forget to make sure before they arrive at Myconian if their hotel is operational. This is totally against all the standards of 5 star hotels. Myconian hotels are beautifully located. The view is great. Generally, the entire hotel complex deserves a high rating. If not a nasty incident with transferring us without warning to the hotel that did not suit us could have been pleasant. The staff at the welcome reception, especially the unbelievable explanations of Avaton's manager, deserves a lot of criticism!
---
We had a great stay at Myconian Utopia. Vasso in the Reception did a fantastic welcome for me and my friend explaining all the facility of the hotel. Our room is very comfortable and clean. The view is amazing.Plenty of choices for breakfast and very well presented. Would love to stay here again. Thank you for a short wonderful stay.
Norman Rey D - London, United Kingdom
---
Utopia exceeded my expectations. The hotel was gorgeous, the views breathtaking and the staff helpful and efficient. Perfect not to be in the chaos of Mykonos Town and enjoying the surroundings of Elia beach.
---