Please select your dates to see prices:
---
Grand Hotel Parker's in Naples, Italy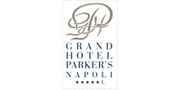 The stunning façade of the Grand Hotel Parker's looks exactly as it might have 100 years ago, when it was first purchased by George Parker Bidder: elegant and stately alongside a busy Neapolitan street. Inside, Italy's past is proudly displayed in a private collection of artful masterpieces that embrace the history, culture, and tradition of Naples. Sophisticated, stylish décor fills the parquet-floored lobby and continues into the spacious rooms, palatial suites, and elegantly appointed common areas. Dark, bold furniture stands in calming contrast to the soft, neutral tones of the walls and linens, creating a romantic harmony in each living space. Rooms include air conditioning, heating, a safe, minibar, television, and curtains designed by local artisans that adorn windows framing dramatic views of the city or the sea.
Taste the best Naples has to offer without ever leaving the hotel. The delectable menu at George's will leave you saying "delicioso," while the city's first champagneria, Champagnery finds its home at Grand Hotel Parker's and delights taste buds with vibrant champagnes and brilliant appetizers. Bidder's Bar & Cigar Room on the 6th floor of the hotel boasts panoramic views of the city, and an established, yet relaxed vibe. Wellness Center Day Light, the hotel's spa and fitness center, re-opening on October 30, 2012, offers a comprehensive catalogue of spa services and the latest gym equipment to help guests revive their physical bodies and rejuvenate weary minds. Naples, home to the American Cup World Series event in 2012, and again in 2013 has its own exciting array of events and attractions, including the Royal Palace, San Severo's Chapel, and the National Archaeological Museum, all just minutes from the hotel. Grand Hotel Parker's includes everything that comes to mind when visualizing a European getaway: romance, fine wine, art, and incomparable luxury.
Location of Grand Hotel Parker's
Grand Hotel Parker's
Corso Vittorio Emanuele 135
80121
Naples, Italy
Nearest Airport: NAP
Amenities for Grand Hotel Parker's
General Information
23 Rooms and Suites
Pet Amenities
Pet Friendly
Dining
Restaurant
Bar
Champagne Bar
On-Site Amenities
Beauty Salon
Spa on Property
Library
Fitness Center
Sauna
Solarium
Bicycle Rental
Art Collection
Limousine Service
Cigar Lounge
Car Rental
Elevator
24-Hour Concierge
Complimentary WiFi
In-Room Amenities
Air Conditioning
Direct Dial Telephones
Hair Dryers
In-Room Safes
Mini Bar
Televisions
Marble Bathrooms
Luxury Linens
Work Desks
Bathrobes & Slippers
Activities
Excursions
Cultural Tours
Business
Business Center/Services
Meeting Rooms
Conference Facilities
Nearby
Historic Sites
Art Galleries
Museums
Antique Shopping
Theatres
Public Transportation
Monuments
Vineyards
Interests
Culture & Arts
Spa & Wellness
Reviews for Grand Hotel Parker's
---
Given a very warm welcome on arrival . Had a standard room on the 2nd floor which was fine . All clean and comfortable . Reception staff efficient and helped with confirming our pre booked trips and advice given on local taxi costs . Bar and restaurant staff all very friendly and helpful particularly Franco . Enjoyed a dinner in the restaurant and the service was excellent . Probably the best in any hotel we have had . Would definately stay there again
nikrugbynut - Ipswich, United Kingdom
---
Historical setting with great views. Quality surroundings, comfort and service. Our holiday was made exceptional by the people's attitude towards helping us to enjoy our stay. Nothing was too much trouble and was done with genuine warmth.
MalcolmNewson - Ipswich, United Kingdom
---
I stayed in a recently refurbished room, with a small balcony overlooking the bay. Great view and worth paying extra.There is quite a lot of traffic noise if window open( 2 nd floor).fine when shut. The shower screen was too small, so the floor flooded when shower in use, but these were minor issues.The staff could not have been more friendly or helpful. its a short walk to the metro (5-10 mins)from the hotel, with quick access from there to sites in naples and the central station with trains to pompeii and the amalfi coast. you do have to walk down 2 flights of fairly steep steps to get to the metro road . Never felt unsafe in the area, all the locals were lovely. would definitely stay again.
shaque345 - Greater London, United Kingdom
---
... so far and so quick you can!!! The staff is a liar's band! We booked a superior sea view room... When we arrived at the hotel, the staff was really kind and welcoming. They told us that as we were special guests (only fawning...) they offered us a dinner at the restaurant. Then, we went to the room... which was first floor with an amazing view on the... aircon and courtyard!!! A shame!!! They are not brave enough to say us that our room was not available and that's why they offered us a dinner at the restaurant. They probably think that we are stupid people who will trust them... We didn't get to the restaurant of course. We felt simply offended... Most of all, the room was poorly furnished with old equipped bathroom. The receptionist told us that we have a newly refurbished room... I don't want to know what the others rooms look like!!! I'm a french hotel general manager. I tried at first to have some apologies from the hotel or Very Chic (The agency we booked through) but neither of them care about their guests... a shame... The only answer we had is that we refused the dinner... Indeed, I don't like being taken for a fool!!! Liar's band!!! Have a look on our pictures... Housekeeping staff should improve their cleaning work, we found some hairs in the shower... disgusting!!! I've forgotten the best! They had a special attention for us... When we came back to the room, we found... 3 apples...
---
This hotel is one of the best I've ever stayed in, and I have been in many around the world. View from the room is extraordinary and it's definitely worth that extra money to get a room with a sea view. Facilities in the room exceeded all my expectations, and a complimentary evening drink, including bottle of wine, water and juices, together with regional sweet pastries served to our room was a really nice surprise. Breakfast was also faultless with variety of choices, from cooked breakfast to amazing Italian cakes. The best of all was that staff working at the reception who made our stay unforgettable. The attention to detail and care for the guests they demonstrated really made such a difference. And yes, the restaurant on the top floor with a balcony was closed for renovation, but the view from the room was equally as good. And I think that the price that hotel charges for the room has been reduced since renovation, which can only be a good thing. On top of that, the hotel tried to compensate for this throughout our stay with small acts of care and attention so we really did not feel we missed out on something.
Marija_Zaric - Plympton, United Kingdom
---