Please select your dates to see prices:
---
The Leela Palace New Delhi in New Delhi, India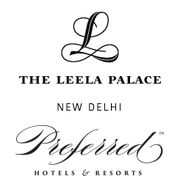 Located in the diplomatic enclave of a global capitol, The Leela Palace New Delhi presents travelers with unprecedented luxury in a sprawling metropolis. Among the finest in India, experience New Delhi at it's best, from the same neighborhood as the Presidential Palace, Prime Minister's Office, and international embassies. Guest rooms are large, providing state of the art technology and amenities, boasting a minimum 550 square feet. Hand picked design elements cover opulent guest quarters, fit with flat screen televisions, designer linens, and spa inspired bathrooms. From within the walls of your North Indian Palace, anything is made possible by the helpful concierge. Grace and elegance represent each hotel feature, exuding peaceful serenity in spa and recreational facilities. Travel to a distant land, while maintaining your routine at the fitness center, and indulging in a harmonious spa treatment.
Whether overlooking the city from a rooftop terrace, or coasting the streets in a luxury car during a city tour, each part of your stay will be taken into great consideration. As part of the Legend collection of Preferred Hotels & Resorts, high standards are effortlessly executed throughout the resort. Delight on international cuisine for breakfast, lunch, and dinner; where 3 exclusive restaurants offer globetrotters a taste of India and European favorites. Since a groundbreaking opening in 2011, The Leela Palace New Delhi is paving the way to a new age of superb hospitality in India.
Location of The Leela Palace New Delhi
The Leela Palace New Delhi
Chanakyapuri Diplomatic Enclave
110023
New Delhi, India
Nearest Airport: DEL
Amenities for The Leela Palace New Delhi
General Information
260 Guest Rooms and Suites
Dining
3 Restaurants
3 Bars
Pool Wait Service
On-Site Amenities
Concierge
Spa on Property
Fitness Center
Boutiques
Butler Service
Pool Butler
Panoramic Lounge
Gardens
Rooftop Terrace
Lounge
Outdoor Pools
In-Room Amenities
Air Conditioning
Bathrobes
In-Room Safes
Televisions
Marble Bathrooms
Luxury Linens
Luxury Bath Amenities
Activities
Sightseeing
City Tours
Business
Business Center/Services
Family
Babysitting
Children's Amenities
Nearby
Historic Sites
Shopping
Museums
Restaurants
Shopping Mall
Nature Reserve
Interests
City
Culture & Arts
Reviews for The Leela Palace New Delhi
---
Well what a lovely hotel the food and staff were lovely very attentive . We had a lovely A Anniversary meal followed by a surprise cake which was really light and tasty. We would definitely go back to this hotel the ambience was lovely and friendly perhaps for my silver wedding
mary b - Worcester, United Kingdom
---
What can we say absolutely mesmerised but this amazing hotel we stayed 4 nights. From the minute we arrived at Delhi airport the staff just took over which was welcomed so much considered we had a long flight from London. they also took us out the VIP exit where a car was waiting. X5 BMW (although according to UK standards is a X3) We were greeted by one the attendees was Manjinder Singh upon arrival, even the kids were chatting with him. We were then given garlands and taken straight to our room which was nice so we could relax. Throughout our day trips we were chauffeured around by Nishaan Singh, I have to say he was a really gem and advising us on the best places to go to, understood our needs and drove very smoothly. I was very anxious about driving in India but he was driving very safe and we felt comfortable. Nishaan drove us to Agra for a day trip too. In addition he drove us to the gurdware (Sikh temples in Delhi) we got stuck in Chandani Chowk which took around 1.5 hour to drive 0.5Mile however he was very calm. Overall delightful to talk to too, thank you Nishaan Singh. also the concierge staff were so helpful and special thanks to Saurabh and Varun who had helped plan this trip with me for the past few months. I had emailed around 50 times. The hotel was sheer luxury but of course everything comes at a price. the taxi's even though they have a bmw fleet I thought were very over priced, but for safety reasons we stuck to the hotel fleet. the hotel staff also arranged for a take away breakfast for the days we started early. The restaurant staff were amazing, I think the guy the kids use to speak to was Pradeep.. but I cant be sure. The food was exceptional and we enjoyed every meal. Also special thanks to Gurcharan and JAsdeep too... there are lots of names I simply cant remember The spa was amazing, the infinity pool was nice too.. overall ambience was amazing. Friendly staff and very attentive to our needs. I hope to come back soon. Highly recommend definitely book.
Harvi2 - London, United Kingdom
---
The Leela Palace Hotel is pretty much faultless. We booked the Royal Club room for 2 nights with a rate that included airport pickup, as it was our first time in India and didn't want to deal with negotiating taxis to our hotel. As soon as we arrived at New Delhi airport the hotel person was awaiting us and he walked us to the BMW car and driver, it was very well organised and the driver was very professional including free car WiFi and water. After 30 min we arrived at the hotel and luckily our room was ready, it was only 09:30am but the hotel was quite so this was much appreciated after a 13 hour flight. As soon as we arrived we were greeted personally and given a traditional Indian welcome and checked in inside our room, the lady ordered us coffee to the room and nothing was too much trouble. The room was lovely big comfy bed, Nespresso machine, great bath and housekeeping staff perfect daily turndown service is a bonus. We also used the gym which was well equipped and quiet. After a few hours sleep we went up to the terrace pool, which was fantastic the staff were very attentive and we were given a wicker hamper that included a cool box with bottled water, 2 glasses of fresh lemonade, cold towels & newspaper. The lemonade was delicious, we ordered food by the pool which was lovely the staff recommended the Indian wraps so we had one chicken & one Paneer both lovely and the portions were huge! We then left the pool to get ready for our food tour that evening. Day 2 we were up early to go and explore Delhi, we had breakfast in the Qube restaurant as we thought it would have more choices than the club lounge. Breakfast was excellent lots of choices western, Asian and Indian foods which all looked good, lovely fresh bread although they do need a new bread knife! We then went out on our tour and the hotel called a licensed taxi for us and helped to tell us exactly how much it would be. When we returned from our tour we ate lunch in the club lounge around 1:30pm there was a good selection including salads, curries and deserts, the paneer curry was spot on. We then had a pool afternoon again again faultless thank you to Deepak & Deepak whose service was 5 star. Later that evening we went to the club lounge for drinks before our meal at Jamavar, which compared to the rest of the hotel was a little disappointing & overpriced (I'll review separate). We had a very early checkout from the hotel to catch the 6am train to Agra, the hotel driver was arranged and drove us to New Delhi station he told us the platform number which helped and the train was very easy to find. The hotel also prepared us a breakfast box which was lovely it had a croissant, muffin, fruit, apple juice & a Greek yogurt. The only fault I have is the hotel is the location it is far from most sights which is fine when leaving the hotel but negotiating taxis back is a pain, rough cost between 400-500 rupees to Connaught Place which is where most of our tours started. However another guest we met said they had hired a driver for the day to take them places, you call when ready and they pick you up. I think that was $25 USD which I would look into next time. One other small thing is we thought it was a little overpriced for drinks (500 rupees for kingfisher) & food in the hotel, especially as Jamavar wasn't great (approx £130 for 2 courses and 3 beers plus 1 g&t) which is pricey in India! If I'm ever in New Delhi again I will definitely be staying at The Leela Palace and recommend to anyone!
RamsdenFoots - London, United Kingdom
---
We stayed for a couple of nights in a Royal club parlour. We got a sense of the luxury and attention awaiting us right from the airport pickup in a BMW 5 series accompanied by a well trained chauffeur. The traditional Indian style welcome was quickly followed by the check-in process in our room. The room was huge, at least 700 square feet in size with an equally impressive bath room equipped with a tub, mirror TV with spa music and rain shower. Frankly speaking we didn't realize how the next two days just flew past as we were pampered by the staff at the Royal club lounge, the Indian Jamawar and the all-day dining Qube. We were so impressed that not only have we decided that the palace in New Delhi will be always our choice when we visit the capital but also we booked a vacation at the palace in Udaipur. Overall, I have only one thing to say: I think this hotel has spoiled me with their luxury and attention to detail, so much that I may find most of the other hotels inadequate.
Sandeep T - Mumbai, Maharashtra, India
---
During our special birthday trip of India we stayed in some wonderful hotels. Although the Leela Palace doesn't have the wonderful views of the Taj Mahal from the rooms that the Oberoi Amarvilas Agra does, it doesn't have the small boutique feel and tented rooms of the Oberoi Vanyavilas in Ranthambore with the lovely grounds, it's not set beautifully on a lake as the Taj Lake Palace is ..... but ..... the Leela in Dehli was still my favourite hotel of our trip by a long way. On arrival to our room we were given a lovely birthday cake and as we were on a special birthday trip of India this was definitely a nice touch and much appreciated. Our room was so comfortable and lacked nothing at all - we loved the pillow menu. The spa was just amazing and we had some of the best treatments of our trip there. Taxis to and from the airport were easy and affordable with nice drivers. We loved the food at the restaurants and our favourite was Qube and also breakfast had such a superb choice of everything you could possibly want. The staff were outstandingly friendly, professional and helpful. The grounds and interiors of the hotel are beautiful and a joy to wander around. Loved our afternoon at the 11th Floor pool with a picnic basket with ice and water - perfect. And lastly, reserved on booking.com it was amazing value for the money we paid. Would return and stay here in a heartbeat.
GilJackieG - Falkirk, United Kingdom
---