Please select your dates to see prices:
---
The Leela Palace New Delhi in New Delhi, India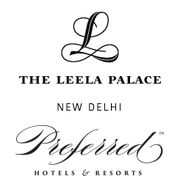 Located in the diplomatic enclave of a global capitol, The Leela Palace New Delhi presents travelers with unprecedented luxury in a sprawling metropolis. Among the finest in India, experience New Delhi at it's best, from the same neighborhood as the Presidential Palace, Prime Minister's Office, and international embassies. Guest rooms are large, providing state of the art technology and amenities, boasting a minimum 550 square feet. Hand picked design elements cover opulent guest quarters, fit with flat screen televisions, designer linens, and spa inspired bathrooms. From within the walls of your North Indian Palace, anything is made possible by the helpful concierge. Grace and elegance represent each hotel feature, exuding peaceful serenity in spa and recreational facilities. Travel to a distant land, while maintaining your routine at the fitness center, and indulging in a harmonious spa treatment.
Whether overlooking the city from a rooftop terrace, or coasting the streets in a luxury car during a city tour, each part of your stay will be taken into great consideration. As part of the Legend collection of Preferred Hotels & Resorts, high standards are effortlessly executed throughout the resort. Delight on international cuisine for breakfast, lunch, and dinner; where 3 exclusive restaurants offer globetrotters a taste of India and European favorites. Since a groundbreaking opening in 2011, The Leela Palace New Delhi is paving the way to a new age of superb hospitality in India.
Location of The Leela Palace New Delhi
The Leela Palace New Delhi
Chanakyapuri Diplomatic Enclave
110023
New Delhi, India
Nearest Airport: DEL
Amenities for The Leela Palace New Delhi
General Information
260 Guest Rooms and Suites
Dining
3 Restaurants
3 Bars
Pool Wait Service
On-Site Amenities
Concierge
Spa on Property
Fitness Center
Boutiques
Butler Service
Pool Butler
Panoramic Lounge
Gardens
Rooftop Terrace
Lounge
Outdoor Pools
In-Room Amenities
Air Conditioning
Bathrobes
In-Room Safes
Televisions
Marble Bathrooms
Luxury Linens
Luxury Bath Amenities
Activities
Sightseeing
City Tours
Business
Business Center/Services
Family
Babysitting
Children's Amenities
Nearby
Historic Sites
Shopping
Museums
Restaurants
Shopping Mall
Nature Reserve
Interests
City
Culture & Arts
Reviews for The Leela Palace New Delhi
---
I spent two nights at this hotel. It was lovely and the rooms were spacious and nicely laid out. But they were nothing to write home about. I found the service to be somewhat sporadic. For example, it took me about 25 minutes to simply check in to the hotel. This is a 5 star hotel in India; you don't walk up the desk and register. They seat you in the lobby and come to you. My guide, who was there to make sure I got checked in, had to go over to the twice to find out what the delay was. I ate in their upscale Indian restaurant for dinner. The food was very good but not at good as I had had elsewhere in similar establishments. While I had two separate waiters deliver the same hot towel at the end of the meal, it took me a good 15 minutes to get someone to give me a check at the end of the meal.. The bar was the similar. Lovely venue and the service depended on the staff; the more senior people were paying attention but the younger people required a bit of flagging down for service. This hotel fell short of other 5 star hotels in India.
Console D - Skillman, United States
---
We were not in the lobby but outside and had tea it was very delightful experience though the tea was a little cold but the cookies were good ,it is nice to spend some time here.... over a cup of tea and with friends
Shalu2127 - New Delhi, India
---
Beautiful rooftop pool, great spa and furnishings/atmosphere. We had a better time and enjoyed the JW Marriott Aerocity for much less money, and it was worth the drive in/out of the city over the Leela palace. Our biggest complaint would be that it is overpriced and we were frustrated at the end by being overcharged from what was communicated to us by the restaurant. Definition of complimentary: 'Äúgiven or supplied free of charge'ÄĚ We booked the hotel with an Amex Platinum card where we paid extra money for a 'ÄúA complimentary dinner, for two people per room, excluding alcoholic beverages, taxes and gratuities, once during your stay'ÄĚ. We knew the Amex deals usually only apply for a $100 Credit, and asked if we could just order something from the regular menu up to $100. They said no. They only gave us one option, and that was to order the set menu (around $100/person). We both made it clear to ask for only the menu that applied to our offer, and that we were there for the 'Äúcomplimentary dinner for two'ÄĚ. They said they understood and that it was what the menu was for, and that the meals would be complimentary. They stated the bill we signed was only to acknowledge our order with discounts being applied at check-out. It was a menu with only two options, Veg&Non-Veg. Despite over-communicating that it was all complimentary with exceptions to tax, alcohol, and gratuity. They still only comped part of it, and still charged us over $100usd for a 'Äúcomplimentary meal for 2 that is valued much less elsewhere for 2 even after our 'Äúdiscount'ÄĚ. Absolute rip-off and would not recommend this place. The food was good, but not even close to what we would ever pay for such a meal having eaten at much better restaurants elsewhere in 5-star hotels in Delhi for much less. They did not even try to resolve the issue with us, and said to take it up with Amex even though their restaurant told us our meals were complimentary through the deal giving that as he only option with no other solutions. Absolutely misleading when you say one thing and then do another.
jrsq39 - Winter Park, Florida
---
We stayed for two nights as part of our 25th wedding anniversary trip to India. This hotel is stunningly beautiful, and the service is amazing. Nothing was a problem and we were surprised with a happy anniversary cake on arrival and another after dinner on our final night. I have traveled extensively across the world and I think staff in Indian hotels are the best anywhere. The food at The Leela Palace restaurants is excellent and the breakfast (we included it in our booking) is superb and sets up well for a day out sightseeing. Delhi is such an intense and busy place, we appreciated the calm and quality of The Leela Palace to return 'Äėhome'Äô to after each outing. The rooftop infinity pool is stunning and is also great for views of the area a d went up for some photos at night. I highly recommend The Leela Palace and booking well in advance and pre paying I got really good rates for what is clearly one of, if not the best hotel in Delhi.
---
Well what a lovely hotel the food and staff were lovely very attentive . We had a lovely A Anniversary meal followed by a surprise cake which was really light and tasty. We would definitely go back to this hotel the ambience was lovely and friendly perhaps for my silver wedding
mary b - Worcester, United Kingdom
---