Please select your dates to see prices:
---
W New Orleans-French Quarter in New Orleans, Louisiana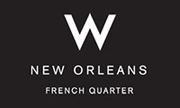 Embodying the sensuous spirit of the city it inhabits, W New Orleans - French Quarter is the ultimate luxury crash pad. The names of the accommodations say it all: Wonderful, Spectacular, Mega and Wow. Your sentiments exactly as you check out your in-room gumball machine, indulge in the signature Bliss Sinkside Six or see and be seen at the illuminated outdoor pool, surrounded by gothic cast-iron gates. Because all the senses deserve to feast, Bacco boasts Venetian chandeliers, ethereal aerial angels and contemporary Italian cuisine.
New Orleans purrs with nightlife, beginning in the sexy outdoor courtyard of the W Living Room. In this setting adjacent to historic Jackson Square, you're also just a short walk from lively Bourbon Street and Riverwalk. Whether you're into art galleries, boutique shopping or tempting Lady Luck at the blackjack table, you'll find satisfaction within strolling distance. Farther out, Big Easy pastimes range from Garden District tours to classes at the New Orleans School of Cooking to a scenic ride on the steamboat Natchez.
Location of W New Orleans-French Quarter
W New Orleans-French Quarter
316 Chartres Street
70130
New Orleans, Louisiana
Nearest Airport: MSY
Amenities for W New Orleans-French Quarter
General Information
104 Guest Rooms
Reviews for W New Orleans-French Quarter
---
R. Bray - Not enough characters to type how AMAZING THIS TEAM IS! Shawn/Frankie/Sara/Sarah/Debbie/Nene/Hunter. These people WENT ABOVE AND BEYOND FOR MY business trip.NEVER had service of this caliber EVER. #OBSESSED EVERYONE involved from my arrival to my departure and my constant return because the level of service and overall spirit of these individuals had me returning daily just to eat and drink and chat. This is the hotel and staff you want when you travel for business because it tends to get hectic at times and THIS GROUP knows exactly what a business travel needs and requires. Will stay here EVERY TIME I AM IN NOLA. Will drink Hunter's beverages from the bar...Will demand service from NeNE at SOBU. Gotta have Frankie/Shawn/Sara-X2 for conversation any day. The meaning of a GREAT HOTEL STARTS AND ENDS HERE! THANKS EVERYONE IF I FORGOT ANYONE I'LL BE BACK AND WILL REMEMBER YOUR NAMES AND THANK YOU IN PERSON.#MOST MEMORABLE STAY of MY LIFE!!!!
---
We spent one night at the W, and stayed in a spectacular 2 Queen room. Charming little property that has more of an off-brand feel -- the W touches are still there, but the property definitely has some more local flavor than others I've stayed at previously. Rooms were clean with great voodoo and jazz touches. The courtyard was particularly nice for lounging in the morning and the evenings (we brought vieux carres out from the bar at SoBou and enjoyed relaxing by the fire) . I was worried our room might be too loud because it faced out towards the courtyard, but we slept great. Would definitely stay again.
Sammy_Snakes_415 - New York City, New York
---
Stayed here for a work trip, was able to enjoy walking around being so centrally located. Best of all the Miss Debbie, Kym and all of the staff were so helpful- everyone in our party was treated extremely well and made to feel at home. The amenities were great and our stay was so good that we already have returned and stayed there again. Highly recommended to anyone wanting to explore the city!
RHummingbird - Brooklyn, New York
---
Very clean and easy to get to alot of places. One block from Bourbon Street and trolly lines. River walk is close. Sobu Restaurant in the hotel has good food. Rooms are small but in good shape and check out the 3rd floor which is the Voodoo floor.
JPZ69 - Palm Coast, Florida
---
We had a great experience with this hotel this past weekend. We checked in around 5-6pm and they said the system said our room had not been cleaned but they didn't think that was accurate so they gave us a card to use at their restaurant SoBou while they were checking on that. They found us less than 5 minutes later and told us our room was ready and had already sent our bags up. I'll take a (surprisingly hefty) restaurant voucher for 5 minutes of patience any day. You had to use the voucher all at once so we actually came back later in the weekend and enjoyed a great meal and drinks at the bar with their friendly bartenders. Our room was fun/funky and overlooked Chartres street. With the windows closed, it was surprisingly quite but it was enjoyable to have them open and listen to New Orleans and watch random parades. Surprisingly, doors slamming closing in the hallway were much louder than anything outside and did frequently wake us up. The location was perfect. We walked to all of our French Quarter food reservations and largely just wandered around popping in and out of shops. My only complaint about our stay (and this is for every W I've stayed in so I'm not taking off stars for this hotel in particular) is that the bathroom is enclosed in frosted glass so there's no sound barrier and the all glass and tile interior really amplifies sounds. Which is generally not what you want when you're sharing a room with someone. And oddly, no bathroom fan to help block said sounds. You can also definitely easily see through the frosted glass if someone is wearing clothes or not. I'm not an overly modest person so that did not particularly bother me but I wouldn't necessarily recommend this hotel (or a W in general) if the bathroom situation would bother you. The front desk staff really kicked off our weekend (they were so nice and helpful and honestly just fun) in the best way and continued to be great throughout every interaction. Ws are not my first choice depending on who I am traveling with because of the bathroom situation but I did thoroughly enjoy my experience at this one!
Scotti C - Charleston, South Carolina
---