Please select your dates to see prices:
---
Baccarat Hotel & Residences New York in New York City, New York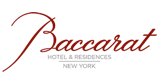 Baccarat Hotel & Residences New York provides guests with limitless luxury while in New York. GUESTROOMS & SUITES offer a prolonged respite from the city. Resting in bed or reading on a chaise - surrounded by the simple yet pristine. Ethereal at daybreak and halo gold at dusk, each accommodation is a celebration of contemporary design, styled with a nod to French tradition.
For our guests dining pleasure, we present: The GRAND SALON, where drinks and dining complement social exchanges beneath a 64-arm Baccarat chandelier. The BAR takes its visual cues from great American long bars of decades past. Baccarat Hotel New York is delighted to offer guests, residents and visitors a unique immersion in the fine art of AFTERNOON TEA in exclusive partnership with Mariage Frères. Enjoy specialty blends of tea brewed by our Tea Sommelier paired with chef-selected canapés and petit fours. The PETIT SALON features a more intimate venue for guests to engage in conversation, featuring selections from our wine list, cocktail and dining menus - including coffee or tea. Our very own Spa de La Mer is a marriage of luxury and tranquility, which lavishly captures the healing energies of the sea and sound, through touch, to create a unique sense of well-being.
Location of Baccarat Hotel & Residences New York
Baccarat Hotel & Residences New York
28 West 53rd Street
10019
New York City, New York
Nearest Airport: LGA, EWR
Amenities for Baccarat Hotel & Residences New York
On-Site Amenities
Pool
Spa Services
Activities
Cultural Tours
Sightseeing
City Tours
Nearby
Historic Sites
Shopping
Train Station
Art Galleries
Museums
Restaurants
Nightlife
Parks
Theatres
Public Transportation
Interests
City
Spa & Wellness
Reviews for Baccarat Hotel & Residences New York
---
We wanted to stay here to have the experience, which whilst wasnt bad, just wasnt exceptional in any way, which it really should be for the premium one pays to stay here. The bed was comfy, linens quality, view was just of other buildings on the street. The breakfast area was nice, entrance lobby interesting, although security stopping people due to the busy in house bar got tiresome after a couple of days. The room wasnt very large for USD 1500 a night, the bathroom had only a single sink which was not expected, although the wet area with shower and bath was nice, and a toilet with a door good when staying with company. Good to see a HDMI cable hanging out of the built in TV so one could use ones own media, a pleasant change as often an irritation for me when travelling. It didnt really work for me Im afraid, and I felt a little cheated by the whole experience as it just wasnt really how it looked online, and certainly the experience did not live up to expectations, and at double the average high end hotel price, even with the beautiful people we saw hanging it, it wont be something we'll be repeating.
RichardUpshall - Dubai, United Arab Emirates
---
The room and the overall feel of the hotel is beautiful and elegant - my wife was very impressed with this visit to NYC. We had a fantastic dinner in the lounge - Matthew the Wine Director was extremely knowledgeable about their wines and great to talk to. Cannot wait to return to this hotel!
---
I booked a 2 nights hotel via AMEX FHR, the reception service was very fast, the hotel is really nicely decorated, all the hotel is crystal. The hotel spa is excellent and the best products there are in the world! The hotel is new and they have to make a change about the service but the hotel is worth the price. The hotel has upgraded the room to a free suite. You can order food for the hotel's pool, a really good breakfast. I want to mention Rafael, a shift manager who treated me at a very high level, taking care of me personally. Those who come to the city must visit a hotel.
MrNirY - Tel Aviv, Israel
---
The hotel is new very good service the spa looks amazing the suite is very stylish The breakfast is ok The bar and the concierge the best The location very good Love this place Is feeling like home small luxury hotel
---
We struggled to decide on a hotel for our anniversary trip -- we wanted midtown, close walk/cab to the theater district, near great shopping, and decidedly high end/ luxury. We had previously stayed at the Peninsula and been underwhelmed and decided to try Baccarat. Wow! We loved the décor, intimate size and beautiful amenities. We also utilized the spa -- small but lovely. We could not believe how friendly and accommodating ALL of the employees were, from the front desk to bellman, to salon to bar. No attitude and wonderful--when do you find that in NYC? My only comment is that when we returned from our show on Saturday night (at 11:20) we were told we could not sit in the Grand Salon for drinks as it closed at midnight! (We were not allowed in even when we told them we promised to be out by midnight). No luck. I would have liked that to be open a little longer on a Saturday night (it was full of people, so the demand seemed evident). We did love the hotel bar and the staff was gracious in managing the crowd. Drinks were fabulous and the crystal was such an amazing plus. Overall, we loved the room and the bathroom/shower was luxurious. We would stay at the Baccarat again!
michfromdc - Washington, DC
---