Please select your dates to see prices:
---
The Dominick Hotel in New York City, New York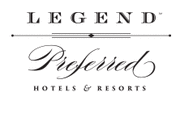 The Dominick, part of the Legend collection of Preferred Hotels & Resorts, is the gateway to downtown New York and everything it has to offer. Near Tribeca, Soho and the West Village, you'll find celebrated art galleries, award-winning restaurants, famed boutiques and exciting nightlife just steps away. If you're in town for business, the Dominick is close to Wall Street and Hudson Square's creative and design agencies. The hotel's two-story lobby is filled with exquisite woodwork that takes inspiration from the charming, historic neighborhoods that surround it and gives an aesthetic nod to the clean, natural lines of Mid-Century Modernism.
With farm-to-table menus and inventive cocktails, The Dominick is a must-visit destination for fine food and drink in Manhattan. Breakfast, lunch, and dinner service is elevated with artisanal menus filled with the best seasonal ingredients available. The cocktail bar, Mr. Jones, specializes in handcrafted cocktails and delicious small plates served in a space that gives tribute to early '60s Americana. In addition, our 24-hour in-room dining menus are extensive and include deliciously healthy, gluten-free and vegetarian options.
Location of The Dominick Hotel
The Dominick Hotel
246 Spring Street
10013
New York City, New York
Nearest Airport: LGA, JFK
Amenities for The Dominick Hotel
Dining
Restaurant
24-Hour Room Service
Cafe
On-Site Amenities
Beauty Salon
Concierge
Spa on Property
Laundry Service
Fitness Center
WiFi
Valet Parking
Hamam
Outdoor Pool
In-Room Amenities
DVD Players
Mini Bar
Marble Bathrooms
Flat-Screen Televisions
Luxury Linens
Luxury Bath Amenities
Floor-to-Ceiling Windows
Business
Business Center/Services
Meeting Rooms
Family
Cribs
Babysitting
Kids Club
Children's Menus
Strollers
Nearby
Shopping
Art Galleries
Museums
Restaurants
Nightlife
Parks
Theatres
Public Transportation
Interests
City
Culture & Arts
Educational
Family
Kids' Club
Reviews for The Dominick Hotel
---
The Dominick is well located between Soho and Tribeca within easy walking distance to all of the shops in Soho. The public spaces are nice and the rooms are well equipped with comfy beds, very nicely appointed bathrooms and fantastic showers. There was also a coffee maker and a good selection of TV channels. I also had an excellent manicure by Maria in the spa which was reasonably priced. There is an Ok restaurant in the hotel open all day.
shellesey - Monte-Carlo, Monaco
---
The Dominick (formally a Trump hotel) is a well appointed hotel that is in a trendy part of Manhattan. The rooms are well appointed with HUGE bathrooms considering this is a Manhattan hotel. The beds are very soft which I am not a fan of but overall the rooms are nice, well appointed and clean. My standard room had a sink, Nespresso machine and fridge as well as the standard stuff like a desk, sofa and plasma TV. The hotel has great views and a small rooftop swimming pool (closed when I visited). The meeting space was ok but the ballroom is very long and thin so not a great space as one big meeting room. The gym is well appointed but only has one exercise bike which I found frustrating. Breakfast prices were eye watering but the food was good. Overall a nice hotel in an interesting part of town.
---
As expected, the Dominick staff provided excellent service, from start to finish. Our room on 37 floor was outstanding, we could never tire of the superb view every morning and evening! Only a few minutes walk to subway, close to Soho shopping. The room standards were good. A quick call to services for new firmer pillows and we slept soundly every night. Floor to ceiling windows allowed for a great view and automatic operated curtain close/opening were 'swish'! Felt very spoilt as our bathroom had another impressive view from the tub too! It was my son's birthday while in NY and after a quick chat, the staff provided a great 'birthday' surprise ....a perfect Instagram image for DS...!
G-whizz_2003 - London, United Kingdom
---
I am giving this 4 stars because the room and views were great. The staff was great. There were some quirks but I am not sure the hotel is responsible for. We stayed and had a city view that was great especially when soaking in the tub or sitting on the sofa The bathroom was huge with large soaking tub, 2 sinks. but no door from bedroom to it. Had frosted glass to stall shower and toilet stall. Fine for couple but minimal privacy if it is not a couple. Food and sodas very expensive at restaurant. Small glass of soda fountain drink $6. Lobster egg dish not edible. Room service didn't come on time one day so didn' get breakfast that day. We ended up not using our free breakfasts most days. Saturday night party across hall went to 2:30 am. We called at 1:30 am and the hotel staff was up to quiet it down immediately. They turned off the music but the group left at 2:30 am. We should have called and complained earlier as the hotel did respond. At least half of the guests were not Americans. In general very well dressed group. But there seemed to be a very high percentage of well dressed young women in tight dresses to older men. Made me a bit uncomfortable. Loved the location as I wanted to be near village. Not sure if I will return.
---
The staff at the Dominick are great. Probably the biggest asset, and the hardest to pull off. The rooms are large, especially for the price. We had a corner suite, which was very nice. The location is also very good. However, it could use some improvement. The décor is dark and outdated. The beds need more support-the mattress was very squishy. There were only four stemless wine glasses in the suite. More glasses, including tall ones and stemmed wine glasses, would be appropriate. The bathroom needs a door. The floor lamps were almost all broken at the top, so the shades looked like they were falling off. Minibar prices were just insultingly high, even for a New York hotel. The bar connected to the lobby, Mr. Jones, was an oddity. A mention in the guest directory was all there was, and we happened by it on accident. Retro décor and vibe (probably not intentional but preserved in its original state). Almost totally empty on a Friday night. Crazy high prices might explain the lack of patrons.
Travels_Mucho - Chicago, IL
---