Please select your dates to see prices:
---
The Michelangelo Hotel in New York City, New York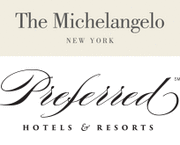 On the corner of 51st and 7th Avenue, The Michelangelo Hotel brings the style and elegance of Italian luxury to New York. Minutes from so many of the city's vibrant attractions and top sites to see, you will find a welcome retreat at this distinctive Midtown Manhattan hotel, part of the Lifestyle collection of Preferred Hotels & Resorts. The building's design and décor are reminiscent of a classic villa, with rooms adorned in fine fabrics, and public spaces echoing the charm and gentility of Europe. With this, remarkable service completes the picture, and your trip to New York is not soon forgotten. Just under 180 rooms comprise the hotel's comfortable accommodations, with category options ranging from studios to long-term stay suites, and all boast spacious floor plans and thoughtful touches throughout. Wireless internet access, CD players, and in-room mini bars make everything convenient, while luxurious toiletries and linens ensure your ultimate comfort.
Allow the award-winning concierge service at The Michelangelo Hotel to guide you throughout your stay, making the most of your time in New York by affording you a wealth of insider knowledge. Arrange to see a Broadway show, or make reservations at a hot new restaurant - it is all within easy reach. With your superior location in the Big Apple, head out to enjoy the endless things to do, taste, and adore. The immediate area is home to some of the city's—and world's—tallest buildings, and taking a ride to the top is an experience classic to New York. Likewise, Rockefeller Center is less than two blocks from the hotel, and is a perfect place to start a day of shopping, museum-hopping and more. From the brilliant lights of Times Square, to the inspiring experience of Ellis Island and the Statue of Liberty, you truly may "never sleep." When days do wind into night, return to The Michelangelo Hotel to take advantage of Insieme Lounge & Bar, where a refined selection of wines and small plates is just the thing to top off a wonderful day. From start to finish, The Michelangelo Hotel is a thoroughly impressive hotel for your next Manhattan adventure.
Location of The Michelangelo Hotel
The Michelangelo Hotel
152 West 51st Street
10019
New York City, New York
Nearest Airport: JFK
Amenities for The Michelangelo Hotel
General Information
178 Rooms and Suites
Dining
Private Dining
Restaurant
Cafe
Room Service
Bar & Lounge
Wine Bar
On-Site Amenities
Concierge
Shoe Shine Service
Complimentary Newspaper
Laundry Service
Fitness Center
High-Speed Internet Access
Butler Service
Valet Parking
Limousine Service
Lap Pool
In-Room Amenities
Turndown Service
Air Conditioning
Bathrobes
Hair Dryers
In-Room Safes
Mini Bar
Luxury Linens
Luxury Bath Amenities
Radio & CD Players
En-Suite Bathrooms
Family
Cribs
Babysitting
Rollaway Beds
Nearby
Shopping
Train Station
Zoo
Art Galleries
Museums
Restaurants
Nightlife
Parks
Theatres
Public Transportation
Reviews for The Michelangelo Hotel
---
Stayed for 2 nights when it seemed the whole city was full with prices to match to match a very top end venue, which this unfortunately isn't. Location is great and funnily enough I used to live right next door many years ago. But it all feels a little dated and frayed around the edges in the rooms especially - big room with a comfy bed but dark and the bathroom definitely could do with a refurb, all a bit 1980s. Service was mixed, with a quick and efficient check-in, dismissive check-out, and some sleepy doormen. Nothing special.
---
The staff is always TOP NOTCH!!! Patrick, Cesar, Walter and Henry always go above and beyond to insure an incredible experience!! I really don't ever want to stay anywhere else in NYC!! The rooms are spacious and welcoming and the location is excellent! Super comfy beds, quiet rooms but the heart and chaos of NYC is literally around the corner. A home away from home for sure!
jilljking - Winston Salem, North Carolina
---
My family and I recently stayed here for 3 days during a business conference. The location is great and room is big, that's why I gave it 2 stars, but everything is outdated and dirty. When we first got to our room I noticed one of the pillows on the bed had something on it which looked like chocolate, I hope that's what it was. I did not call housekeeping as we were in a hurry to go to a reception. I was sneezing all night and so the next day I looked behind the bed headboards and saw massive amounts of dust all over the wall and back of the headboard. There was also dust on the top of the mirror and the curtain tops. I called housekeeping and told them to please come and clean the dust in the room especially behind the headboards. They did come and dust a little, but there was still dust in the groves of the headboard and on the wall, top of mirror and curtains. I understand its suppose to be an old style furniture, but most of it was in bad shape with the chairs having yellowed sweat stains on them and one of the velvet chairs the fabric was coming apart. Then the last night we were there we woke up at 2:30 am to banging noises coming from right outside our window. My husband called the front desk and the noise did stop after about another hour. The next day the hotel told us that the city was repairing the bricks on the outside wall. When people are trying to sleep??!!!! This hotel is way overpriced!! Do yourself a favor stay at the Crowne Plaza, just around the corner, where it's much cheaper, the rooms are clean, its quieter and you get a better view!
---
We chose this hotel based on the large rooms and it's perfect location in the theater district. We spent 4 nights here and saw 3 plays and met with friends. The room was indeed large with a nice sitting area near the windows, and a comfortable bed. The bathroom was split into two parts; one with 2 sinks, the other with toilet/shower/bath. Ideal and with fine supplies. The hotel is at the corner of 51st St and 7th Ave, and so is near everything. Our 3 plays were no further away than 45th St., so easy walks. The hotel is also in between two main subway lines, that goes on either side of Central Park, so we did well traveling uptown to visit friends. On the last day, we walked up to Central Park and walked all through the southern half of the park. So, the location was a big winner for us. Given all aspects, a top hotel for a visit to the theater district, although it is more costly than some other hotels in that area.
lous652 - West Lafayette, Indiana
---
We stayed here 2 yrs ago and really loved it. This time we got a great suite with 2 baths, large living room and seperate bedroom. Lots of room to relax and nice not to have to share the bathroom. It made getting ready to go out a lot quicker with the 2 showers. Housekeeping is some of the best. Everything is cleaned thoroughly. We like the location, so close to Broadway and the theaters. Lots of good dining within walking distance. Le Bernadin is right across the street as well as Capitol Grill and Ruths Chris just down the block. Lots of others close by as well. We like a smaller hotel with good service, this is one of those.
Patty B - Nashville, Tennessee
---