Please select your dates to see prices:
---
Baccarat Hotel & Residences New York in New York, New York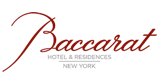 Baccarat Hotel & Residences New York provides guests with limitless luxury while in New York. GUESTROOMS & SUITES offer a prolonged respite from the city. Resting in bed or reading on a chaise - surrounded by the simple yet pristine. Ethereal at daybreak and halo gold at dusk, each accommodation is a celebration of contemporary design, styled with a nod to French tradition.
For our guests dining pleasure, we present: The GRAND SALON, where drinks and dining complement social exchanges beneath a 64-arm Baccarat chandelier. The BAR takes its visual cues from great American long bars of decades past. Baccarat Hotel New York is delighted to offer guests, residents and visitors a unique immersion in the fine art of AFTERNOON TEA in exclusive partnership with Mariage Frčres. Enjoy specialty blends of tea brewed by our Tea Sommelier paired with chef-selected canapés and petit fours. The PETIT SALON features a more intimate venue for guests to engage in conversation, featuring selections from our wine list, cocktail and dining menus - including coffee or tea. Our very own Spa de La Mer is a marriage of luxury and tranquility, which lavishly captures the healing energies of the sea and sound, through touch, to create a unique sense of well-being.
Location of Baccarat Hotel & Residences New York
Baccarat Hotel & Residences New York
28 West 53rd Street
10019
New York, New York
Nearest Airport: LGA, EWR
Amenities for Baccarat Hotel & Residences New York
On-Site Amenities
Pool
Spa Services
Activities
Cultural Tours
Sightseeing
City Tours
Nearby
Historic Sites
Shopping
Train Station
Art Galleries
Museums
Restaurants
Nightlife
Parks
Theatres
Public Transportation
Interests
City
Spa & Wellness
Reviews for Baccarat Hotel & Residences New York
---
We just returned from a 2 night birthday getaway. Words can't describe how perfect this hotel is. I have been to nyc many times and will never stay anywhere else! The baccarat crystal throughout the hotel is breathtaking. From the chandeliers to the bathroom glasses, it is everywhere. The hotel is classic yet sleek and sexy. It is the place to be seen and to see people. The grand salon for drinks and lunch was beautiful and delicious. Do not miss the bar on the 2nd floor. Beautiful and very very hip. They save seats for hotel guests at the bar which was a plus. The staff was professional and extra attentive in every aspect of this hotel. Our suite was absolutely beautiful and large. The bathroom was filled with la Mer products and was absolutely elegant. A nice touch was the free blow out hairstyle included in the suite. The concierge was extremely helpful and was able to get us reservations into the most popular restaurants. The spa was small but the services were top notch. I had a message that was perfection. Very nice pool with jacuzzi and cabanas to wait for service. Overall this hotel was an oasis in the heart of nyc. We didn't want to leave and can't wait to return!!!
165vacationmom123 - Philadelphia, Pennsylvania
---
The Baccarat is just stunning and you've likely never stayed anywhere like it. The service is second to none from check in to check out. The rooms are very spacious by NY standards, luxurious and are equipped with every possible amenity. Don't miss breakfast or afternoon tea in the elegant Grand Salon or drinks in the sophisticated adults only Bar. The fitness center is well equipped and while I never seem to find time to hit the spa it looks pretty fabulous. This was my third stay and I'd go back in a heartbeat. We stayed for 7 nights and I didn't want to leave. I hear rumors of additional properties worldwide-can't wait to see what they come up with.
DBronchick - Hermosa Beach, California
---
My wife and I went for a weekend trip - we had been to the hotel several times for drinks and afternoon tea and really wanted to stay. This place is absolutely amazing - it's hard to describe how the atmosphere of this hotel takes you away to a different place. It's a place of elegance and sophistication - you forget that you are in NYC and feel like your in Paris. From lunch in the Grand Salon - to drinks in "The Bar" you will feel relaxed and special the whole time. The room was small - good size for NYC - and perfectly appointed. A cool feature that we really liked was the tv was hidden behind a mirror so when it wasnt on you didnt have the typically ugly tv sitting on the room desk. We had room service for a late night snack and for breakfast and both times service was fast and the food was delicious. We are already planning our next trip back to hopefully spend some time by the pool and visit the spa.
Lenwood R - Raleigh, North Carolina
---
The Baccarat Hotel & Residences New York provides one of the best hotel experiences in nyc. They have really set the bar high here. The 2nd floor bar offers an amazing food and drink menu. The hotel rooms are both classic and modern. It's old money meets new money. The staff goes above and beyond, making you feel super special. I strongly encourage Everyone to stay here, or at the very least, stop by for food and drinks. This is a 5 star hotel, but not so stuffy. You will be beyond impressed as soon as you walk through the beautiful lobby. From the inception, you will be beyond pleased.
TheGustoExperience - New York City, New York
---
We've been coming here since the hotel first opened for casual business meetings in the Grand Salon and Bar. The entire staff (most are still there since opening) are beyond great and gracious. Wonderful atmosphere for business and pleasure. Awesome selection of wines. Tom
555TJP - New York City, New York
---