Please select your dates to see prices:
---
Fairmont Newport Beach in Newport Beach, California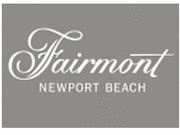 Manicured, pristine and beautifully landscaped, the town of Newport Beach perches elegantly over the Pacific Ocean. One of California's most affluent and stunning cities, Newport Beach offers picturesque sandy beaches, a majestic coastline, infinite recreational activities and world-class dining and shopping. At the newly renovated Fairmont Hotel Newport Beach the wonders of this rich landscape can be enjoyed from a tranquil and luxurious setting, where premier service, exquisitely appointed rooms, a sumptuous spa, and delicious dining promise to make your stay all that it can be, and more.
Located only minutes from beautiful Balboa Beach, a short drive from premier shopping or a quick jaunt to three of California's adventure-theme parks, The Fairmont offers something to suit every member of your family. The accommodations feature natural textures and colors, accented with refined furniture in dark mahogany, an impressive marble entry to every room, pillow top mattress with Egyptian Cotton linens, plush Robes and European amenities by Miller Harris, promote a haven of rest. Amenities like Internet service and HD LCD televisions bring just the right touch of the modern world into this tranquil setting. Relax by the pool, play a set of tennis on one of two lighted tennis courts, or indulge yourself with a treatment at the Willow Stream Spa before enjoying the fresh California cuisine at bambú Restaurant. Everything you need to relax and enjoy the bright beauty of sunny California awaits at the Fairmont.
Location of Fairmont Newport Beach
Fairmont Newport Beach
4500 MacArthur Blvd.
92660
Newport Beach, California
Amenities for Fairmont Newport Beach
General Information
440 Guest Rooms
In-Room Amenities
CD Players
DVD Players
Business
Business Center/Services
Interests
City
Spa & Wellness
Reviews for Fairmont Newport Beach
---
We had to switch rooms three times due to black mold in our bathroom sinks. Maid staff either isn't properly trained, or simply don't care. We had to somewhat complain to get the two night exorbitant valet fee waived. Make sure to get a room in the newly renovated towers if you stay there.
B-Taw_73 - Las Vegas, Nevada
---
Shared room with a gentleman that is Platinum Marriott card member. He requested upgraded suite because I was joining him. We got a one bedroom suite with sofa bed. The sofa bed was terrible.So I asked for a pillow top cover to improve the comfort. It took three days and four housekeeping help to get it right.Done of which spoke any English. The bright spot was the food, in the dining room and catered meals for an event I was attending. The rooms were clean but accessories left a lot to be desired, especially for an upgraded room. Could only imagine what regular rooms were like.
Arsen M - Fresno, California
---
Renaissance remodel a huge miss. Lobby lounge and restaurant looked better before the renovation. The colors, rope, rattan, and wicker furniture do not depict the Orange County lifestyle. Not 4 Stars.
sherrirjaff - San Diego, California
---
I am a business traveler and spend 80+ nights at hotels each year. I am pretty reasonable with my expectations I think - I know a perfect service experience is hard to come by. I also recognize this hotel is undergoing a rebranding and was being renovated during my last three stays. That said - each of the three times I got a distinct impression of sloppiness in how this property is being run. Last time I stayed, my key card did not work at the room even after I made the trip downstairs with all my bags to get it recoded (I tried calling on the internal phone from the floor several times but no one answered). The renovated room was ok but looked like it was still missing some furniture - there was an empty space where a sofa or an armchair was supposed to be. Another thing that aggrevates me - there is not a newspaper to be found on the property. Not for free, not for purchase - none. I got conflicting explanations from the staff for this, but I don't see how this can be related to the change in brand or renovation. My last time, the check-in clerk told me I could get a newspaper at the bar - when I asked, the bar tender looked at me like I had two heads. Oh and my favorite - and consistent with the overall theme - after one of the stays I received an email from the GM (the same one that posts here on TripAdvisor) asking for feedback. I provided it - and never heard back. After my last stay, I got the same form email. This time I responded saying I was happy to provide feedback but not waste my time if no one would read it. Crickets.
---
The location is great and the staff was incredible. I had breakfast here while staying at the Duke. It was a buffet, but it was a very good buffet. I'm still thinking about the granola... I went back for seconds... okay, thirds... it was that damn good. Fruit, meats, potatoes, and eggs were all well above standard buffet fare. Especially the potatoes... nice and crispy! The waitstaff was very attentive and kept my drink full. I would definitely go back for another round... especially the granola. Pro Tip: If I remember correctly, my breakfast was comp'd because of my Marriott Platinum status (as they have no member lounge yet). The Duke is apparently fairly new to the Marriott family. Remember to ask for that.
---