Please select your dates to see prices:
---
Hotel Viking Newport in Newport, Rhode Island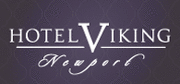 Old world, meet new. At the strikingly elegant yet modernly refined Hotel Viking Newport your time in Newport, Rhode Island will be graced with superb style and service. The iconic building, a member of the prestigious Historic Hotels of America, first opened in 1926 and to this day features original relics that bring a sense of time and character to this comfortable New England hotel. The storied halls lead to beautifully furnished guest rooms and suites, inspired by Newport's Gilded Age, Progressive Era, and English heritage. From lavish touches such as pillow-top beds and satin duvets to contemporary conveniences like in-room refrigerators, Internet access, and flat-panel televisions, your private space is the picture of luxury. Should you still yearn for a little further pampering, the tranquility of SpaTerre is right within your reach. A collection of services drawing from exotic Balinese experiences, includes options such as stone massages, salt scrubs, rejuvenating facials, and unique spa rituals. And for active pursuits, a fully equipped fitness center is at your disposal.
As if your senses are not already indulged enough with Hotel Viking Newport's alluring charm, One Bellevue, its signature restaurant, will certainly have you tantalized. With an award-winning wine list and two main dining rooms, this all-day venue features seafood classics from the bountiful New England waters, as well as an array of other gourmet dishes and modern American fare. The formal afternoon tea is not to miss, with freshly brewed beverages and a delicious assortment of housemade scones and pastries. Regardless of the season, Newport has much to offer in the way of recreation and attractions. Summer months will undoubtedly involve the scenic beachfront, and perhaps some yachting, coastal biking, or sailing excursions. The scenic Touro Park is just two blocks from the hotel, and offers an ideal place to walk, jog, or simply sit and enjoy. When indoor activities are on the agenda, explore some of the town's many museums, including America's first lending library, the Tennis Hall of Fame, and variety of other famed sites. Take a tour of the town's historic and breathtaking mansions, then return to your own idyllic home away from home, at Hotel Viking Newport.
Location of Hotel Viking Newport
Hotel Viking Newport
One Bellevue Avenue
2840
Newport, Rhode Island
Nearest Airport: PVD
Amenities for Hotel Viking Newport
General Information
209 Guest Rooms
Handicap Accessible Rooms
Dining
Outdoor Dining
Private Dining
2 Restaurants
Afternoon Tea
Vegetarian Cuisine
On-Site Amenities
Shuttle Service
Spa on Property
Fitness Center
WiFi
Live Entertainment
Indoor Pool
Valet Parking
Lounge
Chapel
Patio
Indoor Jacuzzi
In-Room Amenities
Air Conditioning
In-Room Safes
Iron/Ironing Boards
Flat-Screen Televisions
Mini Refrigerators
Rain Showers
Activities
Bicycling
Excursions
Sailing
Bike Tours
Boat Excursions
Helicopter Tours
Yachting
Boating
Sightseeing
Business
Conference Facilities
Family
Children's Menus
Teen Spa Treatments
Kids Spa Treatments
Nearby
Historic Sites
Shopping
Museums
Restaurants
Casinos
Beaches
Antique Shopping
Parks
Marina
Theatres
Public Transportation
Monuments
Market
Interests
Culture & Arts
Family
Spa & Wellness
Summer Getaways
Reviews for Hotel Viking Newport
---
I was very excited to stay here over the weekend on a quick trip with my sister. We had booked a room with two double beds and were excited to stay at a hotel that was part of the historic hotels of America. Once we arrived we were told there were no more double bed rooms available and that we'd be "upgraded" to a king. When we departed the check-in desk we were led down a long hallway (away from the original older part of the hotel) and went up 2 floors, From the elevator we actually had to go down a few steps to a long corridor. I immediately felt like I was in a motel at that moment. The room was smaller and sub par. My immediate view was the dumpsters outside the parking lot. The room was fine, clean enough yet soulless. the bathtub needs work and everything just felt small, like were at the back of the "real" hotel. Another 3rd addition to the hotel is a mid century dated corridor with more rooms at the back of the hotel - this part of the hotel is nowhere on the website. This is misleading,. and if they market the hotel this way they're going to get more and more complaints and bad reviews. All in all, their renovations were a mistake, at best this felt like a Hampton Inn. A beautiful new one at that, although the outside is gorgeous (NOT counting the newer added on mid century addition) the interior has been stripped of all what has made the building worth staying in. The restaurant on site had zero vibe at all, the bar was again, reminded me of a chain hotel. For what they charge (even on the off season) this place is not worth the money. There is nothing charming about it. As a frequent visitor of Newport, I will not be spending any more money at the Viking.
---
Hotel Viking is really pretty in the older section but the new section is difficult to get to. It's like a maze to get to your room. The rooms are very small and the bathroom set up is weird- the sink is across the hall from the bathroom. Beds are comfortable and the location is great.
---
Repeat guests to the hotel, friendly staff who go out of their way to accommodate and make guests feel comfortable. Close to downtown Newport, restaurants and bars. If you stay on a weekend, the brunch is awesome! My only suggestion is that the pool/spa area needs a little "TLC" some of the ceiling tiles were missing/dirty. Otherwise, the rooms are great
TA_Steven - Boston, Massachusetts
---
I was very disappointed in the cleaniness of our room. Upon entering I noticed a left over wrapper on the floor and some hair and garbage left in the shower. I believe the cleaning staff is either rushed or lazy and didnt take the necessary time or effort to ensure the room was properly cleaned. Rooms are not sound proof and a barking dog was very disruptive.
Ambar W - Prospect, Connecticut, United States
---
The hotel, although appearing quite lovely from the outside, is truly an amalgamation of bad ideas inside. Where to start…hmm…We arrived and were checked into a room that was already occupied. That was a foreshadowing of things to come. Twenty minutes later we were rebooked into what I'm assuming was a worse room in a wing of the hotel that is currently under construction. The rooms layout was poor (sink on one side of the entry door, bathtub and shower on the other) and the compact size of the bathroom would prevent anyone overweight from being able to use it. In addition, the walls in the room are paper thin. This became immediately apparent because the construction crews were still using power tools at 5 PM on a Sunday on the floor above ours, and it was unbelievably loud in our room. Luckily a power outage put an end to that. But now with no power we could clearly hear everyone in the hallway, and later that night, we got to hear "everything" from the room next door. And with the power restored a little after midnight the construction crew was back in action by 7 AM Monday morning making an unacceptable amount of noise. I would NEVER stay here again. No one should. To even consider renting out rooms to anyone while serious construction is in process shows just what little regard the hotel has for their guests. Return the favor and stay elsewhere.
---