Please select your dates to see prices:
---
Hotel Viking Newport in Newport, Rhode Island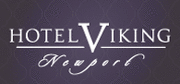 Old world, meet new. At the strikingly elegant yet modernly refined Hotel Viking Newport your time in Newport, Rhode Island will be graced with superb style and service. The iconic building, a member of the prestigious Historic Hotels of America, first opened in 1926 and to this day features original relics that bring a sense of time and character to this comfortable New England hotel. The storied halls lead to beautifully furnished guest rooms and suites, inspired by Newport's Gilded Age, Progressive Era, and English heritage. From lavish touches such as pillow-top beds and satin duvets to contemporary conveniences like in-room refrigerators, Internet access, and flat-panel televisions, your private space is the picture of luxury. Should you still yearn for a little further pampering, the tranquility of SpaTerre is right within your reach. A collection of services drawing from exotic Balinese experiences, includes options such as stone massages, salt scrubs, rejuvenating facials, and unique spa rituals. And for active pursuits, a fully equipped fitness center is at your disposal.
As if your senses are not already indulged enough with Hotel Viking Newport's alluring charm, One Bellevue, its signature restaurant, will certainly have you tantalized. With an award-winning wine list and two main dining rooms, this all-day venue features seafood classics from the bountiful New England waters, as well as an array of other gourmet dishes and modern American fare. The formal afternoon tea is not to miss, with freshly brewed beverages and a delicious assortment of housemade scones and pastries. Regardless of the season, Newport has much to offer in the way of recreation and attractions. Summer months will undoubtedly involve the scenic beachfront, and perhaps some yachting, coastal biking, or sailing excursions. The scenic Touro Park is just two blocks from the hotel, and offers an ideal place to walk, jog, or simply sit and enjoy. When indoor activities are on the agenda, explore some of the town's many museums, including America's first lending library, the Tennis Hall of Fame, and variety of other famed sites. Take a tour of the town's historic and breathtaking mansions, then return to your own idyllic home away from home, at Hotel Viking Newport.
Location of Hotel Viking Newport
Hotel Viking Newport
One Bellevue Avenue
2840
Newport, Rhode Island
Nearest Airport: PVD
Amenities for Hotel Viking Newport
General Information
209 Guest Rooms
Handicap Accessible Rooms
Dining
Outdoor Dining
Private Dining
2 Restaurants
Afternoon Tea
Vegetarian Cuisine
On-Site Amenities
Shuttle Service
Spa on Property
Fitness Center
WiFi
Live Entertainment
Indoor Pool
Valet Parking
Lounge
Chapel
Patio
Indoor Jacuzzi
In-Room Amenities
Air Conditioning
In-Room Safes
Iron/Ironing Boards
Flat-Screen Televisions
Mini Refrigerators
Rain Showers
Activities
Bicycling
Excursions
Sailing
Bike Tours
Boat Excursions
Helicopter Tours
Yachting
Boating
Sightseeing
Business
Conference Facilities
Family
Children's Menus
Teen Spa Treatments
Kids Spa Treatments
Nearby
Historic Sites
Shopping
Museums
Restaurants
Casinos
Beaches
Antique Shopping
Parks
Marina
Theatres
Public Transportation
Monuments
Market
Interests
Culture & Arts
Family
Spa & Wellness
Summer Getaways
Reviews for Hotel Viking Newport
---
Renovated rooms not up to what I expect from Viking. Bathroom was old, dirty, and no handle on door. Decor was non existent. Old tiles, dirty grout. Very cheap renovation!! Not happy with room or front desk service. Sorry, Viking, won't be back!
Louis R - Greenwich, Connecticut
---
Hotel refused to honor my confirmed rate via booking.com. 2 months after I confirmed the reservation they wanted to charge me $699 a night! I had already bought a non-refundable flight and there is no way I can afford $699 a night. AVOID THIS HOTEL AT ALL COSTS!!!
Michael C - Pittsburgh, Pennsylvania
---
Thought we got a great deal on a one night stay until we checked out and found out about the $25 "resort fee". There were no amenities in this hotel to justify the fee, and the hotel is hardly a resort. The room was so hot we had to turn on the AC (it was cold outside but our windows did not open). The bathroom was tiny with a peeling ceiling and rust stains in the tub and toilet. The beds were old, squeaky and springy, with linens so starched they felt like we were sleeping in a paper bag. The hotel was renovating (badly needed) so the hallways and the one working elevator smelled like paint and were covered with dust. Carpets in the hallways were filthy. Sweaty workmen everywhere in the hallways openly stared at my 14 year old daughter. She was so uncomfortable she actually held my hand! The pool was okay, but the changing room showers were tiny plastic affairs with a trickle of lukewarm water. The hot tub smelled like fermenting grain...something growing in there? The sink faucets in the pool changing room were not even attached to the counter securely, I could wiggle them around. The whole place had a run down feeling to it...not the grand hotel in the pictures. Skip it.
---
The resort fee as a hidden tax (you dont really get anything out of it than any hotel would not offer- not even free bottled water) The room is tiny & nicely decorated. - It was way too hot in the room and no way to open the windows - 73/74. Managed to turn off the heater and temperature would finally go down to an acceptable level to allow for some sleep (69/70). Staff is very friendly - allowed for a late check out (even though we did not use it) Bath room is great - nice big shower. it is average++
Yves-Alexandre_YAL - New York City, New York
---
Did not reserve. Got a quote, but when tried to book I was notified that the PRICE did not include a $25/day 'mandatory resort fee.' So I called to see what I could expect with the resort fee: that 'free WiFi' is free with the resort fee. The hotel amenities (coffee maker in room, welcome receptions and socials, Yoga, Newspapers in lobby, shuttle service, access to pool and health center, beach towels, shoe shine, crib, rollaways, fridge, and local phone calls) are all paid for by the mandatory resort fee. In other hotels, this is part of the price. But, even if you only want the room and the shower (which seems to be what is included in the price) you still have to pay the resort fee. This nonsense used to be a Vegas and actual resort phenomenon, but it seems Newport has adopted this insulting trend. I stay at a lot of hotels around the US, Europe and Africa and when I get quoted a price, it pays for all the amenities and if I choose to purchase something extra, I pay for it. This tack on fee is an insult.
AJBz - Brooklyn, New York
---