Please select your dates to see prices:
---
Hotel Viking Newport in Newport, Rhode Island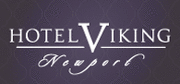 Old world, meet new. At the strikingly elegant yet modernly refined Hotel Viking Newport your time in Newport, Rhode Island will be graced with superb style and service. The iconic building, a member of the prestigious Historic Hotels of America, first opened in 1926 and to this day features original relics that bring a sense of time and character to this comfortable New England hotel. The storied halls lead to beautifully furnished guest rooms and suites, inspired by Newport's Gilded Age, Progressive Era, and English heritage. From lavish touches such as pillow-top beds and satin duvets to contemporary conveniences like in-room refrigerators, Internet access, and flat-panel televisions, your private space is the picture of luxury. Should you still yearn for a little further pampering, the tranquility of SpaTerre is right within your reach. A collection of services drawing from exotic Balinese experiences, includes options such as stone massages, salt scrubs, rejuvenating facials, and unique spa rituals. And for active pursuits, a fully equipped fitness center is at your disposal.
As if your senses are not already indulged enough with Hotel Viking Newport's alluring charm, One Bellevue, its signature restaurant, will certainly have you tantalized. With an award-winning wine list and two main dining rooms, this all-day venue features seafood classics from the bountiful New England waters, as well as an array of other gourmet dishes and modern American fare. The formal afternoon tea is not to miss, with freshly brewed beverages and a delicious assortment of housemade scones and pastries. Regardless of the season, Newport has much to offer in the way of recreation and attractions. Summer months will undoubtedly involve the scenic beachfront, and perhaps some yachting, coastal biking, or sailing excursions. The scenic Touro Park is just two blocks from the hotel, and offers an ideal place to walk, jog, or simply sit and enjoy. When indoor activities are on the agenda, explore some of the town's many museums, including America's first lending library, the Tennis Hall of Fame, and variety of other famed sites. Take a tour of the town's historic and breathtaking mansions, then return to your own idyllic home away from home, at Hotel Viking Newport.
Location of Hotel Viking Newport
Hotel Viking Newport
One Bellevue Avenue
2840
Newport, Rhode Island
Nearest Airport: PVD
Amenities for Hotel Viking Newport
General Information
209 Guest Rooms
Handicap Accessible Rooms
Dining
Outdoor Dining
Private Dining
2 Restaurants
Afternoon Tea
Vegetarian Cuisine
On-Site Amenities
Shuttle Service
Spa on Property
Fitness Center
WiFi
Live Entertainment
Indoor Pool
Valet Parking
Lounge
Chapel
Patio
Indoor Jacuzzi
In-Room Amenities
Air Conditioning
In-Room Safes
Iron/Ironing Boards
Flat-Screen Televisions
Mini Refrigerators
Rain Showers
Activities
Bicycling
Excursions
Sailing
Bike Tours
Boat Excursions
Helicopter Tours
Yachting
Boating
Sightseeing
Business
Conference Facilities
Family
Children's Menus
Teen Spa Treatments
Kids Spa Treatments
Nearby
Historic Sites
Shopping
Museums
Restaurants
Casinos
Beaches
Antique Shopping
Parks
Marina
Theatres
Public Transportation
Monuments
Market
Interests
Culture & Arts
Family
Spa & Wellness
Summer Getaways
Reviews for Hotel Viking Newport
---
Arrived on a Sunday afternoon for a Monday business meeting held at the hotel. The staff service from the front desk to roof top was excellent. The room was clean and spacious. Bed was comfortable, did need a step to get in and out of bed and was provided. Restaurant servers were very attentive and accommodating, our party for dinner was large and did a great job. Best feature is a car will take you into town and pick you up during certain hours! Valets were very personable I will stay there again. .
---
A wonderful property with an atmosphere reminiscent of the good old days, yet with all the amenities and comfort required for today's travels. The staff is wonderful, efficient, friendly and there when you need them. I highly recommend The Viking!!
sugarayNorthCarolina - north carolina
---
Hotel Viking is an excellent location for visiting Newport RI. I've stayed several times and since my last visit there were some needed renovations - and I believe they are under new /different management. The changes are have lifted this hotel from a 3 rating (a couple of years ago) to me giving them an excellent. My one complaint is that in the bathrooms, instead of little bottles and bars of soap they use large (refillable) pump bottles. This hotel is not cheap, so I would expect that this wouldn't be the one place they would cut costs. If nothing else, they should give a bar of soap. I prefer my workout in the gym, not in shower trying to pump out enough Bath Gel just to get clean.
---
I share many other reviewers' dismay with this hotel. We only stayed one night as we were awakened quite early to the sound of construction down the hall. Although we arrived very late in the evening and checked out early, we were nevertheless, charged an extra $25 "resort fee" and $40 for parking. I suppose hotels can charge whatever the market will bear, but next time I'll stay somewhere else.
Surfrat50 - Alexandria, Virginia
---
I had reserved a suite because I was traveling with my daughter and a friend of hers, so that the friend had some privacy. I reserved it weeks ahead calling directly to the hotel. It never occurred to me to ask if the room had plenty of light: the sample picture for this type of room in the hotel's website had large windows and seemed flooded with light. Ours was a "Bellevue Suite", which did not do justice to its name and made the whole thing more ironic. The arrival at the hotel can be deceiving: it has the nice charm of old establishments, with a very friendly and effective valet parking service, a plus in the hotel, although sometimes unnecessary and, for $40, over priced. The receptionists were mostly friendly and tried to be helpful. And that was about it. Once you are checked in, you are left on your own to try to find your way through the never ending corridors, full of steps up, then some more steps down, with confusing elevators that lead you to back entrances, never on a clear path with instructions. When we finally made it to our room, I was speechless. The living room area, dark and gloomy, had no window. It lead to the master bedroom through a glass door with no curtain (hence no privacy), I suppose in an effort to gain some natural light; a difficult task indeed, since the only one in the entire suite was coming from a very narrow (possibly 12 inches) window positioned in the very corner of the bedroom, and was facing a very grey looking parking lot of the hotel. I would have never paid so much for such a sad and dreary room, had I known. I asked right away to reception to be moved, but the reply was that they did not have any other room available. I will not get into details of how boringly furnished the room was, how noisy the corridors were, and how uninviting the whole place is. Not only the photos in the website were deceiving, but the description of what was included made the experience more infuriating, as if to perpetuate the irony, like the "Gourmet Honor Basket", which contained four individual servings of ground coffee, deceivingly placed right next to another offering with more appealing items, water bottles, nuts, chocolate,…for which of course we were charged. I don't like misleading websites that make me feel cheated. I complained respectfully and my bill was reduced, and for that I truly thank the manager who took care of it. Restaurant service friendly; food was good; the pool has a very moldy looking carpet.
lulabosch - Ghent, New York
---