Please select your dates to see prices:
---
Santa Barbara Beach & Golf Resort in Nieuwpoort, Curaçao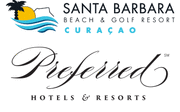 When it comes to the ideal vacation destination, do not just visit paradise, truly experience it with unparalleled service, breathtaking views and premier amenities at Santa Barbara Beach & Golf Resort. This stunning Dutch Caribbean resort, sits on more than 20 acres of pristine beachfront property in beautiful Curacao. Lavish guest accommodations combine classic elegance and contemporary style, resulting in expansive rooms and suites that embrace the colorful surroundings and offer uncompromising levels of luxury. Subtle browns and cool cream accents complement the burnished mahogany wood while details like a furnished sitting balcony, plush bathrobes, and deluxe bath amenities provide the simple luxuries that take a vacation from typical to tremendous.
Resort recreation provides endless fun and activities to explore, from exclusive access to a private beach where diving, snorkeling, and other water sports will fill your days. For guests who prefer to unwind on dry land, oversized beach umbrellas provide shade by the resort's many glistening pools. Perfect your swing on the back nine on the resort's Peter Dye-designed championship golf greens, or return to oneness at Atabei Spa, "where the sun, water, Earth, and moon guide you on a journey to well-being." Delight in dining where gastronomy meets performance at MEDI, the resort's open-air kitchen and eatery. Focusing on farm-to-table cuisine and the freshest regional ingredients, every restaurant at Santa Barbara Beach & Golf Resort is sure to please. Allow yourself to be pampered and pleased, paradise awaits at Santa Barbara Beach & Golf Resort.
Location of Santa Barbara Beach & Golf Resort
Santa Barbara Beach & Golf Resort
Santa Barbara Plantation Porta Blancu
Nieuwpoort, Curaçao
Nearest Airport: CUR
Amenities for Santa Barbara Beach & Golf Resort
General Information
350 Guest Rooms
Dining
Poolside Dining
Outdoor Dining
Pool Bar
Restaurant
Room Service
Bar & Lounge
Healthy Cuisine
Sushi Bar
Pool Wait Service
Oceanfront Dining
Bar & Restaurant
On-Site Amenities
Concierge
Spa on Property
Hiking Trails
Gift Shop
Walking Trails
Fitness Center
Multilingual Staff
Tennis Courts
24-Hour Front Desk
Beach Access
Car Rental
Clubhouse
Lounge
Beach Amenities
3 Outdoor Pools
18-Hole Golf Course
Marina
In-Room Amenities
Bathrobes
Fireplaces
Hair Dryers
In-Room Safes
iPod Docks
Iron/Ironing Boards
Coffee & Tea Facilities
Bottled Water
WiFi
Activities
Bicycling
Fishing
Hiking
Kayaking
Tennis
Scuba Diving
Nature Walks
Bike Tours
Boat Excursions
Golf Lessons
Beach Volleyball
Fitness Classes
Bocce Ball
Wellness Programs
Boating
Golf
Aqua Fitness
Water Sports Programs
Business
Meeting Rooms
24-Hour Business Center
Conference Facilities
Business Services
Catering Services
Nearby
Shopping
Art Galleries
Museums
Casinos
Beach
Golf
Nightlife
Parks
National Park
Interests
Beach
Golf
Pack For A Purpose
Reviews for Santa Barbara Beach & Golf Resort
---
After 2017 I spent again a week at the Santa Barbara Resort in 2018 and liked it very much. Be it the room, the staff, the pool and beach area, and especially the tennis with Jon Kooy being a great pro and the courts in first class condition, everything was PERFECT. There are many things to do (hiking, biking, tennis, sports in general including great gym), however, not so much evening entertainment. What is very recommendable is to have a car to be indipendent for going also outside the resort to have a greater choice for dinners etc.
Marianna T - Basel, Switzerland
---
I stayed at this hotel in May 2018. We had a room with a view to the sea. The entrance is impressive, the building is very beautiful. The room was spacious and the bed very comfortable. Very good service, helpful staff. We stayed there with an "all inclusive" arrangement and here come the cons: the beach is poor, is not the concept I have of a Caribbean beach. It looks more like a river. Beautiful white sand but narrow. You have to swim parallel to the beach since the other area is not feasible for swimming due to boats passing by and therefore it's closed. There other much more beautiful beaches in the island. The breakfast was excellent plenty of choice, however dinner and lunch lacked the expected quality for such a resort. I ordered once a fish skewer (grilled) which was tasty but when I asked the waitress for the type fish, she wouldn't know. This was at the pool restaurant. She said it was imported. Almost no sea food was offered. The most disappointing thing was during the day, when I ordered a "piña colada" cocktail. The waiter took out the tetra brick for adding the coconut juice! Maybe there not enough coconuts in the island? The same applies to juices. I expected to have wonderful fresh tropical juices but that wasn't the case. They were not natural. This is the reason why I rate it average. Maybe for other travellers this is not important but for me it is. The food offer for lunch and dinner needs to definitely improve, same as the juices and cocktails. Another small minus point: the noise on Sunday evening coming from the boats full of people partying makes it a bit hard to sleep. At least it only happened on Sunday evening/night.
---
We booked this trip through JetBlue Vacations. The hotel portion was reasonably priced with breakfast included, however, I would not have been content if I had paid more. The property is only about 8 years old but has not aged well! The important saving grace was that the staff & service were phenomenal! We knew from reviews that the property was in a remote location & a car would be needed to get anywhere other that the resort. Not only is it remote, but from the front entrance, it was 5 miles to the front door of the resort.
tc2192017 - Miami, Florida
---
Great hotel to unwind. Quiet atmosphere, wonderful beach. The Krabby Patty at the Splash pool bar and restaurant is a must! Don't forget the Shore restuarant where you can enjoy some ' fine dining'. Helpful staff. Spacious rooms, clean and tidy.
Renata F - Willemstad, Curacao
---
We travelled to Curacao last year and based on numerous youtube videos and reviews, we chose the Santa Barabara Beach Resort. We purchased the All-inclusive package in a standard room. The resort is located on a plantation, and the drive from the airport to the entrance of the plantation was about 20-30 minutes. The drive from the entrance to the plantation to the resort was about 5 minutes. The plantation is huge! When we arrived at the lobby we were greeted by friendly staff and given a cold glass of blue curacao. The view from the open to outdoors lobby was stunning! It should be noted that the beach area is in a cove and is fairly small. We spent most of our time by the pool and bought a private cabana everyday which cost us about $25. So worth it! The check-in staff were great and funny and actually were very helpful when we decided to splurge and upgrade from our standard room to the presidential, 1,800 Square foot Room. Wow, $8,000 well spent! The room was huge with a wrap around balcony. The king and queen of the Netherlands stay in this room when they travel there. All the rooms in the Santa Barbara beach resort are very nicely laid out, clean and have incredible views. The pool area is very large. Our only complaint was the Iguana's. Honestly, I'm not afraid of them but my wife is, and there weren't 1 or 2. There were numerous iguanas walking around the pool area, pooping around the pool area, going into the pool, climbing on the cabanas, hiding under lawn chairs. The pool staff does their best to scare them off and clean up the poop as quickly as possible but it becomes annoying. Some of the iguanas are aggressive and will whip their tails around. The issue is some guests feed the iguanas cherries, which is annoying when you want to just relax and they come running out. We had 1 kid who kept coming near us and throwing cherries in the bush behind us attracting all the iguanas to our area. The iguanas then think red toenail polish are cherries and will run at womens feet. This was the only issue I had with this stay was the tremendous amount of large iguanas by the pool. Very annoying! The beach area is in a cove and the water is crystal blue with marine life swimming up to you. It was just spectacular. Again, the beach is small, it may even be man made. Not sure. Curacao is very rocky so beach areas are typically smaller. If you stay here, get the all-inclusive package. The food was very good from breakfast to dinner. Drinks were included and we drank quite a bit of Blue curacao ;) There was also a Gelato shop with authentic Italian Ice Cream and the staff were just wonderful I do recommend this hotel to anyone travelling to Curacao.
---