Please select your dates to see prices:
---
Santa Barbara Beach & Golf Resort in Nieuwpoort, Curaçao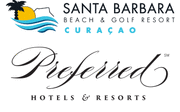 When it comes to the ideal vacation destination, do not just visit paradise, truly experience it with unparalleled service, breathtaking views and premier amenities at Santa Barbara Beach & Golf Resort. This stunning Dutch Caribbean resort, sits on more than 20 acres of pristine beachfront property in beautiful Curacao. Lavish guest accommodations combine classic elegance and contemporary style, resulting in expansive rooms and suites that embrace the colorful surroundings and offer uncompromising levels of luxury. Subtle browns and cool cream accents complement the burnished mahogany wood while details like a furnished sitting balcony, plush bathrobes, and deluxe bath amenities provide the simple luxuries that take a vacation from typical to tremendous.
Resort recreation provides endless fun and activities to explore, from exclusive access to a private beach where diving, snorkeling, and other water sports will fill your days. For guests who prefer to unwind on dry land, oversized beach umbrellas provide shade by the resort's many glistening pools. Perfect your swing on the back nine on the resort's Peter Dye-designed championship golf greens, or return to oneness at Atabei Spa, "where the sun, water, Earth, and moon guide you on a journey to well-being." Delight in dining where gastronomy meets performance at MEDI, the resort's open-air kitchen and eatery. Focusing on farm-to-table cuisine and the freshest regional ingredients, every restaurant at Santa Barbara Beach & Golf Resort is sure to please. Allow yourself to be pampered and pleased, paradise awaits at Santa Barbara Beach & Golf Resort.
Location of Santa Barbara Beach & Golf Resort
Santa Barbara Beach & Golf Resort
Santa Barbara Plantation Porta Blancu
Nieuwpoort, Curaçao
Nearest Airport: CUR
Amenities for Santa Barbara Beach & Golf Resort
General Information
350 Guest Rooms
Dining
Poolside Dining
Outdoor Dining
Pool Bar
Restaurant
Room Service
Bar & Lounge
Healthy Cuisine
Sushi Bar
Pool Wait Service
Oceanfront Dining
Bar & Restaurant
On-Site Amenities
Concierge
Spa on Property
Hiking Trails
Gift Shop
Walking Trails
Fitness Center
Multilingual Staff
Tennis Courts
24-Hour Front Desk
Beach Access
Car Rental
Clubhouse
Lounge
Beach Amenities
3 Outdoor Pools
18-Hole Golf Course
Marina
In-Room Amenities
Bathrobes
Fireplaces
Hair Dryers
In-Room Safes
iPod Docks
Iron/Ironing Boards
Coffee & Tea Facilities
Bottled Water
WiFi
Activities
Bicycling
Fishing
Hiking
Kayaking
Tennis
Scuba Diving
Nature Walks
Bike Tours
Boat Excursions
Golf Lessons
Beach Volleyball
Fitness Classes
Bocce Ball
Wellness Programs
Boating
Golf
Aqua Fitness
Water Sports Programs
Business
Meeting Rooms
24-Hour Business Center
Conference Facilities
Business Services
Catering Services
Nearby
Shopping
Art Galleries
Museums
Casinos
Beach
Golf
Nightlife
Parks
National Park
Interests
Beach
Golf
Pack For A Purpose
Reviews for Santa Barbara Beach & Golf Resort
---
We had a day pass from "Resort for a Day". The Resort is huge. The lobby is open-air and on the ocean. We spent time in both pools, watched the iguana feeding, and had a few drinks. Lunch at Splash was fun. Their menu says "small bites" but it's actually a full meal. Some times we had to give them our assigned "room" number and sometimes not. We weren't sure what to do when we got a bill with a line for tips... The beach is an inlet which everyone on TA has acknowledged. We enjoyed it until a boat decided to stop and blast music right where we were sitting. Plenty of chairs at the beach though not very comfortable.
SPKinVA - Reston, Virginia
---
Curacao is our favorable island.After stay in Sunscape resort spa & casino this time we chose ALL INCLUSIVE Santa Barbara beach & golf resort. As a former Hyatt Regency hotel you cant have any complains about location or building class. It is perfect .Beautiful sand beach with every time clear and warm water. Thousand colorful fishes in water surrounding your lags. IT IS PARADISE for children and parents, If only not a hotel management !!! If you book ALL INCLUSIVE package, like we did, your vacation trip become a hell !!! In restaurants, bar, beach kiosk - everywhere you have to sigh a charge bill. WHY ? - allegedly for intern purpose. Nowhere in Caribbean we do have experienced such hassle. More over as ALL INCLUSIVE package we got a bill at the end for almost 500$ USD, with wrong address on it. At reception, agent Quiomy, and next day Janice promised to cancel wrong charges, but nothing happen until now. We complained yesterday online,from Canada, no response from management. We hope that our issue will get fixed, because we want come back to resort again. We holy recommend, still, visit Santa Barbara resort, especial family with children.
TOPOHTO - Toronto, Canada
---
Be prepared: This hotel is remote, farther away from any of the attractions. The security entrance is at least 4km from the hotel. You will need to rent a car. We seemed to have arrived during a slow period, as occupancy was somewhat very slow and barren. I would be surprised if they were even 30% occupied, and there was a corporate event that came in during this time frame. Overall, the bed/rooms are average and comfortable, a little firmer than we're accustomed to but still comfortable. The staff were pleasant. The food at Shore and Medi were disappointing! I do not understand how other reviews rate the food as "fantastic" or "very good". It wasn't awful, but by American standards, I would be certain it would rate as mediocre at best. Breakfast at Medi was uneventful and severely overpriced for what you get at a standard buffet. Dinner at Shore was extremely disappointing. Ordered duck breast and I am fairly certain it was defrosted in the microwave making it extremely tough to eat. We sent it back. The evening special was mahi-mahi and it was overcooked, making the fish too dry. The small beach is located on the north end of the resort and is somewhat sheltered in a cove and sectioned off from the boat thoroughfare by a pier. The sand is clean and water clear, but there is no beach vibe. It is so sheltered that the only waves coming in were from the boats passing by to the open waters. Water is calm and would be enjoyable for smaller kids and without headache to the parents of undertows and high waves. There are sections in the water (closer along the length of the pier) that is probably waist or chest deep/high but overall, shallow. The resort's beach chaise were awfully uncomfortable - it is wicker with no cushions, so laying on them was barely tolerable. Beach towels are a bit worn but available. Wait staff and service on the beach is limited and drinks were overpriced and weak at best. This is a resort I would not revisit.
Auntlala_bigd - Dallas, Texas
---
Had another great experience at the SBR. They now offer free high-speed wifi all over the resort, which is a plus. Room service was very attentive. The staff at Shore Restaurant treated us very good and the food tastes great.
---
We had a nice relaxing stay at the resort. Nice beach, friendly staff, excellent rooms. The pool was neat and we enjoyed the beach very much. Breakfast is very nice and good selection of food. Dinner was however not so perfect, alas the 4 stars.
---