Please select your dates to see prices:
---
Santa Barbara Beach & Golf Resort in Nieuwpoort, Curaçao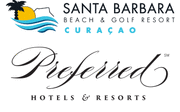 When it comes to the ideal vacation destination, do not just visit paradise, truly experience it with unparalleled service, breathtaking views and premier amenities at Santa Barbara Beach & Golf Resort. This stunning Dutch Caribbean resort, sits on more than 20 acres of pristine beachfront property in beautiful Curacao. Lavish guest accommodations combine classic elegance and contemporary style, resulting in expansive rooms and suites that embrace the colorful surroundings and offer uncompromising levels of luxury. Subtle browns and cool cream accents complement the burnished mahogany wood while details like a furnished sitting balcony, plush bathrobes, and deluxe bath amenities provide the simple luxuries that take a vacation from typical to tremendous.
Resort recreation provides endless fun and activities to explore, from exclusive access to a private beach where diving, snorkeling, and other water sports will fill your days. For guests who prefer to unwind on dry land, oversized beach umbrellas provide shade by the resort's many glistening pools. Perfect your swing on the back nine on the resort's Peter Dye-designed championship golf greens, or return to oneness at Atabei Spa, "where the sun, water, Earth, and moon guide you on a journey to well-being." Delight in dining where gastronomy meets performance at MEDI, the resort's open-air kitchen and eatery. Focusing on farm-to-table cuisine and the freshest regional ingredients, every restaurant at Santa Barbara Beach & Golf Resort is sure to please. Allow yourself to be pampered and pleased, paradise awaits at Santa Barbara Beach & Golf Resort.
Location of Santa Barbara Beach & Golf Resort
Santa Barbara Beach & Golf Resort
Santa Barbara Plantation Porta Blancu
Nieuwpoort, Curaçao
Nearest Airport: CUR
Amenities for Santa Barbara Beach & Golf Resort
General Information
350 Guest Rooms
Dining
Poolside Dining
Outdoor Dining
Pool Bar
Restaurant
Room Service
Bar & Lounge
Healthy Cuisine
Sushi Bar
Pool Wait Service
Oceanfront Dining
Bar & Restaurant
On-Site Amenities
Concierge
Spa on Property
Hiking Trails
Gift Shop
Walking Trails
Fitness Center
Multilingual Staff
Tennis Courts
24-Hour Front Desk
Beach Access
Car Rental
Clubhouse
Lounge
Beach Amenities
3 Outdoor Pools
18-Hole Golf Course
Marina
In-Room Amenities
Bathrobes
Fireplaces
Hair Dryers
In-Room Safes
iPod Docks
Iron/Ironing Boards
Coffee & Tea Facilities
Bottled Water
WiFi
Activities
Bicycling
Fishing
Hiking
Kayaking
Tennis
Scuba Diving
Nature Walks
Bike Tours
Boat Excursions
Golf Lessons
Beach Volleyball
Fitness Classes
Bocce Ball
Wellness Programs
Boating
Golf
Aqua Fitness
Water Sports Programs
Business
Meeting Rooms
24-Hour Business Center
Conference Facilities
Business Services
Catering Services
Nearby
Shopping
Art Galleries
Museums
Casinos
Beach
Golf
Nightlife
Parks
National Park
Interests
Beach
Golf
Pack For A Purpose
Reviews for Santa Barbara Beach & Golf Resort
---
We were here in 2014 but it's still one of the best holidays ever. The resort is beautiful, has the most friendly and helpful staff, the food was great and everything is included. If I had to mention one 'bad' thing it would be that you definitely need a car if you were to leave the resort and go to more local areas. For 1 day we booked a trip and visited the Blue Curaçao factory, dolphin academy, and some public beaches, but the best beach was definitely the private beach at the resort itself. It is clean, quiet and you get the best service, so all you have to do is lay down and relax - which for me is what a holiday is all about.
GinnyKing043 - Maastricht, The Netherlands
---
rooms were very clean, staff was friendly. down side was the fornt desk was hard to reach and did not always answer the phone Splash bar needs more help as it was sometimes difficult to get service breakfast buffet was worth the money, and had a great view rent a car the hotel is very secluded, which was a nice thing, very peaceful we brought our two children 12 and 6 and they had a great time
Markeno - Bloomington, Indiana
---
Nice and clean beach. Good food. Nice music. They have to fix the freezer. The beer was not cold enough. Some waiters have to be teach better manners. A plus for lady @ the frontdesk and for Angelo. Bart tenders @ shore was very good. 😉
Ruthline C - Willemstad, Curacao
---
I thought my review got published so here we go again. My husband and I recently vacationed there from Feb 23 - Mar 9 2018. It was a great 2 weeks vacation! This is a beautiful resort very big and great food and amazing staff ! I can't say enough about the staff. I was taken care of like a queen. I have some good issues and it was all looked after. I had my glum pancakes and bread available and anything I needed it was provided. All staff greets with a smile and with a warm welcome. Thank you to head Chef Chris who made sore my gluten free food was available. I have so many to thank ana mention. Johnathon who made me great pancakes and sweet Paulette at the omlette station always so happy and beautiful smile. Miss you ! Thank you the both managers Mark T & Mark S who were so helpful and making sure I was happy ana looked after. Really nice men who take their jobs seriously. Also thank you to managers Keesha and Simone at splash so sweet and making salads amazing ! Very nice ladies. More staff the hostess at Medi Sunny we had some good laughs and also taking care of us so well. To all staff at Medi and splash thank you for all your kindness and help and making out trip amazing ! I enjoyed you all so friendly and lots of fun with dancing and good laughs ! Thank you to Devon and staff who made sure we had our umbrella ana chairs every morning. Such hard workers. This place was kept clean. Our room was cleaned every day you can smell the freshness and like I mean really clean. Thank you to Minguel who helped clear up a situation and always smiling. Everyone here was so kind nice and helpful ans lady's greeting with a friendly smile. I miss it a lot. The beach was perfect clear and cute fishes to feed. I have to thank Glen who made sure we had cold fresh water on the beach to drink. He always went out of his way to even bringing me my salad on the beach and made sure I was happy. Seriously treated like a queen ! Thank you all again for a great vacation !
---
Our first time to Curacao and we were really looking forward to the trip. Had booked Santa Barbara Beach and Golf Resort for 4 days through our airline. Check In time 4pm. When we arrived, we were advised that they needed to make a room change because the AC in the original room was not working, and it would be a few more minutes. We took this opportunity to grab a bite at Splash and tour the resort amenities. A short time later, we were advised the room was ready. Very nice gentleman escorted us to our room. When we first walked in, it seemed wonderful! Great Ocean view, beautiful wood trim, very large bathtub, nice large closet. Within minutes the smell of mold and mildew was prevalent, so much so that we had to open doors. The headboards of the two queen beds (wood frame, leather padding) were both torn. More disappointing than anything, the room was filthy. Seemed as though the surfaces, such as tables, dressers, counters had not been wiped down in a week. The floor was equally as bad. After just a few minutes our feet were black with dirt and sand. Even the sheets on the bed were gritty.The next morning, as we were leaving, we politely asked if the room could be cleaned thoroughly while we were gone. Upon returning, you could see wipe marks on the floor, however, it wasn't any better.The next day, we came back at 5pm and the room hadn't been serviced at all. They came at 6pm, while we were getting ready for dinner. When we returned to the room that evening, it appeared they had serviced the room, but in reality all they did was make it LOOK like it. Additionally, the safe in our room was a continual problem. Security came three times to address the issue and implied we forgot the code. No. Its hard to forget 0000. The pool is extremely small considering the number of guests. And each night after sunset there was a local dog, black lab, swimming in the pool as if he belonged there. We were not interested in swimming after seeing this. There is no Beach, its more of a sandy area, contained by the marina dock. We live on the east coast of US and have visited several beach resorts. We were expecting a real ocean beach. Overall, our biggest complaint is the lack of cleanliness, in the room, in the pool and even in the restaurants. Cleaning should be top priority in a resort like this. I will say that the golf course appeared very nice. We did not golf, but it seemed acceptable.
runnershighd - New York, NY
---