Please select your dates to see prices:
---
Grand Hotel Huis Ter Duin in Noordwijk, Netherlands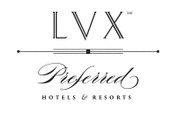 Invigorating ocean air drifts over the Grand Hotel Huis Ter Duin as cool fog begins to dissipate and bright rays of sunlight begin to warm the beach of Noordwijk, Netherlands. At this magnificent hotel, part of the LVX collection of Preferred Hotels & Resorts, you can experience this majestic vision of the North Sea from the privacy of your own balcony, or from any of the comfortably appointed terraces. Just 20 minutes from Amsterdam's Schiphol Airport, this 254-room hotel offers tranquil luxury with a small town feel. Each room is elegant in its simplicity of design, and offers all the >modern amenities guests could desire for. Watching the fog roll out to sea, the gentle coastal atmosphere will begin to warm you to your vacation as the sun begins to warm your skin.
Once situated in this seaside resort, head to the first floor for an amazing dining experience at Restaurant Latour, awarded with a coveted Michelin star. Here you will delight in a menu of the highest caliber, with some of the freshest seafood available, while taking in a gorgeous view of the sea. Or delight in your choice of restaurant venues with a more relaxed atmosphere directly on the beach and reminiscent of the Mediterranean, and rustic setting for lighter fare and cocktails. After a great meal head to some of the nearby dunes for a picturesque walk or bike ride, and take in the mild ocean climate for a relaxing afternoon. If you are feeling adventurous, The Grand Hotel is centrally located between Amsterdam, The Hague, and Rotterdam, and is the perfect staging point for a day trip to any of these historically and culturally eye-opening cities. At the end of the day marvel at this beachfront wonderland from one of the terrace's plush sun beds while you sip a refreshing cocktail and watch the sun go down over the beautiful North Sea.
Location of Grand Hotel Huis Ter Duin
Grand Hotel Huis Ter Duin
Koningin Astrid Boulevard 5
2200 AB
Noordwijk, Netherlands
Nearest Airport: AMS
Amenities for Grand Hotel Huis Ter Duin
General Information
Pet Friendly
Ecologically Sustainable Practices
Dining
Bar
Restaurants
Michelin-Starred Formal Restaurant
On-Site Amenities
Concierge
Pool
Spa on Property
Fitness Center
Wellness Center
Beach Club
In-Room Amenities
In-Room Safes
Activities
Excursions
Sightseeing
Reviews for Grand Hotel Huis Ter Duin
---
Lets start off with something positive. The location was spectacular. Right on the beach with a great view. But the hotel is in serious need of updating. We had a Charming room which is apparently the already updated room. It frightens me to see the older ones! The radiator was falling apart. The temperature was impossible to regulate. The cold water was luke warm. The hot water was scalding. The toilet paper holder fell off. The balcony door had troubles locking. There was long dark hair everywhere (I'm bald and my wife is blond). The card lock didn't work a single time (had to have it recoded). The elevator was broken (we were told after waiting 10 min to push the down button to go up). Oh and the pillows were all wayyyyy too big and uncomfortable.
exyvrite - Groningen, The Netherlands
---
I won't say that the hotel was necessarily bad, but it didn't match their five stars because of several reasons. The interior is old, not ruff, just not modern. But they seem to be doing some renovations here and there to freshing it up a little bit. The room was partly renovated and looked ok. The breakfast was like a three star hotel, so ok but nothing special. The cheese was dry on the edges. Some of the staff were a delight and service minded, but some of them felt new at their job and rarely smiled. I was there in February, so I think the atmosphere in Noordwijk is a lot different in the summer. To sum it up, it feels like a three star hotel.
EmmyJon - Gothenburg, Sweden
---
... you are welcome to bring the dog. But if you wonder why housekeeping is *NOT* making up the beds or cleaning the bathroom then the explanation is that it is your dog. Surprised that this is happening in the 21st century? Well, no, not in this hotel. Did they tell you when you checked in ? Of course not. So, don't go to this place if you have a dog.
sn1987a2016 - Noordwijk, The Netherlands
---
Lovely old building right on the seashore. Rooms were a bit dated with old linens and furnishings. Common areas were nice, but the artwork and statues of European style clowns I found rather odd and unpleasant. Food was very good, and multiple restaurants were located within walking distance as well.
Austin_TexasRedhead - Austin, Texas
---
Stayed here for 3 nights with work. A fabulous hotel, right on the beach with good views in sea facing rooms . Bedding was good quality and very comfortable. Breakfast was good and food generally in the hotel was of a high standard. Staff very welcoming and helpful. Would definitely stay again for business or leisure
---