Please select your dates to see prices:
---
One&Only Reethi Rah in North Male Atoll, Maldives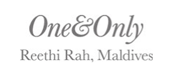 Whether you're swimming in the company of sea creatures or just watching them from your villa suspended over the sea, water is a way of life at One&Only Reethi Rah. Few islands in the Maldives are more idyllic or spacious than the one that houses this decadent compound, where a dozen beaches – that's right, 12 of them – beckon from villas with cathedral ceilings and shaded verandahs, some with a private plunge pool. A chic boutique sells Stella McCartney swimwear you'll love to flaunt, and sommelier Jean Sebastien Azaďs oversees one of the largest wine cellars in the world – some 30,000 bottles, ranging from rare Bordeaux to boutique South African labels.
From your Water Villa, slide into a stone lounger submerged in Indian Ocean currents the temperature of bathwater. Order a glass of fresh passion fruit juice. In the afternoon, board a catamaran destined for a deserted sandbank, where an uninterrupted slice of white sears into a cerulean sky. Dine on lemongrass-infused yellowfin in a candlelit corner of the chef's vegetable garden.
Location of One&Only Reethi Rah
One&Only Reethi Rah
North Male Atoll
North Male Atoll, Maldives
Nearest Airport: MLE
Amenities for One&Only Reethi Rah
General Information
130 Villas
Dining
Outdoor Dining
Private Dining
Pool Bar
24-Hour Room Service
Wine Cellar
On-Site Amenities
Beauty Salon
Spa on Property
Laundry Service
Library
Fitness Center
WiFi
Game Room
24-Hour Butler Service
Tennis Courts
Personal Trainers
Outdoor Whirlpool
Outdoor Pools
In-Room Amenities
Bathrobes
DVD Players
Hair Dryers
Mini Bar
Satellite Television
Private Verandas
Flat-Screen Televisions
Luxury Linens
Pillow Menu
Outdoor Showers
Activities
Bicycling
Cooking Classes
Deep Sea Fishing
Fishing
Kayaking
Sailing
Tennis
Windsurfing
Wine Tasting
Scuba Diving
Snorkeling
Sunset Cruises
Canoeing
Tai Chi
Yoga
Boat Excursions
Beach Volleyball
Fitness Classes
Table Tennis
Meditation
Soccer
Family
Children's Programs
Babysitting
Kids Pool
Children's Amenities
Teen Activities
Interests
Active & Adventure
Beach
Family
Honeymoons & Romance
Hotels
Overwater Bungalows
Reviews for One&Only Reethi Rah
---
Such and extraordinarily special place. It was our second time at Reethi Rah and it just gets better! All the staff were incredible and compliments the beautiful surroundings. There is something magical about how everything comes together at this place. Can't wait to return!
---
WOW is the only word to describe this place.. We stayed in a water villa with pool and also beach villa and has to be one of the best on the planet! Not cheap but you get what you pay for! Would recommend to anyone looking for that little bit extra!
GazzmanKL - Kuala Lumpur, Malaysia
---
We are just about to leave this stunning island after 9 days of pure relaxation. So many activities, the most amazing kids club (the best we have ever experienced by a long mile) and top notch food. It was our 2nd time at Reethi Rah and this time was even better than our first stay in 2009. I can recommend to anyone who wants to visit a true tropical island with their family. We travel intensively and and this holiday is up there with the very very best. Our Villa Host, Nasih, was excellent and sorted out whatever we asked of him. Just 2 slightly negative points from me. Having gone fishing in 2009 and caught 2 sail fish, a barracuda and a wahoo it was disappointing to spend USD 3K and only get a couple of tiny tunas. It was more wasting half a day on a boat than the money. Also the guests playing loud music in the villa next to us (Metallica and Techno :-) may annoy some but is just about bearable to us.
---
Words cannot describe this amazing experience! We were met at the airport by Hussein and led to a beautiful yacht that took us to the resort. The yacht crew was very professional and we enjoyed fresh juices and teas during the transit. Upon arrival we were warmly greeted by Waheed who graciously took care of us throughout our 8 day stay. The island and resort was fairly large yet extremely private. We often went the whole day without seeing anyone on Turtle Beach which was across from our fabulous water villa. Waking up every morning to the most crystal blue water I have ever seen was so relaxing. Wow, what a way to start the day! The villa was tastefully decorated and very comfortable. Each morning we had room service deliver coffee, fresh fruit, juice, and muffins. We did not have lunch so all food reviews are from dinners. Our days were spent relaxing on the villa deck and of course swimming in the insanely blue water. In the evening we relaxed on our villa deck and watched the gorgeous sunset while sipping champagne. After sunset we dined at one of the 4 amazing restaurants. We did not engage in all the activities they offered only paddled boarded one day but honestly were content to just relax, swim and soak up the sun and the scenery!! My friend did enjoy a scuba trip and I snorkeled separately. The reef and marine life are not to be missed! VILLA CONCIERGE I cannot say enough good words about Waheed! His world class service surpassed our expectations everyday. I was honestly so happy to see him everyday with his calm demeanor and infectious smile. He checked in on us several times a day, handled all requests immediately and came to see us each night at dinner no matter where we were dining. He is truly a jewel! VILLA ATTENDANT Shiham was so great! He took such good care of us! He was warm, discreet, professional, and had impeccable attention to details! We absolutely loved him! It was obvious that he takes such great pride in everything he does. He is definitely an asset to O & O! VILLA DINING SERVICE We ate in our villa one night and it was so delicious and relaxing that we decided to do it again! The staff came in and set everything up beautifully. We cannot thank you enough for your attention to detail. Thank you Nizam, Majid, Nadheef, Pato, Hussein, Mohammed, Hameed, Haseem, Ashfa, Shauya, Rifa, Sana, Irene, & Team for all the personalized In-Villa dining experiences! Thank you Nadheef for your exceptional hospitality and for coming to our departure with a beautiful gift – we were so touched by this! FOOD & BEVERAGE Although the food and service at all of the restaurants was world class my absolute favorite was Fanditha. The beach location, décor, staff, and food was incomparable. They have a Middle Eastern theme and cuisine and it was honestly hard not to eat every single bite of the delicious food prepared by Chef Dani. One night. while dining on the beach. it started raining and the team swept in and had us moved to another table protected from the elements in seconds. Thank you Chef Dani & Team for the special Indian & Mezze dinners! Thank you Dumi, Raj, Sharhan, Emmy, Inthi, Vishaam, Gandhi, Chef Dani, Niham & Team for all the special evenings on the beach at Fanditha! We ate at the main restaurant on our first and last night. The location, view and Thai food was excellent! Thank you Ayaz, Ismael, Reehan, Alto, Mohammed (Duri), Ziya, Hamzat, Prithvi, Raj, Farid, Hambe, Chef Pitam, Fittey, Lajos, Naseem, and all the Reethi Team for all the beautiful dinners at our special table!!! Fittey – thank you for all the details and personal service! Thank you Emmi, Huey, Darlene, & all the hostess team for your warm welcomes in the restaurants. You are all amazing! We only ate at Tapasake one night and the food was delicious. The ambience was great and we enjoyed seeing all the sharks! Thank you Shappy,Halu, Thiru, Ayami, Rubeen, & all the Tapasake Team! Botanica was a lovely restaurant and I love the farm to table concept. We loved our starters and amuse-bouches. Thank you Joseph, Aandhu, Sharif, Rafi, Reisa, & Fittey! Thank you Manik, Spidey, Gandhi, Nasrul, Widi, and all the Sommelier Team for another fantastic wine journey! We really appreciated all the time you took to ensure our wines were opened early to breathe, kept at the perfect temperature, and transferred between restaurants! ADMIN Special thank you to Eleonora, Dheena, & Maryna for making our stay so special with all the details and special requests you organized for us! SPA If you want to completely Zen out look no further than the spa. The staff and atmosphere was the best I have seen at any resort. I thoroughly enjoyed my massage and body scrub in a private open air room on the beach. The day I left I had the Reethi facial which left my face feeling hydrated throughout the 28 hour trip home. Make sure you arrive to your treatment ahead of time so you can enjoy the pool , steam room, sauna, and beautiful outdoor garden. Thank you Andike, Richie, Tri, Heppy, Natt, Swarni, Ariana, Hana and all the wonderful spa team for your most gracious hospitality! ARRIVAL / DEPARTURE We deeply appreciated the hospitality of Hussein, Soja, Thoha, and all the wonderful airport team! The yacht crew was amazing! Thank you Rayyaan, Madgi and Team! ROOM FOR IMPROVEMENT I heard there used to be dimmer switches in the villas, it would be great if you could bring them back. The natural light is fantastic and having a dimmer would allow guests to slowly turn up the lights as the sun goes down. The sound system in the villa could use improvement. The speaker sound is shoddy and if you turn it up to hear it while sunning outside the speaker vibrates and sounds terrible. A small table between the loungers on the villa sun deck would be very useful. It would be great to have live music you could dance to at the bar. There was one band, De Tune, that played great dance music, more music like that or a DJ would be appreciated. A dance night after dinner on the beach at Fanditha would be awesome! Overall our whole stay was amazing! Thank you to all for a great experience.
im1jenn - San Clemente, California
---
We have just returned from spending an amazing week in paradise at the Reethi Rah for our honeymoon. It has to be one of the best places in the world to relax and enjoy a level of seclusion you would normally only expect on your own private desert island. The service was impeccable and beyond our expectations. We are definitely coming back. Thank you for making our week with you feel so special.
---