Please select your dates to see prices:
---
One&Only Reethi Rah in North Male Atoll, Maldives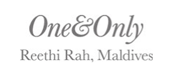 Whether you're swimming in the company of sea creatures or just watching them from your villa suspended over the sea, water is a way of life at One&Only Reethi Rah. Few islands in the Maldives are more idyllic or spacious than the one that houses this decadent compound, where a dozen beaches – that's right, 12 of them – beckon from villas with cathedral ceilings and shaded verandahs, some with a private plunge pool. A chic boutique sells Stella McCartney swimwear you'll love to flaunt, and sommelier Jean Sebastien Azaďs oversees one of the largest wine cellars in the world – some 30,000 bottles, ranging from rare Bordeaux to boutique South African labels.
From your Water Villa, slide into a stone lounger submerged in Indian Ocean currents the temperature of bathwater. Order a glass of fresh passion fruit juice. In the afternoon, board a catamaran destined for a deserted sandbank, where an uninterrupted slice of white sears into a cerulean sky. Dine on lemongrass-infused yellowfin in a candlelit corner of the chef's vegetable garden.
Location of One&Only Reethi Rah
One&Only Reethi Rah
North Male Atoll
North Male Atoll, Maldives
Nearest Airport: MLE
Amenities for One&Only Reethi Rah
General Information
130 Villas
Dining
Outdoor Dining
Private Dining
Pool Bar
24-Hour Room Service
Wine Cellar
On-Site Amenities
Beauty Salon
Spa on Property
Laundry Service
Library
Fitness Center
WiFi
Game Room
24-Hour Butler Service
Tennis Courts
Personal Trainers
Outdoor Whirlpool
Outdoor Pools
In-Room Amenities
Bathrobes
DVD Players
Hair Dryers
Mini Bar
Satellite Television
Private Verandas
Flat-Screen Televisions
Luxury Linens
Pillow Menu
Outdoor Showers
Activities
Bicycling
Cooking Classes
Deep Sea Fishing
Fishing
Kayaking
Sailing
Tennis
Windsurfing
Wine Tasting
Scuba Diving
Snorkeling
Sunset Cruises
Canoeing
Tai Chi
Yoga
Boat Excursions
Beach Volleyball
Fitness Classes
Table Tennis
Meditation
Soccer
Family
Children's Programs
Babysitting
Kids Pool
Children's Amenities
Teen Activities
Interests
Active & Adventure
Beach
Family
Honeymoons & Romance
Hotels
Overwater Bungalows
Reviews for One&Only Reethi Rah
---
This is my second time in this resort. From the airport to the resort the organization was flowless. The grand beach villa with pool is very well equipped and you have all you need. The japanese restaurant is a must. From room service to spa/gym from all different beaches to beach in front of our villa was perfect. There is no such a thing as better side of the island as it all depends to the wind but in general all the beaches are excellent.
---
The most wonderful place on earth. Paradise. Everything and everyone equals amazing. Faultless in every respect. Roberto our villa host was truly exceptional and he made every day unique. This was our fourth visit to our island heaven and we will hopefully return next year.
---
Our first time visiting Maldives was unforgettable. We enjoyed every single second of our stay at ONE&ONLY Reethi Rah. On our arrival at the beautiful island, there was a big surprise. We truly appreciated it. The Grand Water Villa was simply amazing !!! We enjoyed most beautiful sunset from the Villa every day. It was extraordinary experience swimming in a private infinity pool and relaxing in a warn jacuzzi at the Villa with a breathtaking view. All the staff was very nice and kind with friendly smiles. Especially we are grateful to a wonderful butler, Tek. He was attentive and helped us during our whole stay. The food was delicious from the Room Service to Restaurants. The quality and taste of each food were excellent. We enjoyed romantic dinner on the terrace of restaurants. The massage at the SPA was great too. Peaceful private beaches and an incredible infinity pool on this island were spectacular. Our very first experience of snorkeling was well supported and unforgettable. We got on a speedboat and snorkeled in a beautiful sea, swimming with turtles and manta ray, then visited the sand bank - a tiny sand island in the sea. It was an incredible adventure ! We will definitely come back to this Paradise again. Thank you very much for an extraordinary stay.
---
My very first time going to the Maldives even though I must have heard of it for over 3 decades, the photographic view of the water villa with pristine pure white sandy beach on advertisements are simply unforgettable. When we got there...it was past midnight local time - the 3 of us including our 15 year young daughter went thru hassle free customs and we all looked at each other thinking: what a breeze from touchdown to luggage was like maybe 10 mins. And then we got greeted by the Reethi Rah hotel airport greetings team with a wide friendly smile!!! Yes! Our vacation started....then we walked like 3 steps and saw this beautiful white massive yacht right in front of us...again we glimpsed at each other thinking: this is going to be Great! Onboard...immediately the pampering starts...welcome drinks and snacks on the luxurious yacht. The staff on board was informative, very friendly but not too chatty yet so accommodating and relaxing. The hostess went up with us to the top deck despite it being so dark and windy. Our daughter wanted to feel the fresh Maldivian air. After the short and...we don't want to leave the 40 min boat ride...we approach Reethi Rah. With again friendly team members waiting to welcome us. After the welcome the personal butler assigned to the villa drove us to our villa with the buggy. The team are all very friendly and professional at the same time. When he opened the villa door we were in AWE - supercalifragilisticexpialidocious awesome! We just felt this is going to be a special journey. After trying to zen down our excited veins and senses with the table full of local delights, fruits and handmade beach shoes chocolate...we went to bed intentionally (per our daughters Jade request not to open any curtains so we can get that instant jolt of heavenly feel tomorrow - more like in 4/5 hours. At 7ish in the morning we woke up and Jade said we need to get ready and put on our favorite swimwear to meet our private beach in front of the villa. It's the most Beautiful View we ever set our eyes on. Our heartbeat probably stopped for 3 seconds.... #Pureluxury #BlissBlessmoments #Familylove#Bonding #Bestholiday #Heavenly We love every moment, my favorite spot was the sunset at Fandhitha, our daughter Love Love the snorkeling and jet ski experience -beach time afternoon snacks sooo Yummyyyyy - it's different from any other resort we have been. In fact the whole family absolutely loved Reethi Rah - which means Beautiful Island in Dhivehi as we were told. So Appropriate all the photographic advertisements of Maldives are all true and in fact Reethi Rah's photos don't do all its true beauty justice ...we were delightfully surprised that we feasted ourselves totally in every sense and experience at this place!
---
One & Only Reethi Rah is truly a 7 star resort. It was our fourth trip to the Maldives. Our first time to O &O. It was hard to find the resort that checked all our boxes this year. Finally, after some fellow TA members in the Maldives Forum recommended, and my own research, I asked my agent to book O&O. It was expensive. I held my breath and counted down the days until we arrived. I crossed my fingers that it was not going to disappoint us. From the reservation to actual arrival, I communicated numerous times with O&O. Each email was replied promptly and with the information I requested and I was able to make the arrangements and reservations for our one week's stay. Upon our arrival at the airport, the O&O staff greeted us, and took our luggages to the pier. Shortly, our private transfer on the new O&O luxury yacht arrived. We enjoyed a relaxing cruise of 50 minutes to the resort. The staff on the yacht were wonderful and attentive and took considerate care of my children. Ensured they were warm with blankets, not too windy, water, organic juices, wet towels, sea bands, lifejackets, wifi...etc. I couldn't ask for more royal treatment. Upon our arrival, there was a warm welcome by other staff and the management. Eric, our "concierge" took us in the golf buggy and brought us to our two villa residence with pool. Checked in was smooth at the villa, and the two villas were stunningly beautiful and impressive. My kids were so excited and happy. Villas- We spent 7 nights at O&O. We stayed in the Turtle beach. Stunningly beautiful beach and love our two hammocks and the pool. Our Two villas were the perfect arrangement for our family. My kids stayed in one villa, while my husband and I had ours. The villa was beautiful, modern, satellite TV channels, nice amenities, and excellent wifi signal. Among all the resorts we have stayed in many villas, the villas here were the most well designed. Spacious and very thoughful layout and decor. The villas are always spotlessly cleaned by the housekeeping. Complimentary bottles of water are provided. Our villas had a golf buggy and bicycles for each of us. I LOVED driving the golf buggy around the island. It was a big convenience and very fun. Not every villa gets a buggy, I found out only the two villas residence get the golf buggy. If you like to rent one, it costs ,$350 USD a day. Meals- Breakfast was THE highlight each day. The variety of foods at breakfast was impressive. You get a huge buffet selection from cold cuts, salads, fresh yogurts, cheese and crackers, fruits, pastries, crepes, waffles, dim sum. There is a kid's corner. There is breakfast champagne if you choose. The best part was choosing from the menu, all kinds of a la carte items from pancakes, eggs, omelettes. There is a selection of fresh juices, and protein shakes. Coffees from cappuccino, espresso, drip, pressed, brewed, and all kinds of teas. All are complimentary. My favorite part was the Wellness stall. (My OOsuper foods) I always ordered my "Incredible Wellness" dish. The server there would make it fresh from scratch. Banana, coconut flakes, oats, red and green apple, spirulina, and yogurt. It really gave my mornings a feeling of healthy start of the day. Other dishes include Activator, Powerful-P Antioxidant, Detox Blends, and The Skin food. Every dish was made with fresh ingredients. We tried a number of special themed dinners such as Italian buffet dinner, Arabia Cuisine Buffet, Indian Masala Night. Asian buffet dinner, and two nights just a la carte French and Asian foods for dinner. Food and service were amazing and always impressive. The amount of effort and care that the F & B team puts in at each meal service was much appreciated by us. We had light lunch each day because the breakfast was SO good. The Beach club and RahBar were both very good for lunch each day. Kids swim and played, and then we would eat a light lunch and a visit to the ice cream stall Sweet Paradise was a must for the kids each day. They enjoyed the homemade yogurt and so many different toppings to choose from. Then they would enjoy the wonderful area with beanbags and air conditioning, behind the counter to watch TV on a huge screen. Food and drinks were truly very very good at O &O. Best we have had. Spa, Gym, Tennis, Ping Pong, Football, Snorkeling, water sport Activities and Photography session- Do them all. Spa was excellent. There are so much to do in this resort. You can do as much as you want, or as little as you want. The photos we got from our photoshoot were stunning. Thank you so much Ali (our photographer). I would like to thank the following staff who made our stay such a memorable and special one: Maryann (million thanks!) Eric our concierge, Hussian (tennis), Khalid (housekeeping), Ayaz (F&B) , Sim (Reethi Restaurant), Abey , Najeeb, Falilu (Beach Club Restaurant). The amazing captain who brought us safely back to the airport despite such a rough sea that night ! O&O Reethi Rah is truly a paradise. We can't wait for next year when we return again. Last but not least, really appreciated the arrangements for our departure day. The whole team is truly a fine example of what the meaning of top customer service and professionalism is.
Katetam - Hong Kong, China
---