Please select your dates to see prices:
---
Jamaica Inn in Ocho Rios, Jamaica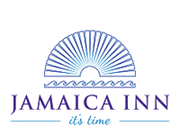 Since 1950, Jamaica Inn has ranked among top luxury hotels in the Caribbean. Nestled in Ocho Rios on one of the premier private beaches in Jamaica, intimate suites and cottages showcase enchanting views of the Caribbean Sea. Here, it's so relaxing, it whispers paradise.
It begins the moment you arrive at this timeless Jamaica hotel.  You sense a warm, familiar feeling grow as you stroll the manicured grounds to your antique-appointed bedroom. Standing on your exquisite verandah drinking in the magnificent Caribbean vista, it all becomes clear. You've come home.
Location of Jamaica Inn
Jamaica Inn
P.O. Box 1, Main Street St. Ann
Ocho Rios, Jamaica
Nearest Airport: OCJ
Reviews for Jamaica Inn
---
We stayed a week at Jamaica Inn which turned out to be finest selection we could have made. We so much appreciated the entire stay. The staff - everybody had such a happy attitude which made us feel good.The food was superb with a daily change of dishes, even the live music at dinner was never the same from one night to another. The setting and surroundings of the hotel are so beautiful and exude with tranquility and give you that allround happy and content feeling. The hotel is special as the owners are on site and watch over your well-being. We will be back for certain and we met others who had been a number of times before!
Gunter-Erika - Greater London, United Kingdom
---
My wife and I celebrated our golden wedding at the Jamaican inn and could not have picked a better place.The hotel was everything we hoped it would be,After a long flight of 11hours we arrived in the evening when we awoke in the morning to look out from our balcony across the beautiful gardens to the beach it made the long trip so worth while.from the welcome from peter,the owner on the way to breakfast and the wonderful staff,always smiling it really is a great place for a vacation. We spent most days on the private beach, absolute heaven the staff could not do enough to make us feel welcome. One of the many highlights was the boat trip with skipper Tony to the falls,taking us along the coast and pointing out the many places of intrest,not to be missed. We have travelled to the Caribbean before but without a doubt this hotel is one of the best. Thankyou to Peter and all of the wonderful staff for making our anniversary so unforgettable,I am sure we will return.
ian y - St. Albans, United Kingdom
---
Jamaica Inn is everything I could have wanted for a relaxing and pampered holiday. The staff deserve the most credit for giving this place its 5 star reviews. Particular mention to Samuel and Francoise for my fabulous room service, timed to perfection, Maria on the front desk for dealing with my many demands, Cerbert for the best Planters punch cocktails and Derek and Anzelella at breakfast for remembering my favourite low fat latte and Jamaican honey and yoghurt and for just being so cheerful early in the morning when I need it most. Thank you Peter for checking in on me and to everyone at Jamaica Inn for being such wonderful hosts and welcoming me home!
555elaine - London, United Kingdom
---
This is one of those reviews where I worry about writing how good this place is for fear I will increase the bookings and not get a room when I want to return....because let me say, that is going to be very soon! A wonderful place which is defined by its amazing staff who are wonderful, they delivered on everything for me, relaxation, service, quiet, helpful, chilled, wonderful rum punch, fabulous secluded relaxed beach, good food, room service, a hammock to relax in, clear waters and.....a steel band which is what tops off a holiday in the Caribbean for me! I've visited many islands in the Caribbean over the years but I will be returning to Jamaica Inn, probably sooner than I had anticipated! I relaxed within a few minutes of arrival, the planters punch may have helped! Thank you for an amazing trip, you delivered on all counts for me! I look forward to seeing you all soon. Elaine
---
Of all our many trips to the Caribbean, this tops them all. As close to perfection as a resort can get. Beautiful, private beach with no worries about finding a chair in a shady spot. Thanks Danielo for setting us up everyday in our favorite spot. Visits by Shadow were always welcome. We did leave the resort the entire week. Dinners were good, especially the red snapper. Music during dinner was a plus. Enjoyed dancing raggae. Shout out to the drummer! Came back to Stony Brook to yet another winter storm but our vacation buzz remained. Planning another trip next winter.
Virginia R - Bayport, New York
---