Please select your dates to see prices:
---
The Villas of Grand Cypress in Orlando, Florida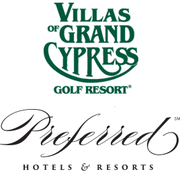 Tranquil emerald fairways greet you as you step out into the beautiful Florida sun, with a cool breeze flowing through the trees, bringing the crisp scent of morning at The Villas of Grand Cypress, a Preferred Hotels & Resorts property, part of the Preferred Hotel Group. A serene oasis in vibrant Orlando, this picturesque golf resort welcomes you to relax and unwind, as you enjoy each day to the fullest. Spacious villas and suites combine sleek modern style with comforting classic Americana, crafted with soothing coffee and cream tones and accented with rich dark woods. Elegant and geometrically-chic bathrooms offer deep soaking tubs accessorized with flat-screen televisions, and enticing glassed-in rainshowers, complete with massaging shower towers. Stretch out on your private patio as you sip a steaming cup of coffee in the morning, or watch the sunset with a perfect glass of wine. With in-room spa treatments, all the modern entertainment options, and warm, peaceful ambiance, you may never want to leave The Villas of Grand Cypress.
Start your day with an early tee time on one of the fabulous golf courses, playing 27 holes on the North/South/East course, or 18 holes on the Scottish-styled New Course. Enjoy some expert lessons at the Academy of Golf, then relax with a cocktail and a light lunch. Stretch out next to the pool and soak in the sun, or make your way to beautiful Lake Windsong for a relaxing day at the beach. Find your perfect spot on the soft white sands, or dive in for a delightful day of swimming and fishing or kayaking along the glassy shores. Venture out for a fascinating day trip to nearby Kennedy Space Center or SeaWorld, or enjoy a fun time at Walt Disney World and Universal Orlando. Return to the hotel for a gorgeous sunset bike ride through lush country trails, and watch as the stars emerge in the clear skies. Sit down to an elegant dinner at Nine18, and enjoy mouthwatering cuisine from an award-winning chef. With the evening coming to a close, slip into the plush comforts of your quiet home away from home, and drift off to sleep in the lap of luxury at The Villas of Grand Cypress.
Location of The Villas of Grand Cypress
The Villas of Grand Cypress
One North Jacaranda
32386
Orlando, Florida
Nearest Airport: MCO
Amenities for The Villas of Grand Cypress
General Information
145 Guest Rooms
Pet Friendly
Dining
Poolside Dining
24-Hour Room Service
7 Restaurants
5 Bars
Sports Bar
Sushi Bar
Picnics
On-Site Amenities
Beauty Salon
Shoe Shine Service
Shuttle Service
Spa Services
Complimentary Newspaper
Housekeeping Service
Laundry Service
Fitness Center
WiFi
Game Room
Bicycle Rental
High-Speed Internet Access
Racquetball Courts
In-Room Spa Services
Putting Green
Driving Range
Golf Academy
Outdoor Whirlpools
Jogging Path
2 Outdoor Heated Pools
Pitch & Putt Golf Course
4 Golf Courses
In-Room Amenities
Bathrobes
Direct Dial Telephones
Satellite Television
Flat-Screen Televisions
Luxury Linens
Coffee & Tea Facilities
Activities
Bicycling
Fishing
Kayaking
Sailing
Tennis
Canoeing
Table Tennis
Racquetball
Boating
Business
Business Center/Services
Meeting Rooms
Family
Children's Programs
Cribs
Babysitting
Waterslides
Rollaway Beds
Nearby
Beach
Golf
Marina
Nature Reserve
Interests
City
Cool Pools
Spring Getaways
Summer Getaways
Theme Parks
Reviews for The Villas of Grand Cypress
---
We thought booking a hotel with a lower price point would be a good idea since we are staying in the Disney area for five days. Unfortunately you get what you pay for. Our room is literally across the hall from the staff only doorway which is used for , room service, storage for the maids and bellboys entrance to the floor. It is the access to the service elevator. So it is used quite regularly all night and early morning. Problem is they let the door slam every time because their hands are full. They also engage in loud conversations with fellow employees that they encounter while moving to and from the area. However, you would think that being that close to the maid storage area would mean attention to our room would be easy. Wrong! We left at 9 am and returned at 10 pm after a long day at the park. We came back to the room to shower and go to bed only to learn that they failed to enter and clean the room. We had to go to the storage and get our own towels and floor mat. No beds made and no replenishing of toilet paper and shower necessities. We made contact with an empoyee and asked for some help but unfortunately there was a language barrier. We contacted guest services and they said they would make a report. We requested toilet paper be brought and about 30 minutes later a knock on the door. The employee on the other side handed us the rolls without saying a word or offering to replace the empty one on the hanger. Very disappointed with the housekeeping. The hotel itself is visually pleasant and in a good location, but don't expect top notch service like Disney properties.
Robert S - Boca Raton, Florida
---
Will come back to this property because of its location and value. I have stayed here many times before & plan to return again soon. One improvement would be to offer a faster cafe for getting morning coffee.
---
Love this hotel have stayed here twice,location great a good choice of restaurants within walking distance. We are walkers so did not mind the walk to Disney springs which I took us about 25 mins. Shuttles to parks always went on time have to be pre booked, will be back in near future
houndman186621 - Limerick, Ireland
---
Hotel located close to the Premium Outlets Vineland which is a 10$ ride by Uber. Room is spacious and with all you need for a comfy stay. Coffee maker, iron, nice toiletries etc.. it seems all rooms have a small balcony. I had dinner at the Himingway restaurant and it was disappointing as service is rather slow, food not nicely presented but price is steep. I had a filet mignon and asked for it to be well done... ended up getting a piece of charcoal... was really bad Somthing really unfair is the so called resort fee of 30$ plus for use of all facilities like pool internet etc.. I travelled on business, did not make use of any facility but had to pay nearly 120$ dor nothing... why?? Just another way of ripping guests off. I called reception and asked to check out at 1PM instead of noon however was denied as they said the hotel was full... ok fair enough...my friend called right after and they allowed him the late check out... not realy consistent..
20traveller01 - Vaitupu, Tuvalu
---
Previous stay was almost two years ago and several times before that. Again, the Hyatt Regency Grand Cypress impresses with professionalism, attention to detail, and above and beyond customer service. You will find one very large resort. Swimming, golfing, bicycling, and numerous activities. Hard to believe Disney Springs and the ā€œMouseā€ is almost next door. We arrived two days after MCO reopened due to the hurricane. Incredible how the staff was taking care of so many locals without electricity and damage. They should all receive the highest kudos. We had breakfast and dinner several times at the old Cascade Restaurant. Fantastic remodeling and throughly enjoyed ourselves. Again, wonderful staff, plenty to do, and so close to everything. It is not uncommon to talk to people who have visited the HRGS 10, 20, or even 30 years or more. You become family to them.
MarieandJayR - Fort Worth, Texas
---