Please select your dates to see prices:
---
Paihia Beach Resort & Spa in Paihia, New Zealand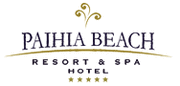 Approximately two and a half hours from Auckland, on the far tip of New Zealand's North Island, the Bay of Islands is a destination of unparalleled beauty. At its doorstep sits the exclusive Paihia Beach Resort & Spa, where every contemporary studio and suite gazes over the magnificent body of water. When you're not enjoying the views from your private patio, you can unwind in your six-foot spa tub surrounded by candlelight. Since relaxation is a priority here, you're also invited to indulge at La Spa Naturale, featuring decadent wraps, masks and massages.
This region is ideal for connecting with nature. Bush and coastal walks are wonderful ways to get a lay of the land, while parasailing, skydiving and kite surfing will accelerate the pulse of the most daring adventurers. Those who prefer the water can choose from swimming with dolphins, light-line fishing trips or explorations of the bay by charter yacht. After working up an appetite on the Waitangi or Kauri Cliffs golf courses, return to the hotel for Pacific Rim cuisine at the poolside Black Rocks restaurant.
Location of Paihia Beach Resort & Spa
Paihia Beach Resort & Spa
116 Marsden Rd,
Paihia, New Zealand
Nearest Airport: KKE
Amenities for Paihia Beach Resort & Spa
General Information
22 Guest Rooms
On-Site Amenities
Spa on Property
Spa Services
Interests
Active & Adventure
Beach
Spa & Wellness
Reviews for Paihia Beach Resort & Spa
---
Great location and great food. But the quality of the rooms and access to the hotel is very poor, for the price paid. Our room had peeling wall paper, peeling paint in the bathroom. The safe was mounted so high in the wardrobe my wife could hardly reach it. My wife wouldn't use the spa due to the state of our room concerned about the cleanliness of the spa. The reception staff which seemed different every day didn't seem to care. It is 3 star at best, but could be 4-5 stars with some investment and an attention to detail.
Richard W - Sydney, Australia
---
Good views from a well equipped sea front hotel. Only a two night stay here. Handy for the town and the treaty grounds, both within easy walking distance. If you need to shop for food & other items avoid the nearby convenience store if you can - items in the town supermarket were half the price. Quite expensive accommodation but it delivered what we wanted.
---
The Paihia Beach Resort and Spa is a 5 minute walk from the central hub of Paihia. Consequently it offers a stylish and tranquil base for exploring the Bay of Islands Region. Rooms offer spectacular views and there is an excellent outdoor pool on the central terrace. Staff are friendly, motivated and hospitable. Breakfast is excellent and the dinner menu is original and enticing. That said, service in the restaurant tended to be glacial and one got the impression that staff were, on occasions, slightly overwhelmed. Notwithstanding this minor observation, this establishment is highly recommended for those who wish to explore this beautiful area of New Zealand.
RichardWiltshiireUK - Warminster, United Kingdom
---
My wife and I stayed 14/15 February 2018. Found entrance after walking around the property (it's not clearly signed) and having visited reception we were told we could park underneath hotel where we obtained last space. There are only We 6 spaces and after this you can only park in the road at the side where you may be competing with others using only the restaurant. The young lady on reception was very helpful and booked us a table at a restaurant down the road as hotel restaurant was full. She seemed to be on her own but helped us with our cases to the room. The room was large and could be used for self catering. It had views over the bay but there is a road between the hotel and the front. TV had extensive channel package. Now for the disappointment. We were given a 30 NZD voucher for breakfast and of course decided to make use of this on both days. The restaurant is quite pleasant but small. Although we were amongst only a small number of diners 6 or 8 some of whom had been served we waited an age for anything to arrive. They had never heard of fresh orange juice and served something which was orange in colour with a consistency of a thick cream. This was all repeated on the second day except we waited even longer to be served and the event lasted almost one hour. In summary nice hotel a little expensive perhaps but let down by its restaurant. In case anyone thinks we are the usual moaners two other couples both made the same comments at reception on the day we left.
kevdoo2002 - Newbury, United Kingdom
---
We were warmly welcomed by Jaimie on arrival and each time we saw Jaimie during our stay he greeted us with a big smile and nothing was a problem. Our room was wonderful, the bed was very comfortable, the spa's were such a great treat and terrific after a day out. Even though the weather wasn't the best, we still enjoy being in the warm spa's easing our tired muscles. The room we had was spacious and had a wonderful view of the pool area and the bay. The 6ft spa bath in our private bathroom was also a great way to end the day. We both had an hour long massage with Linda and WOW, I'd highly recommend this. Linda too was beautiful, very welcoming and made us feel extremely comfortable. This truly was a treat. It's a shame all hotels don't have a Jaimie and a Linda, both of these people made our time in Paihia and at the resort that much more special. Thank You Jaimie and Linda for making us feel so welcome. We will be back.
---