Please select your dates to see prices:
---
PGA National Resort & Spa in Palm Beach Gardens, Florida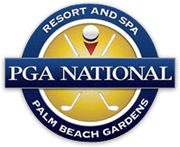 With more features and amenities than most travelers could imagine, PGA National Resort & Spa is a luxury championship experience for all types and tastes. Beyond its five tournament-ready golf courses, seven on-site restaurants and bars, and 40,000-square-foot spa, the resort's services and facilities continue to impress even the most discerning or demanding guests. Located in Palm Beach Gardens, Florida, PGA National Resort & Spa offers a wide variety of accommodation options, each impeccably outfitted to provide comfort and convenience. Warmly decorated and richly furnished, guest rooms and suites feature granite-appointed baths, private balconies, executive work desks, iPod docks, and on-command video. For further pampering, relax and rejuvenate at The Spa at PGA National, where you can enjoy everything from classic massage treatments to a full-service salon.
When the name of the game is golf, PGA National Resort & Spa delivers an unrivaled experience. The five spectacular courses—designed by the likes of Jack Nicklaus, Arnold Palmer, Tom Fazio and more—allow players to test their skills and improve their game on emerald green fairways and scenic stretches of South Florida landscape. The resort's expansive Health & Racquet Club invites other active enthusiasts to participate in an array of sports and athletic pursuits as well. Jogging paths, yoga and pilates studios, weight and cardiovascular training centers, and a lap pool are just some of the facilities available in addition to the 19 tennis courts, racquetball and handball courts. Dining is equally impressive at PGA National Resort & Spa, with six restaurants and five bars from which to choose. The signature fine dining venue, Ironwood Grille, is a contemporary and intimate space serving modern American cuisine with a gourmet twist. The accompanying iBAR embraces a warm and lively atmosphere, pouring wines and custom libations for its relaxed and happy guests. From the moment you arrive, through every activity and experience, PGA National Resort & Spa strives to create a memorable vacation for its visitors, and is one that you will soon not forget.
Location of PGA National Resort & Spa
PGA National Resort & Spa
400 Avenue of the Champions
33418
Palm Beach Gardens, Florida
Nearest Airport: PBI
Amenities for PGA National Resort & Spa
General Information
379 Guest Rooms
Ecologically Sustainable Practices
Dining
Poolside Dining
Outdoor Dining
Private Dining
Cafe
Bar
Room Service
7 Restaurants
Spa Cuisine
Sports Bar
On-Site Amenities
Beauty Salon
Spa on Property
Complimentary Newspaper
Fitness Center
Tennis Courts
Jogging Track
Personal Trainers
Lounge
9 Pools
Lap Pool
5 Golf Courses
Driving Range
Golf Academy
Outdoor Whirlpools
Health Club
In-Room Amenities
Bathrobes
Direct Dial Telephones
Hair Dryers
In-Room Safes
Mini Bar
Marble Bathrooms
Flat-Screen Televisions
Luxury Bath Amenities
Work Desks
Activities
Croquet
Tennis
Pilates
Yoga
Fitness Classes
Racquetball
Golf
Business
Meeting Rooms
Conference Facilities
Family
Children's Programs
Kids Club
Nearby
Shopping
Zoo
Museums
Restaurants
Nightlife
Beaches
Interests
Active & Adventure
Cool Pools
Golf
Kids' Club
Reviews for PGA National Resort & Spa
---
This spa is in bad need of renovation along with a good cleaning and staff training. The staff at the front desk were not welcoming. They were proficient in having us sign paperwork and to have us pay $798 for a 75 minute couples massage & two facials. They told us the pool area and restaurant where we had planned to spend time together & have lunch was closed due to weather without offering us any alternative. One of the front desk staff walked me into the locker room giving me a very quick this is here that is there, here is your locker. *A note for her. You are the first person guests come in contact with so have a little enthusiasm for the place you work. If you aren't excited to be there the guests won't either. Another much nicer staff walked into the locker room a few minutes later and told me that the pool was open as well as the restaurant. There is no other place for couples to relax together if the pool area is closed. If it rains they will give you a pass to come back but you cannot use it on the weekend. The pools need a good cleaning as well. There was some type of large bird poop all over the edge of the healing waters. The pool attendant was very nice. Manual was our server by the pool and at lunch . He was kind and professional. The food was good . We shared an appetizer hummus & olives and shared a chicken spinach salad and a wrap. Manual was nice enough to have the food plated for us so we each had some salad and half a wrap. Lunch was the highlight of our day. Beware though a small glass of just ok wine in a plastic cup can cost $11. The services were average. My husband had a deep tissue massage which was much better than my relaxing massage but neither of us would go back. Same for the facials except I had Racheal who is a lovely person & does a good job. The prices are way too high. As far as the facility there are places that are beautiful others not so much. It rained a few hours after we got there and water was pouring through the ceiling at the entrance to the spa. There was an unintentional waterfall near the entrance from pour drainage. We were both disappointed. If a spa wants to charge that kind of money they really need to provide an excellent overall experience. This is not that place. We won't go back.
---
Stayed in Rm 3071, excellent large room, were here from Thurs- Sunday for daughters wedding on Sat. Food and beverage above expectations for a crowd of 150 people both Friday night reception, and Sat night dinner and reception. This resort does a excellent job with all the aspects of a large wedding crowd. Very happy with results.
Paul L - Downingtown, Pennsylvania
---
Completely and utterly disappointed in the lack of professionalism and customer service skills displayed by their "Wanna Be Secret Service Agent" Security Guard. Mr. Mark Bender spoke to me like I was a 10-year old he was bossing around. I am a 45 year old grown adult. I do not appreciate be spoken to in such a condescending and disrespectful manner one hour after I checked into this resort as I was walking into the pool area with my son. This was uncalled for, unprovoked, and completely unacceptable. Additionally when I went to talk to the manager about Mr. Mark Bender's unprofessionalism, rudeness, condescending tone and lack of respect towards me and other adults we were with...the manger would not give me his last name so I could write in a complaint. He said "he forgot his name". I find that an outright lie and attempt to prevent my complaint from going above him to corporate. Mark Bender just happened to walk up to the manager as I was speaking to him, so I told him myself that I thought the way he treated me was completely unacceptable as I did not do anything to provoke him. He waved his hand at my face and walked off. I had to walk up to him again to get his last name from his tag. The "supervisors" are running their own show here; not being customer-oriented, not be respectful of guests, not taking guest concerns seriously, dismissive of customer concerns when brought to their attention, and fostering a culture of bad behavior among the others that work under them. What a way to ruin an expensive weekend in what we thought was going to be a great resort and a great mother's day weekend for me with my 2 kids. THEY KIDS ALL THE KIDS OUT OF THE POOL and said they have the discretion to close the pool when they have too many kids around. Maybe they ought to advertise that they are NO KID-FRIENDLY and NOT FAMILY-FRIENDLY.
---
It seemed like this was going to be a nice resort, but I was less than impressed. My ground-floor room had a nice little sitting area but was below grade, which let very little light into the room. Not enough lamps in the room to give good light so the room was always very dark. Broken part from a suitcase on the floor indicated lack of vacuuming. Bathroom light fixtures were covered with dust on top (one was rusted) and bathroom fan did not work. Shower curtain had mold on it, and furniture was beat up. Dresser had a glass top which was smeary and dirty. Desk electrical outlet had only one receptacle and an empty hole where another should have been. Air conditioner ran continuously, even when I turned it up to 80 degrees to try to get it to shut off. Had to turn off manually. There were a couple of plusses: banquet service at our corporate meeting was wonderful, great food and helpful servers, elegant setting. I liked the wall-mount shampoo/etc. dispensers, more environmentally friendly than all the little bottles. Excellent towels and good water pressure. But not worth the money and definitely a let-down.
SheWhoTravelsTooMuch - St. Louis, United States
---
Stayed 2 nights with friends. The Hotel rooms are tired, and the one we had, really dark without much daylight. We booked our package 2 month before, and send several e-mails to get a confirmation of our golf tee-times, but never got an answer. Well that had not booked any tee-times for us when arrived. The golfshop was closed, so we had to get up early in the morning to phone them, and then had to rush to be able to play 9.15 only available tee-time. The champignon course was in a bad conditions, not worth the money we paid. This resort is only living on the reputation from The Honda Classic, will not come back.
Susan V - Luxembourg City, Luxembourg
---