Please select your dates to see prices:
---
PGA National Resort & Spa in Palm Beach Gardens, Florida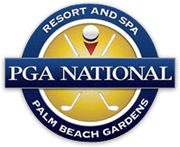 With more features and amenities than most travelers could imagine, PGA National Resort & Spa is a luxury championship experience for all types and tastes. Beyond its five tournament-ready golf courses, seven on-site restaurants and bars, and 40,000-square-foot spa, the resort's services and facilities continue to impress even the most discerning or demanding guests. Located in Palm Beach Gardens, Florida, PGA National Resort & Spa offers a wide variety of accommodation options, each impeccably outfitted to provide comfort and convenience. Warmly decorated and richly furnished, guest rooms and suites feature granite-appointed baths, private balconies, executive work desks, iPod docks, and on-command video. For further pampering, relax and rejuvenate at The Spa at PGA National, where you can enjoy everything from classic massage treatments to a full-service salon.
When the name of the game is golf, PGA National Resort & Spa delivers an unrivaled experience. The five spectacular courses—designed by the likes of Jack Nicklaus, Arnold Palmer, Tom Fazio and more—allow players to test their skills and improve their game on emerald green fairways and scenic stretches of South Florida landscape. The resort's expansive Health & Racquet Club invites other active enthusiasts to participate in an array of sports and athletic pursuits as well. Jogging paths, yoga and pilates studios, weight and cardiovascular training centers, and a lap pool are just some of the facilities available in addition to the 19 tennis courts, racquetball and handball courts. Dining is equally impressive at PGA National Resort & Spa, with six restaurants and five bars from which to choose. The signature fine dining venue, Ironwood Grille, is a contemporary and intimate space serving modern American cuisine with a gourmet twist. The accompanying iBAR embraces a warm and lively atmosphere, pouring wines and custom libations for its relaxed and happy guests. From the moment you arrive, through every activity and experience, PGA National Resort & Spa strives to create a memorable vacation for its visitors, and is one that you will soon not forget.
Location of PGA National Resort & Spa
PGA National Resort & Spa
400 Avenue of the Champions
33418
Palm Beach Gardens, Florida
Nearest Airport: PBI
Amenities for PGA National Resort & Spa
General Information
379 Guest Rooms
Ecologically Sustainable Practices
Dining
Poolside Dining
Outdoor Dining
Private Dining
Cafe
Bar
Room Service
7 Restaurants
Spa Cuisine
Sports Bar
On-Site Amenities
Beauty Salon
Spa on Property
Complimentary Newspaper
Fitness Center
Tennis Courts
Jogging Track
Personal Trainers
Lounge
9 Pools
Lap Pool
5 Golf Courses
Driving Range
Golf Academy
Outdoor Whirlpools
Health Club
In-Room Amenities
Bathrobes
Direct Dial Telephones
Hair Dryers
In-Room Safes
Mini Bar
Marble Bathrooms
Flat-Screen Televisions
Luxury Bath Amenities
Work Desks
Activities
Croquet
Tennis
Pilates
Yoga
Fitness Classes
Racquetball
Golf
Business
Meeting Rooms
Conference Facilities
Family
Children's Programs
Kids Club
Nearby
Shopping
Zoo
Museums
Restaurants
Nightlife
Beaches
Interests
Active & Adventure
Cool Pools
Golf
Kids' Club
Reviews for PGA National Resort & Spa
---
Joseph(manager), Fransesco(lobby bar), and Ian at front drive all EXCEPTIONAL! Tons of potential for non golfers. May I suggest that a bit more money invested in rooms, and better preparations for large groups!!!!
---
Resort is nice could use some modern updates in foyer. Ordered drinks from pool bar, service was slow because waitress seemed more interested in discussing her weekend plans with co-workers. Don't expect immediate service but when the tip is "automatically" added to your bill it would be nice to be acknowledged. Over priced beautiful resort will not be back.
---
You'll recognize it as the home of the Honda Classic PGA tournament. Also the home of David Ledbetter's golf academy. Grounds are beautifully planted and landscaped. Courses are heavily used but nicely maintained. A few more water coolers throughout would be a good idea though. Expect to see lots of corporate outings, cocktail parties and dinners, as well as weddings-- it's a beautiful venue for such events, particularly if you love golf but even if you don't. There is WAY too much piped-in, bad music throughout the resort: the mournful wailing of "my broken heart" tunes or the bass-heavy, repetitive, disco-beat tracks detract from the atmosphere and are inappropriate, especially around the otherwise-serene spa pools. However, LIVE music in the main lobby on weekends is a lively and entertaining attraction. Bar cocktail "specials" are all much too syrupy sweet. Stick to the traditional stuff. If you've had enough of hopped-up IPA's, try Copperpoint lager-- delicious and smooth, with no bitter bite. Ironwood restaurant's small but delicious blue oysters roasted red snapper over orzo with wilted spinach was outstanding. Cobb salad from the poolside restaurant was fresh and crisp. The cheap, red-and-green laser dots in the outdoor lounge areas feel like Christmas run amok. A pedicure at the spa is a must. Golf instruction is excellent; on-course lessons were particularly effective. Uniformly attentive and polite staff throughout.
James C - Newton, Massachusetts
---
We returned to PGA several times throughout the 2018 Winter Season. Your resort is one of the most relaxing and beautiful destinations we have traveled to this year. The rooms are very clean, spacious and your beds/mattresses are over the top as if you were at a 5* resort. The pool is so relaxing and peaceful, as you do not feel you are sitting on top of each other. We enjoy relaxing in your very spacious hot tub after a day at the pool. Wider and Jorge were always there with amazing and friendly service. The front desk staff are always so welcoming and Ziggy is there to meet your every need. We were able to try several new restaurants with the help of you most pleasant concierge Antonella, who goes above and beyond to help you have the most enjoyable dining experience. Ironwood Steak and Seafood...over the top from the food to your first class wine list. JoLynn is always there to greet you with her beautiful smile. The iBar happens to be our most favorite, very chill and we love to sit and enjoy the music on the weekend. We were there during a few day rain spell and spent quite some time at the iBar. Your bar staff is over the friendly and engage in conversation making you customers feel very relaxed and at home. I would call Chris, Matt and Becky the "A" team with their amazing and most friendly service. Chris and Matt make it a point to introduce you to the PGA members which always makes for great conversation if you are ever sitting at the bar alone. Look forward to our next stay and keep up the good work!!!
ruthie1127 - West New York, New Jersey
---
My husband and I stayed here and went to some spring training baseball games for the Washington Nationals. The resort is very relaxing in a beautiful setting on a golf course & full of palm trees! The rooms & beds are very comfortable & the pool is great with a poolside bar & restaurant . The food we ate at the iBar restaurant was delicious and the staff is very friendly and accommodating. This was our 2nd stay here and I hope we can return next spring.
nadina1113 - Charlottesville, Virginia
---