Please select your dates to see prices:
---
Hammock Beach Resort in Palm Coast, Florida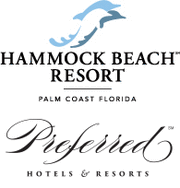 Standing majestically tall on the Palm Coast waterfront in Florida, Hammock Beach Resort – part of the Lifestyle collection of Preferred Hotels & Resorts – is a pinnacle of beach vacation paradise. Located just south of St. Augustine and north of Daytona Beach, Palm Coast enjoys glorious sunshine and beautiful sandy beaches - not to mention its array of parks and nature preserves. The award-winning hotel is a prime destination for those seeking championship golf, pristine coast, and myriad recreation options. Accommodations are set in the Main Tower, Ocean Towers, Lodge and Villas, and regardless of your personal choice, rest assured your suite will exceed expectations. From ocean views and spacious balconies, to living areas equipped with the best in entertainment and furnishings, every detail is thoughtfully executed. Those looking for even more indulgence will find home at The Spa at Hammock Beach Resort, which offers facials, massages, body treatments, and beauty services. Plus, a fully equipped fitness center and aerobics studio is at the ready for a workout.
Ready for the fun part? Start with Hammock Beach Resort's water pavilion, where a lazy river, waterslide, and more than five swimming pools - including a zero-entry pool, adult pool, and indoor pool. Reserve a cabana to elevate your experience with a private curtained area, dedicated chaise lounges, a fully stocked refrigerator, and private flat-panel television. Of course, the beach is beckoning and the resort conveniently provides towels and chairs. Additional recreation options can be found at the tennis complex and marina, or you can partake in kayaking, surfing lessons, bike rentals, and cruises on the resort's own yacht. Delight your party's golf enthusiasts with play at the professionally-designed Hammock Beach golf courses, including a 9-hole putting course for casual fun, and championship greens for those seeking a more serious time. When hunger strikes, find yourself surrounded by a wide variety of sophisticated and fresh dining options, whether you are craving a poolside snack, homemade Italian meal, sushi spread, or cocktail. Enjoy the freedom of never having to travel far for anything you want, and make Hammock Beach Resort your beach vacation tradition.
Location of Hammock Beach Resort
Hammock Beach Resort
200 Ocean Crest Drive
32137
Palm Coast, Florida
Nearest Airport: DAB
Amenities for Hammock Beach Resort
General Information
205 Rooms and Suites
Ecologically Sustainable Practices
Dining
Poolside Dining
Outdoor Dining
Private Dining
3 Restaurants
Pool Bar
Cafe
Room Service
Coffee Shop
Bar & Lounge
Sushi Bar
On-Site Amenities
Concierge
Spa on Property
Housekeeping Service
Fitness Center
Bicycle Rental
2 Golf Courses
High-Speed Internet Access
Multilingual Staff
Indoor Pool
Tennis Courts
Cigar Lounge
Lazy River
Beach Access
Outdoor Whirlpool
Putting Green
Lap Pool
Outdoor Spa Treatments
Provisioning Service
Jogging Path
Water Park
Tennis Academy
In-Room Amenities
Private Patios or Balconies
Air Conditioning
CD Players
Direct Dial Telephones
DVD Players
Hair Dryers
In-Room Safes
Satellite Television
Televisions
Iron/Ironing Boards
In-Unit Laundry Facilities
Flat-Screen Televisions
Luxury Linens
En-Suite Bathrooms
Kitchenettes
Fully-Equipped Kitchens
WiFi
Activities
Bicycling
Kayaking
Tennis
Pilates
Yoga
Beach Volleyball
Yachting
Fitness Classes
Table Tennis
Boating
Business
Business Center/Services
Meeting Rooms
Conference Facilities
Family
Kids Club
Waterslide
Kids Pools
Children's Programs
Interests
Beach
Golf
Kids' Club
Reviews for Hammock Beach Resort
---
We stayed in one of the three bedroom condos and had requested a sea view. We could see the ocean but it was beyond the putting green and the car park! Still, not really that much of a problem. Our room was fairly clean and the bedding was crisp, however there were bits and pieces under our nightstand, again no biggie really. However, the toilet in our bathroom wasn't connected to the wall correctly, so made a clanking sound every time it was sat upon - slightly unnerving! The fridge didn't have a water dispenser, which surprised me and the ice maker was SOOOO slow! There were insufficient pots and pans for two families to be able to cook properly, plus there was no colander, no cheese grater or potato peeler and no decent sharp knives. The DVD was not connected to the main lounge TV and no apparent way to do it. The battery cover to the remote control was held on by masking tape. The kitchen sink kept blocking up and I discovered there was a fork stuck down it. The other thing is whoever designed the balcony railings clearly didn't sit back in a chair to try and enjoy the view. The top part of the railing has circles that are really annoying and obscure the view! You have to stand or slouch right back in order to see round them. Stupid in my opinion. I've given the resort a 4 star rating as we had a lovely time and the kids really enjoyed the pool, water slide and little pool beach area. The pool side food really isn't all that. $22 for a salad, which was romaine lettuce, chopped up gouda cheese, a few cherry tomatoes, three orange slices and some chunks of water melon with shrimp. My 10 year old could've made a better salad. We also tried the quesadilla, the fries, the tenders and the kids chopped salad - which wasn't chopped!! The quesadilla was over-cheesy and the chicken tenders are way over-breaded. The fries are delicious BUT everything is luke warm at best by the time you receive it. Depending on your server, will depend on how fast your drinks come!! The wings in Loggerheads were delicious and they have a good selection of IPAs. We borrowed two of the rental bikes (free for the first hour) and there are some fun biking trails of various difficulties only half a mile up the road. Lots of fun. The kids enjoyed the various activities the staff put on - design your own sunglasses, make your own fidget spinner etc. We didn't do the tie dyeing - $18 for a kid's t-shirt was a bit steep. Our hubbies played several rounds of golf - not cheap ($150/p) but apparently the course is excellent. So they were happy!! Unfortunately, the beach got hit really hard by Hurricane Irma and is under re-construction right now. The sand is dreadful, full of sharp shells and it's impossible to swim in the sea as there a loads of submerged rocks which you just cannot see and would tear yourself to pieces on. Would I go back? For $400/night, probably not.
sarahhB4318CY - New Smyrna Beach, United States
---
Where do I start? My family recently stayed at this resort for my son's 10th birthday. First, we couldn't check in until almost 6pm. Second, none of the TV's in the 3 bedroom condo were operable. Third, and most importantly, there were 2 gun cases with full loaded magazines under the bed in the master bedroom. We immediately contacted the hotel manager and security upon discovering them. Tyson, a manager at the hotel, indicated that he couldn't provide a refund since we booked through Travelocity. I have half a dozen e-mails between myself and Travelocity that they have left NUMEROUS messages at the hotel to discuss our refund and the hotel has not returned one single call. He personally took down our names and phone numbers prior to us leaving the property and promised he would call with a resolution to the matter and we have not heard anything. It has been 8 days and we have not been called and numerous phone calls have not been returned.
Kristen T - San Diego, California
---
We went for my 60th Birthday weekend. Loved that is had a lot of amenities included in the price of your room. Not enough chairs and umbrellas available for the amount of the guests. We had a hard time finding a chair at the pool areas also.
Sandy M - Middleburg, Florida, United States
---
We arrived at this wonderful hotel late in the evening during a tropical rain storm. Simon met us and assisted with our luggage getting drenched in the process. He even brought an extra umbrella for me! He never complained but smiled, assisted, and made the process fun. He remained with us throughout the check in and offered champagne to make the arrival more happy... such a wonderful ambassador! We were in Palm Coast for real estate business and after we conducted our preliminary business, Collin, who had been following our progress offered Celebrations and complimentary drinks! We felt valued and cared for during this stressful time. The morning pastries, coffees, and juices were delicious. The evening desserts and chocolates were a nice touch. Complimentary sodas and waters were generous and refreshing, as were the beach chairs. Our oceanfront room was clean, well appointed and had breathtaking views of the ocean. Comfortable robes were provided as well as bonafide coffee cups and glass drinking glasses... so appreciated. We enjoyed this experience so very much that we are returning to this hotel in May to complete our business. Highly recommend. Our only complaint were the pillows which are past their prime. We went and purchased our own.
DecoratingArtist - Lake Worth, Florida
---
We went to the resort for a medical conference/spring break. The resort is promoted as a luxury resort. I would not call it a luxury resort. The grounds were well maintained, but the main tower in which we stayed was tired and in need of repair. Our room was clean, but it was described as a one bedroom suite. It was a one bedroom studio with no door to the bedroom, but it did have a nice view. We went to the pool on the first day at 9:30 AM and all of the chairs were already taken. We then went to the beach to find that the beach chairs were all taken. They also do not provide drink service at the beach. I don't know about service at the pool, as we were never able to get a chair at the pool. The kids enjoyed the lawn, the mini-golf, and the ping pong. The kids did not enjoy the ocean because there are large, sharp rocks just under the surface of the water 10-15 ft off shore. Several of the activities promoted on the website were not available because it was the "off-season". The bellmen were very helpful, but the front desk was not helpful at all. We had dinner the first night at the onsite sports bar. The food was marginal and overpriced. We had breakfast a couple of mornings at the Atlantic Grill which was ok. We ate all of our other meals off the property. I don't think we will return
Maribeth W - Columbia, South Carolina
---