Please select your dates to see prices:
---
Trump International Hotel & Tower Panama in Panama, Panama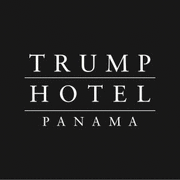 Consistently named one of the top hotels in Central America since its opening in 2011, Trump Hotel Panama is an unmistakable part of Panama City's waterfront. There's a better way to enjoy its unique curved architecture than from the outside, however: Book a 17th floor Suite on the Curve, and scope a fishbowl view of the city and ocean from floor-to-ceiling windows and a private balcony. Décor in the hotel is bright and fun, with a decidedly Latin American flair, and its location just off Corredor Sur makes it convenient to anywhere in Panama City.
Sip a café con leche to accompany a Panamanian breakfast of eggs and deep-fried tortillas at Barcelona restaurant. Meander to the 13th floor roof deck and take your pick of five pools to swim. Opt for a cabana lined with bright yellow-striped curtains to fend off the afternoon sun. Turn up the heat at the blackjack table and treat yourself to a vintage bottle from Cava 15's wine list with your winnings.
Location of Trump International Hotel & Tower Panama
Trump International Hotel & Tower Panama
Calle Punta Colón
0833-00321
Panama, Panama
Amenities for Trump International Hotel & Tower Panama
369 Rooms & Suites
Children's Amenities
Pet Amenities
Private Balcony
Imported Granite Countertops & Marble Flooring
Deep-soaking Tub & Rain Shower
Custom-stocked Mini Bar Prior to Arrival
Personal Attaché Service
Personalized Stationery & Business Cards
Personal Assistance & Shopping
Complimentary Digital Newspaper & Magazine Service via Hotel Wi-Fi
Infinity Pool
Pier
Ocean Sun Casino
27,000 Square Feet of Indoor & Uutdoor Meeting Space
Wedding Planning Services
Event Planning Services
Nanny Services
Children's Swim Lessons
Deep Sea Fishing
Scuba Diving
Snorkeling
City Tours
Reviews for Trump International Hotel & Tower Panama
---
I know it all over the media. However I was there during the chaos. I booked 5 days based on the excellent 5 star treatment I received only 2 years prior. Undenounced to me, there are the main issues that I must share with all you readers. 1. Hotel Maintenance: The once perfectly maintained hotel now has many areas that are in need of repair. Especially the trip hazards on the 31st floor. 2. Armed, unfriendly security in the lobby made me very uneasy. 3. No water 3 of the 5 days I was there. I understand that this issue was a external problem, however when requesting water to be brought to my room, no one showed up. I also heard that the condo residence received water from the reserve tanks, but not the hotel guests. No form of apology, compensation from Management for charging 5 star prices for 2 star amenities. 4. Majority of staff (not management) still provided great customer service. 5. Azul Pool bar: TERRIBLE service. I waited 30 minutes before any service. This happened on 2 occasions and I witnessed the same lack of service for many other guests. Food at the Azul, was not up to par with my previous visit. Until the new management gets control and this chaos is over, I would not recommend this hotel. I hope the new management has the desire to bring this once great hotel back to its former glory. The location is to valuable to have a 2 star hotel. I will be following future reviews to see if any real changes are made, but I doubt I will ever return and share my opinion with everyone. The prices Vs experience was one of the worst I have ever encountered.
Beachfinder66 - Toronto, Canada
---
The building is good, but unfortunately they are changing management and clients are suffering! Big problems with credit card, internet, and even pens without prior brand! The hotel has just a few guests and the service crew/team are disoriented and ashamed of the situation. There is no management change plan.
---
We had quite a few problems here. Panama is having problems with a water main and we had no water for 12 hours from 3pm, so not even able to flush the loo, the hotel played this down on check in and said it would only be for two hours. When we spoke to a taxi driver, h3 said all th3 locals knew it was for 12 hours! One of the pools was out of order and there were not enough sun beds. The hotel management are in dispute with the owners and armed police are in the lobby quite a lot, which is a little disconcerting. Housekeeping left a lot to be desired,bin not emptied, sheets and quilt covers with holes in, no bath plug. Not really what you would expect from a 5* Hotel. Management sorted our problems, but these issues should not be occurring in the first place, when you pay this much for a hotel
anneha451 - Cheltenham, United Kingdom
---
Stayed for 1 week at the end of February 2018 for a very attractive price. Trump name seems to be causing some lower occupancy rates, hence the great price. In fact, there was a noticeable police presence during my stay as I was told the hotel owner was trying to throw the Trump management team off the property. The room was clean, quiet and comfortable, however, the hotel is beginning to show its age. The staff was very friendly and accommodating. The wi fi internet was free and worked well and there is a paid option should you require faster speeds. The food was good quality, but a little pricey, which is expected in a hotel of this quality. The pools were nice and clean, with great views, but be aware, they are in total shade after the noon hour. I was told by an apartment resident that the pools are only heated for holidays. Be warned, the pool water is a bit chilly but that didn't stop me from using the pools daily. The hotel is not really close to many amenities, but Uber was fast and inexpensive. My wife visited the casino and had some fun but was surprised there is a 5 odd percent charge to cash out your chips when you are done gambling. I wouldn't hesitate to stay here again provided the price was attractive.
MemberToronto_Canada - Toronto, Canada
---
One of the most enjoyable time, the hotel is in a very good location, very good conditions, it has everything about five star hotel, since arrived their Sky Lobby (reception) in the floor 14 was so very nice experience, my view was completely gorgeous from my room in the 30 floor, the pool, ufffff, is their best, relax and beautiful place in all the hotel, that view so stunning from the pool, room with really good amenities, courtesy drinking water every day, room service is very good, and they have a small bar "Cava 15" by the lobby, and they have piano music pretty much every day, anothee nice place to have a glass of wine. Overall this hotel worth it in price and quality, I weren't be more satisfied to have chosen them.
RMadrid - Las Vegas, Nevada
---