Please select your dates to see prices:
---
Trump International Hotel & Tower Panama in Panama, Panama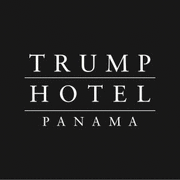 Consistently named one of the top hotels in Central America since its opening in 2011, Trump Hotel Panama is an unmistakable part of Panama City's waterfront. There's a better way to enjoy its unique curved architecture than from the outside, however: Book a 17th floor Suite on the Curve, and scope a fishbowl view of the city and ocean from floor-to-ceiling windows and a private balcony. Décor in the hotel is bright and fun, with a decidedly Latin American flair, and its location just off Corredor Sur makes it convenient to anywhere in Panama City.
Sip a café con leche to accompany a Panamanian breakfast of eggs and deep-fried tortillas at Barcelona restaurant. Meander to the 13th floor roof deck and take your pick of five pools to swim. Opt for a cabana lined with bright yellow-striped curtains to fend off the afternoon sun. Turn up the heat at the blackjack table and treat yourself to a vintage bottle from Cava 15's wine list with your winnings.
Location of Trump International Hotel & Tower Panama
Trump International Hotel & Tower Panama
Calle Punta Colón
0833-00321
Panama, Panama
Amenities for Trump International Hotel & Tower Panama
369 Rooms & Suites
Children's Amenities
Pet Amenities
Private Balcony
Imported Granite Countertops & Marble Flooring
Deep-soaking Tub & Rain Shower
Custom-stocked Mini Bar Prior to Arrival
Personal Attaché Service
Personalized Stationery & Business Cards
Personal Assistance & Shopping
Complimentary Digital Newspaper & Magazine Service via Hotel Wi-Fi
Infinity Pool
Pier
Ocean Sun Casino
27,000 Square Feet of Indoor & Uutdoor Meeting Space
Wedding Planning Services
Event Planning Services
Nanny Services
Children's Swim Lessons
Deep Sea Fishing
Scuba Diving
Snorkeling
City Tours
Reviews for Trump International Hotel & Tower Panama
---
Characterless hotel that ticks all the boxes to qualify as a 5 star hotel. Location is good but not great. Nice restaurants not within walking distance but a short and inexpensive taxi ride away. Big and modern rooms with odd shapes that will leave you wondering who hired the architect. Swimming pools are big, nice for swimmers with not nice pool area. Overall a good and forgettable choice
---
Stayed before as the Trump Panama. Sudden new change in ownership to Bahia Grand. I booked as the Trump, but arrived as The Bahia. Some concern and the new owners will need time to get their style of management down, but the staff gets major compliments. Let us start with all the concierges, especially Carlos who organized all my restaurant reservations. The outdoor pool and restaurant staff was awesome. Starting with Melissa who we met the first day. she served us our first drink and then proceeded to help organize all the pool accommodations, cabanas, on site restaurant/food service for the entirety of our stay. Everything she helped with came off perfectly ans she did not miss one thing. Also, Amelio, at the pool took care of all our needs for chairs, umbrellas, etc and was so happy to do so. Both of them made our stay wonderful and the hotel is lucky to have them. At the front desk, Freddy took care of our seamless checkout and any billing issues very professionally.
rhs58 - Chicago, Illinois
---
Stayed here with another couple as our husbands share the same birthday. Treated like royalty from the minute we checked in. They let us check in 3 hours early and gave us vouchers for free drinks at the hotel bar. The restaurant Vespa was fantastic and our waiter Guido made the night so memorable. By the time dinner was over we felt like we were old friends! Food was outstanding and the jazz singer phenomenal. Will be staying here every time we go into the city from our beach house.
Robin B - Boston, Massachusetts
---
Been around the world and have stayed at some of the top-rated hotels in biggest cities. Bahia Grand Panama, while nice, is not a 5-star or even a 4-star. Although the prices are aligned with 5-star hotels, the accommodations and service are closer to what I've come to expect from a 3-star. Mind you, I have nothing against 3-star hotels or even backpacker bargains. However, I expect to get what I pay for, and at the Bahia Grand that just doesn't happen. Common areas are breathtaking and rooms are nice and clean, but service is lacking, the roof-top pool is over crowded with dubious types, and the food choices are slim and quality of food even slimmer.
billnemecek - San Jose, Costa Rica
---
Don't let the hype deter you - this Buidling has many great facilities available. A lot of buildings in Panama have problems, don't be fooled by the media to think Trump - now The Bahia Grand. There is a casino, nice restaurants, bars, pools, spas, and business services and offices too. Not sure if thee rooftop bar is still open, but I hope it is available soon - was nice up there. Best view in the city!
Scott C - Panama City, Panama
---