Please select your dates to see prices:
---
Trump International Hotel & Tower Panama in Panama, Panama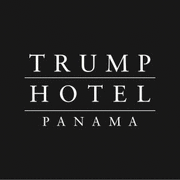 Consistently named one of the top hotels in Central America since its opening in 2011, Trump Hotel Panama is an unmistakable part of Panama City's waterfront. There's a better way to enjoy its unique curved architecture than from the outside, however: Book a 17th floor Suite on the Curve, and scope a fishbowl view of the city and ocean from floor-to-ceiling windows and a private balcony. Décor in the hotel is bright and fun, with a decidedly Latin American flair, and its location just off Corredor Sur makes it convenient to anywhere in Panama City.
Sip a café con leche to accompany a Panamanian breakfast of eggs and deep-fried tortillas at Barcelona restaurant. Meander to the 13th floor roof deck and take your pick of five pools to swim. Opt for a cabana lined with bright yellow-striped curtains to fend off the afternoon sun. Turn up the heat at the blackjack table and treat yourself to a vintage bottle from Cava 15's wine list with your winnings.
Location of Trump International Hotel & Tower Panama
Trump International Hotel & Tower Panama
Calle Punta Colón
0833-00321
Panama, Panama
Amenities for Trump International Hotel & Tower Panama
369 Rooms & Suites
Children's Amenities
Pet Amenities
Private Balcony
Imported Granite Countertops & Marble Flooring
Deep-soaking Tub & Rain Shower
Custom-stocked Mini Bar Prior to Arrival
Personal Attaché Service
Personalized Stationery & Business Cards
Personal Assistance & Shopping
Complimentary Digital Newspaper & Magazine Service via Hotel Wi-Fi
Infinity Pool
Pier
Ocean Sun Casino
27,000 Square Feet of Indoor & Uutdoor Meeting Space
Wedding Planning Services
Event Planning Services
Nanny Services
Children's Swim Lessons
Deep Sea Fishing
Scuba Diving
Snorkeling
City Tours
Reviews for Trump International Hotel & Tower Panama
---
I booked a Junior Suite on the 31st floor. It was a large and open room with areas for sleeping, eating, chilling and of course washing etc. I had a work desk for my laptops and plenty of points for power and broadband. Generally the WiFi in the hotel was of a superior quality so I could Facetime with my family without interruption and had perfect clarity of picture and sound quality. The staff were all helpful and thoroughly polite and hotel has a most wonderful gym which is fully equipped. I would certainly go back to that hotel again if I need to be in Panama City at any time in the future.
---
We stayed at this hotel when we were in Panama City. This hotel is in a great location with wonderful views. Upon our arrival our check in was slow and the service was quite poor, but we eventually got to our room, which was nice, well decorated with good overall facilities. The bed was okay and we did have a reasonable sleep. The views from our bedroom was great. The breakfast was not that good as I felt it was not anything special for a five star hotel, I would rate it rather average at best. The service was okay in bits, the check in was poor but other aspects were okay. Although the room that we stayed in was nice, the shower had some hairs and there was some dust issues as well, very poor for a five star hotel, obviously the cleaners didn't do a good job. Overall I would say this was not the best of stays at a five star hotel with some cleaning issues, an average breakfast and a poor check in. The highlight of our stay were the views from our bedroom.
811michael - United Kingdom
---
The hotel and rooms were very nice, the location was great, but there were problems with the air conditioning and water. We had to use a random room shower on another floor because our water had turned brown. Then the air conditioning went out so we were forced to sleep in an 85 degree room all night. It was miserable.
Stacystephensfelix - Hillsboro, Indiana
---
I really like this hotel and this was my second stay. The change of name hasn't affected the level of service which remains excellent. The property is splendid with wonderful views, a great pool area and some high quality restaurants. I upgraded to a suite at check in for a small supplement and the room was the size of a small apartment, nicely furnished with everything functioning correctly. The bed was huge and the linen was cool and comfortable. Room service meals came quickly and were of high quality and reasonably priced. This is one of the more expensive hotels in the city but the price remains very reasonable by international standards.
---
I checked into this hotel on April 27. Check in was slow. The hotel authorizes $100 extra per night for incidentals. Perhaps most guests spend a lot of time at the facility's restaurants, but I thought the authorization was excessive. But that is not why I am giving this hotel one star. The rooms have beautiful, ocean views and balconies. Shortly after arriving, I laid on top of the bed. I smelled the faint scent of dog and assumed it to be the small throw at the foot of the bed. I was too exhausted to complain, so I removed the throw and thought my problem was solved. The next day after having breakfast, I came back to the room while a housekeeper was still there. She was changing the duvet cover (side note: this hotel does not conserve water and changes sheets and all towels every day), and I was appalled to see two very large urine stains on the down comforter. Dog smell explained. The housekeeper continued to put a clean duvet over the down comforter as though the pee stains were no big deal. I promptly went to the front desk to complain. Sadly, the attendant at the front desk didn't seem surprised about the comforter, and he asked me whether I would like to change rooms. I told him that I didn't want the inconvenience of changing rooms—I simply wanted a clean comforter. He sent housekeeping to change the comforter. Here's the thing. If you claim to be a 5-Star hotel, you cannot overlook details such as filthy comforters. Continuing to use a comforter with a massive pee stain is unacceptable. I wonder whether the hotel even bothered to dry clean it? Finally, one small nitpick: the hotel put roses on the bathroom sink. They were dying. Why put unfresh flowers in a room?
Jrrob - Washington DC, District of Columbia
---