Please select your dates to see prices:
---
La Maison Favart in Paris, France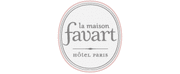 As a cultural mecca for everything from fashion to fanciful fare, the pursuit of pleasure and indulgence has become the norm in Paris, "The City of Lights". Steeped in history, and bearing the iconic name of the most iconic pair in French theatre, La Maison Favart pays homage to her namesake with dramatic, 18th Century décor, and style that is uniquely Parisian. Come live an epicurean fantasy at one of Europe's premier boutique hotels,.
As you gaze upon the palatial façade of La Maison Favart from the Rue de Marivaux you are instantly transported to a time where decadence reigned supreme. The plush black and white carpeted flooring leads you down hallways and corridors decorated in classic Parisian style. The overstated opulence of gilded mirrors and exaggerated Old World trinkets points to an age of austerity, while the unobtrusive, yet attentive staff and modern amenities showcase the five-star boutique quality of La Maison Favart. The color palettes of the bedrooms, suites, and duplexes shock the senses with tranquil blues, vibrant reds, and cool greens, while retaining the classic elegance of the time. Lavish Victorian furnishings and heavy curtains add a regal feel to contemporary comforts such as oversized bedding, vanity areas, and spacious bathrooms. If you tire of being waited on, pampered, and having your every need met at the hotel, excitement awaits just outside your door. Experience the beauty of The Louvre, float along the River Seine, or just amble along the historic streets and take in all that is Paris. At La Maison Favart it is a privilege serving you, so guests are treated to the ultimate wellness experience; with access to the hotel's unique relaxation bath, sauna, and fitness center, let every care melt away and truly focus on an unforgettable vacation experience.
Location of La Maison Favart
La Maison Favart
5, rue de Marivaux
75002
Paris, France
Nearest Airport: CDG
Amenities for La Maison Favart
General Information
37 Rooms and Suites
Non-Smoking Property
Handicap Accessible Rooms
On-Site Amenities
Laundry Service
Gift Shop
Fitness Room
Sauna
High-Speed Internet Access
24-Hour Concierge
Complimentary WiFi
In-Room Amenities
Air Conditioning
Direct Dial Telephones
Hair Dryers
In-Room Safes
Mini Bar
iPod Docks
Iron/Ironing Boards
Flat-Screen Televisions
Coffee & Tea Facilities
Individually Designed Rooms
Work Desks
Bathrobes & Slippers
Business
Conference Facilities
Nearby
Historic Sites
Shopping
Art Galleries
Museums
Restaurants
Nightlife
Parks
Theatres
Public Transportation
Monuments
Colleges/Universities
Interests
City
Culture & Arts
Honeymoons & Romance
Reviews for La Maison Favart
---
My husband and I came to Paris on a very cold weekend in March. The advice of the consierge on places to go in the cold was excellent. Very knowledgable and helped us buy tickets online. The fires and comfort of the reception area was very appreciated. Nothing was too much trouble. The hotel itself was perfect for us as we prefer quieter more intimate hotels. Lesson for next time would be to buy metro tickets advance as the metro station at the end of the road does not have a ticket machine. Plenty of lovely restaurants close by. We will be recommending to our friends and will definitely be staying again. Thank you for a lovely stay
---
Just got back from our first trip to Paris, and had a wonderful time. The moment we walked in the door of this lovely boutique hotel we were greeted by the concierge and brought to check in. We were very early as our flight landed at 8 am and got to the hotel by 9:30am and were planning on just leaving our bags at the desk when we were told our room would be ready in 15 minutes!!! They offered us coffee while we waited by the fireplace and then the concierge brought us to our room. Yes, the rooms are small.... but this is Europe after all..... we expected this. Beautifully decorated and impeccably clean. Just enough storage as well. The shower was amazing..... rain shower head with a LOT of pressure and never ran out of hot water. Being as we were constantly on the go while we were there, we never did get to use the spa but it did look lovely, and just like the pictures on the website. We also didn't have time to grab breakfast there. The hotel is on a very quiet side street, however the subway is at the end of the block which was great and there were so many restaurants, cafes, bakeries, and brasseries just a short walk from the front door. We would definitely stay here again the next time in Paris!!
chris2pher1974 - Milwaukee, Wisconsin
---
I've traveled to a lot of countries and stayed a number of resorts. Too many to list. I really was a little disappointed with thia resort. If you are travling from a far country, make sure you arrive during check in time. I traveled all the way from the United States, i emailed the Hotel 3 days prior to our arrival to let them know our flight would be arriving at 6am there time and i requested for a earlier check in time. Their response was that they will do their best to accommodate our request. We got the the hotel at 8am and had to still in the lobby for 4 hours after a 7 hour flight. When we asked why such a long wait, the only excuse we got was the room was not ready because the door to the bathroom wasn't working properly. We sat out in the lobby watching people after people check in prior to the 3pm requirement. After awhile i became annoyed and insisted my family get a room, they sense my frustration and finalky gave us a room. My recommend you call or email ahead and ensure that they GUARANTEE you an early check in or you might be setting yourself up for a disappointment.
---
My husband and I stayed here for a few nights and I feel we really wanted to give this hotel more stars but the suite just didn't do it 100% for us. I would say it falls in the boutique hotel category. It might be a bit overpriced for what's offered. It's beautifully decorated but lacks practicality. The good: - Subway is around the corner, upbeat neighborhood with tons of restaurants, shopping nearby and cool bars. Location is superb. - Friendly staff and great customer service are 5 out of 5. - Good breakfast options. - Pool, sauna and massage "bed" is super nice after a long day. The suite: We upgraded to a suite to get more space but we feel it was a bit misleading. I'll upload photos of the angle of the ceiling; it cuts across half the space of the room... As a consequence we kept hitting our heads every time we were in the bathroom. Next time we would try a normal room. All in all, it's a good hotel option, just skip the suite.
---
La Maison Favart did not disappoint this time either. The hotel is ideally located in the heart of the city center and in a quiet side street. The service works and the breakfast is delicious. The hotel also offers a great spa.
kaveriHelsinki - helsinki
---