Please select your dates to see prices:
---
La Maison Favart in Paris, France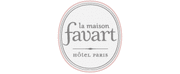 As a cultural mecca for everything from fashion to fanciful fare, the pursuit of pleasure and indulgence has become the norm in Paris, "The City of Lights". Steeped in history, and bearing the iconic name of the most iconic pair in French theatre, La Maison Favart pays homage to her namesake with dramatic, 18th Century décor, and style that is uniquely Parisian. Come live an epicurean fantasy at one of Europe's premier boutique hotels,.
As you gaze upon the palatial façade of La Maison Favart from the Rue de Marivaux you are instantly transported to a time where decadence reigned supreme. The plush black and white carpeted flooring leads you down hallways and corridors decorated in classic Parisian style. The overstated opulence of gilded mirrors and exaggerated Old World trinkets points to an age of austerity, while the unobtrusive, yet attentive staff and modern amenities showcase the five-star boutique quality of La Maison Favart. The color palettes of the bedrooms, suites, and duplexes shock the senses with tranquil blues, vibrant reds, and cool greens, while retaining the classic elegance of the time. Lavish Victorian furnishings and heavy curtains add a regal feel to contemporary comforts such as oversized bedding, vanity areas, and spacious bathrooms. If you tire of being waited on, pampered, and having your every need met at the hotel, excitement awaits just outside your door. Experience the beauty of The Louvre, float along the River Seine, or just amble along the historic streets and take in all that is Paris. At La Maison Favart it is a privilege serving you, so guests are treated to the ultimate wellness experience; with access to the hotel's unique relaxation bath, sauna, and fitness center, let every care melt away and truly focus on an unforgettable vacation experience.
Location of La Maison Favart
La Maison Favart
5, rue de Marivaux
75002
Paris, France
Nearest Airport: CDG
Amenities for La Maison Favart
General Information
37 Rooms and Suites
Non-Smoking Property
Handicap Accessible Rooms
On-Site Amenities
Laundry Service
Gift Shop
Fitness Room
Sauna
High-Speed Internet Access
24-Hour Concierge
Complimentary WiFi
In-Room Amenities
Air Conditioning
Direct Dial Telephones
Hair Dryers
In-Room Safes
Mini Bar
iPod Docks
Iron/Ironing Boards
Flat-Screen Televisions
Coffee & Tea Facilities
Individually Designed Rooms
Work Desks
Bathrobes & Slippers
Business
Conference Facilities
Nearby
Historic Sites
Shopping
Art Galleries
Museums
Restaurants
Nightlife
Parks
Theatres
Public Transportation
Monuments
Colleges/Universities
Interests
City
Culture & Arts
Honeymoons & Romance
Reviews for La Maison Favart
---
My husband and I just got back from a week in Paris (our first visit to France) and are so happy we chose to stay at La Maison Favart. I was a bit nervous booking a smaller hotel, but after reading a million reviews we thought we'd give it a try rather than staying at any of the big brand and more expensive hotels in the more touristy areas. I am SO SO SO glad we did!!! The hotel is a beautiful boutique property on a quiet street. We stayed in room 33. It was a deluxe room with a full tub and shower. For European standards, we were quite pleased with the size of the room. It was perfect. Asides from being beautifully decorated, we had plenty of closet and bathroom space for all of our things. The bed was comfortable and the temperature control worked perfectly the entire week. However, what really makes this property special is the service. Every single member of the staff that we encountered, from everyone at the front desk, to our favorite concierge, Freddy, to the breakfast and housekeeping staff, were so unbelievably kind, helpful, and spoke good english. The twice daily housekeeping was always prompt and reliable. I don't generally take the time to write reviews, but we travel A LOT and have stayed at many 5 star properties around the world. We always seem to end up having to call housekeeping to make sure they clean our room while we are out so that we don't come back and find it still dishevelled. We never had to do that here; they always had the room serviced promptly. Location wise it's great. Quiet street near the Louvre. About a 30 minute walk to most sites like the Eiffel Tower, or Notre Dame, etc. If you don't want to walk as much it is only a block away from the nearest metro stop and it's super easy to get around. If you are debating booking this property, believe all the reviews. I was worried it was too good to be true for the price, amenities, and location...but really, it was everything everyone said it would be. Finally, one added perk they offered that we were pleasantly surprised to get was a portable wifi hotspot device. It was complimentary as long as you returned it upon checkout. It saved us a lot of money on cell phone charges, not to mention our cell service wasn't that great out there to begin with. We ended up giving up on our costly cell service, put our iPhones on airplane mode, and just used the portable wifi the whole week. It was so much quicker and more reliable. All in all, a wonderful week in one of the most beautiful cities in the world. Thank you so much, La Maison Favart, for making this place the perfect Parisian home away from home. You helped make our first trip to Paris one we will never forget. Sincerely, The Smiths :)
Liz S - Chicago, Illinois
---
This Boutique Hotel exceeds every expectation I set. The booking experience where they recommended a different room to suit that it was two friends and not a couple staying at the hotel. To the concierges ability to give outstanding directions, advice and booking support. To the exquisite breakfast experience. This was my second visit to La Maison Favart and it won't be my last 😍
---
Great location by the Opera theatre, tucked off the busy streets with easy walking distance to main attractions such as the Louvre. Basic breakfast but fresh, cute swimming pool and sauna, lovely after the full days sightseeing. Lots of authentic french restaurants on the doorstep, no need to travel further out. Room was very clean, lovely furnished with ample teas and espresso machine, robe and slippers also provided. Chocolate on bed as we checked in also a lovely touch! Would highly recommend.
Letitia P - Twickenham, null, United Kingdom
---
I had some certain demands to the hotel during our one week stay in Paris: 1) 4 star category: 2) walking distance from the main touristic sites; 3) availability of Suite Rooms; 4) quiet and elegant. Luckily, upon arrival La Maison Favart absolutely met our expectations. This hotel is situated in a quiet central area and you can easily get to many places without public transport or taxi: Place de la Concorde and Champs-Elysees Avenue are in 15-20 minute walk, Notre Dame de Paris and Louvre are in 30 minute and Monmartre – within 25. Despite we arrived at the hotel before 11 a.m., we were warmly greeted at the reception, offered coffee and soft drinks meanwhile our room was prepared within 15-20 minutes. We had Suite Room 24 named after Mademoiselle Chantilly, which was located on the second floor overlooking the Comic Opera. Our room was quite spacious and consisted of the bedroom and living room, which were decorated in elegant Parisian style. The only drawback was that they were not separated by a door. One more complain was about the bathroom, which size in fact was quite modest. Breakfast was served until 11.30 a.m. each single day that made it very convenient. The selection of snacks and pastries was good and of an excellent quality. However, the dining room could have been bigger because sometimes there were no vacant tables. Therefore, it was better to go for breakfast before 10 or after 11. Plenty of restaurants are located nearby the hotel and we tried several of them for dinning. Our choice undoubtedly was Saot ico which is in just 3 minute walk from the Hotel and has an excellent fresh seafood and wide wine selection. You can also ask concierges about any inquiries during your trip to Paris. I would mention Freddy who was smart and friendly. The overall impression of La Maison Favart is excellent and I would definitely recommend this hotel for all travelers who prefer elegant, quiet and personalized ambience during the trip.
---
We took our family (2 adults, 2 children) to multiple locations in Europe for Spring Break and this was by far our favorite hotel/lodging experience! Upon arrival (earlier than expected and before check-in time), we were greeted and welcomed with refreshments from our travels. Although our room was not ready yet, our baggage was stored and later placed in our room. The manager came out to personally greet us and told us they wanted to give us a gift of an upgraded room. This included a 2 story apartment, where my daughters stayed upstairs in what they called the "Ladies Lounge" and an incredible Master Suite. The pool and spa were a perfect source of relaxation and/or playing for children. The entire hotel was immaculately cleaned with every detail in perfect position. The location was ideal, close to many main and landmarked locations, but also close to public transportation. The breakfasts were above and beyond anything we expected! We wanted a more authentic feeling place to stay in Paris and that is exactly what we felt we received at La Maison Favart! I would absolutely recommend this to anyone looking for a great experience!
---