Please select your dates to see prices:
---
Renaissance Paris Vendome Hotel in Paris, France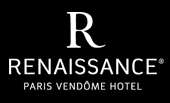 Let the Renaissance Paris Vendôme Hotel provide you with a new standard for luxury accommodations. With a stellar location in Paris' fashion district, our 5-star hotel sets the stage for a remarkable adventure in the City of Light.
Our elegant hotel rooms offer a distinctive boutique charm, while our state-of-the-art amenities & quality service ensure true relaxation. Begin your morning in Paris with a swim in our indoor pool, or indulge in a rejuvenating massage at our hotel spa. After your treatment, venture to the Bar, for a delicious cocktail or glass of Champagne. No matter your reason for visiting Paris, our hotel places everything you need easily within reach. We're located on Rue du Mont Thabor, only one block away from Place Vendôme, Louvre, Opera and close to an impressive selection top-tier shopping destinations near Rue Saint-Honoré and the Palais-Royal. Visit us at the Renaissance Paris Vendôme Hotel to discover the essence of 5-star Parisian living.
Location of Renaissance Paris Vendome Hotel
Renaissance Paris Vendome Hotel
4 Rue du Mont Thabor
75001
Paris, France
Nearest Airport: CDG
Amenities for Renaissance Paris Vendome Hotel
Dining
Restaurant
Room Service
Bar & Lounge
On-Site Amenities
Spa Services
Indoor Pool
In-Room Amenities
Flat-Screen Televisions
Nearby
Shopping
Museums
Restaurants
Interests
City
Culture & Arts
Hotels
Spa & Wellness
Reviews for Renaissance Paris Vendome Hotel
---
Stayed at the Renaissance for three nights. The stays were split up and in between we traveled to another location in France. Our first stay was average. The hotel was fully booked or so they said and although my husband is a lifetime Platinum with Marriott they gave us a teeny tiny room that was not renovated. Air conditioning did not work very well and the quality of sleep after long trans atlantic flight was poor. The breakfast in the Balagan restaurant was good. They had the usual items on the buffet along with a hot item cooked to your liking. We also had dinner here and the food was very good. The second stay for a night was better, we got upgraded to a suite which was newly renovated, spacious and the air conditioning worked. The thing that I loved the most about the hotel is it's location. We were originally going to stay at the Marriott Champs Elysees but we are so glad we did not. The entire area is over run with tourists and just not my type of a scene. The Renaissance is close to the Ritz and to most major sites in Paris (Louvre, Opera House, Rue de Rivoli and Galeries Lafayette). We even walked to Eiffel Tower and Notredame. Being in the heart of a busy city like Paris can get overwhelming but this hotel was a quiet retreat from the noisy streets. It was like a little hidden oasis. I would absolutely return and would hope they are more willing to upgrade us for our future stays.
---
We stayed at this hotel for only for 1 night and it was the best nights sleep we had on our 8-night vacation. It is located near the Louvre and the fashion shops on Rue Saint Honore. Our room was upgraded to a renovated room. Although a little small, the rooms are decorated nicely with modern decor including a stylish ceiling art photo, there are lots of USB slots so you don't necessarily need a power cord, there is a tub and shower in the bathroom, amenities include water and Tokyo Milkbar bath amenities. The hotel also has an indoor pool. We left at 7:30am on a Wednesday and needed to wait a few minutes to get a taxi to the airport so I would recommend calling ahead if you are in a rush. Overall, I definitely recommend this 'lifestyle hotel' and would stay here again!
Lori0787 - Chicago, Illinois
---
We have stayed here a few times and are always pleased by the incredible welcome and awesome location. The front desk staff knew our name before we reached the desk and room was ready which for jet- lagged Americans is so welcome. The rooms have been recently remodeled in a more edgy, young look,although they are not large, they are extremely functional and have met every need. Nothing beats this location close to Louvre, metro, great shopping yet hidden away on a quiet street. We will return!
marronn837 - Laguna Niguel, California
---
No help with bags by doorman from taxi and waited 10 mins for someone to arrive at reception and check us in ,no queue. Room (315) recently refurbed but done cheaply. Bathroom door hard to slide and got stuck,shower door - creaking and cracking sounds,hand basin chipped,floor grouting missing and tiles uneven ,cheap loo seat. Website shows Bulgari products but in reality something called Tokyo milk - cheap and unpleasant. A very pretentious message left on the bed saying room had been styled by Nicole - what wrong with saying cleaned and prepared ? Bed lumpy BUT fine bed linen . Great TV Laminate flooring and a cheap nylon mat next to your bed .Loved the hanging ceiling lights next to the bed ,though. Room decor is ok but who wants a stupid photo of a woman in sunglasses staring down at you from the ceiling! Plenty of power points. Too tired to use the gym or pool as the hotel is so poorly sound insulated I was woken several times by footsteps above and corridor noise. No turn down first night and maid knocked and opened door at 9am without waiting for us to respond ! The restaurant is obviously franchised out - staff in jeans and trainers are pretty hopeless. You can watch the girl behind the bar transfer cheap orange juice from 5 litre containers into trendy glass bottles. Kitchen entrance is filthy ,heaven knows what the kitchen is like No gluten free bread - "we used to have but not any more " That is a disgrace for a central Parisian hotel and a snub to us coeliacs. Omelette was ok but not soft and runny,French style. On check out was not asked about our stay! Yes the hotel is in a great location,but have all these fine reviews before been written by Marriott employees or their lovers ? I have stayed in many 5 star establishments and this hotel is miles off luxury ! I will not be returning
Worldtraveller1953 - Chipping Ongar, United Kingdom
---
We were upgraded to a newly refurbished room because we requested twin beds (and my traveling companion is Marriott Platinum Elite for life). The room still smelled of fresh paint. The flooring is wood (like) which I prefer to carpet. The décor was boutique-y. The room was large and bathroom was spacious enough with a stall shower and a soaking tub. The toilet was in a separate WC which is nice. The beds were soooo comfy, but the pillows were huge - too big for either of us to sleep on. We ended up using the decorative pillows the second night after having neck pain from the night before. If we had been staying longer I would have asked for different pillows. The staff were attentive when we checked in and accommodating during the short stay (2 nights). We didn't have time to even check out the spa and swimming pool. The on site restaurant is supposedly very good, and you will need a reservation for dinner. There was a very active bar that was filled with patrons in the evenings - well dressed people, club music. We didn't go in the bar once we saw the crowd, since we were dressed in jeans and beat up from the days travels. Our main goal was sightseeing - and this hotel is very close to the Louvre, walking distance to Eiffel Tower, Opera House and many other locations.
---