Please select your dates to see prices:
---
Main & SKY in Park City, Utah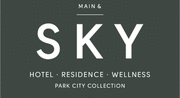 Soho meets the mountains at the best address in Park City, Utah. Main & SKY, a luxury boutique hotel like no other and member of Small Luxury Hotels of the World, inhabits the heart of historic Old Town. With an unparalleled location, captivating loft design, indulgent ultra-everything furnishings and features, and world-class dining, spa and sporting experiences, the Sky Lodge offers distinctive luxury. Every detail, every vista, every service, every interaction, every bite is thoughtfully created and meticulously polished each day with you in mind. Discover the adventures of Park City and true decadence at the chic and exclusive Sky Lodge.
Modern, stylish and antler-free accommodations suit the way you travel. Suites spoil you with private radiant-heated decks, outdoor hot tubs, HDTV flat-screens and huge windows to bring in the sky. Homes are perfect for a group, with large granite kitchens, a theater room replete with pool table, and soaking tubs in each bathroom. Snow is the big draw to Park City with world-class skiing, but warmer months offer kayaking, hiking, fishing and even a steeple chase. After so much activity, head to Amatsu Spa for relaxing treatments and warm aching muscles in the Ofuro Bath. End each day at one of the cozy restaurants and bars adjacent to the hotel, promising delicious food and scrumptious cocktails, and say cheers to another day in paradise at the Sky Lodge.
Location of Main & SKY
Main & SKY
201 Heber Avenue
84036
Park City, Utah
Nearest Airport: SLC
Amenities for Main & SKY
General Information
33 Guest Rooms
Ecologically Sustainable Practices
Dining
Outdoor Dining
2 Restaurants
Bar
Room Service
Bakery
On-Site Amenities
Concierge
Shuttle Service
Spa on Property
Fitness Center
WiFi
Indoor Heated Pool
24-Hour Front Desk
Outdoor Whirlpool
Lounge
In-Room Amenities
Turndown Service
Air Conditioning
Bathrobes
Direct Dial Telephones
Flat-Screen Televisions
Luxury Linens
Pillow Menu
Activities
Bicycling
Hiking
Cross Country Skiing
Nearby
Shopping
Art Galleries
Museums
Restaurants
Nightlife
Theatres
Interests
Active & Adventure
Ski & Snow
Spa & Wellness
Reviews for Main & SKY
---
I have to admit that I was second-guessing our decision to stay at Main & SKY after reading some of the recent negative reviews. As it turns out, I needn't have worried as our experience couldn't be more different than those recent reviews. The property itself is beautiful and the location, just off Main Street and a block from the Town Lift, couldn't be better. Our suite was well appointed, comfortable and serviced twice per day (including fresh towels and turn-down service). Contrary to some of the reviews I've read, the staff were friendly, accommodating and went out of their way to be helpful (one of the bell staff personally drove us to the base area before the hotel shuttle started in the morning). Some will quibble over the lack of services (lack of room service, on-site breakfast, etc.), which is fair, and I did note that the spa was closed during our stay. If you aren't satisfied with anything less than a "full-service" hotel, then Main & SKY may indeed not be the best choice for you. If you're looking for luxurious accommodations and great service, steps away from all that one of the best ski towns in North America has to offer, you can't go wrong here.
---
Short and sweet: despite describing itself as such, Main & Sky is not a hotel. There are no bellmen, the staff at the front desk barely look up when you enter the lobby and only speak if spoken to (and they aren't very helpful when they do speak), there is no breakfast available on site, the pool and spa remain closed, etc. The bed was not comfortable, the pillows were stiff, and the towels weren't replenished everyday. The location is fantastic and the building looks cool (great website!), but the lack of service and amenities do come close to justifying the price. One other complaint is that they charged us a half-day rate for a late checkout...even though the hotel was half-full at most and we were leaving on a Sunday. Call yourself an overpriced condo in a ski town and be done with it. Because, honestly, that is what I want sometimes...but this time I wanted a full-service hotel and didn't get even close to it. I will never stay here again.
---
I travel for my job, this hotel was the worst experience of my life. Poor service all around. The staff was horrible and i had probably 15 different complaints in 3 days. This place is under new management so not the same place as years ago. Trust me and do yourself a favor, find a different hotel!
---
First, this is not a hotel. I knew that going in. You should too. It has a great location in downtown Park City and the prices reflect that. This place has gone way down hill. It wasn't one major thing, just death of a thousand paper cuts. We arrived in the morning and changed and left our bags downstairs. We come in at the end of the day and I ask to use the luggage cart (nothing in our rooms) and the front desk person watches me load it myself (she is 3 steps away from me mind you). Shuttle service starts at 9am - lifts and ski school open at 9 so that doesn't work. No room service, no breakfast on property. Housekeeping didn't refresh Shampoo or tissues. Asked for humidifiers, got noisy units and one didn't work. TV in one bedroom just didn't work and when asked, it didn't get fixed. Fridge didn't work. when asked, replaced with a noisey unit without a handle. Pool was "closed" when we were there - from other reviews seems to be the usual case so dont expect a pool or hot tub unless you get a room with one. Oh and spa "was being renovated". Worked out as went to a great little spa on Main Street. Just not a nice place and not worth the money. Management needs to wake up - this could be a great property.
Erik N - Baltimore, Maryland
---
My daughter, son-in-law, and grandson would disagree with this review. You whiny old man, they'd say. Well, my grandson might agree partially with me (more on that in a minute). We like to drive from Jackson Hole to Park City once or twice a year. The drive is mostly pleasant, and off-season rates in Park City please us, too. Plus, there's grand shopping in the Salt Lake City area. So, on previous Park City visits, we've stayed in the Deer Valley and the Canyons areas. This time, we thought we'd try downtown. Main & SKY offered a decent rate. GREETING: those first impressions really count. Does the staff seem genuinely interested in you? Do they appear pleased that you've selected "their" place? Do you get a feeling that they're proud of their establishment? Is there a "warmth" in the greeting? We didn't receive any of that at Main & SKY. Courteous enough, but pretty flat-line. And that really continued all weekend with other staff members. An exception: Bill the valet was pleasant and friendly. THE POOL: we learned on check-in that the pool and hot tub were not available. They're not working, said the desk man. Pretty sad for my grandson (and he'd agree with this part of my review). And, when we asked if we could upgrade to a room with hot tub, again, sorry, not available. Pretty perfunctory. (Interesting note that we heard, but certainly can't verify, that the pool and hot tub "go down" about every two weeks or so. If the pool and hot tub are big items in your vacation plans, be careful at Main & SKY.) OUR TWO-BEDROOM SUITE: comfortable but dark. And, here's a real kicker: we couldn't open a single window for fresh air. No invigorating, fresh, mountain air. We had to rely on the air conditioner. We told the front desk that one of the overhead lights in the living areas was burned out. It was replaced on day two of our stay but probably only because my daughter happened to pass the maintenance man in the hall. For some reason, one of the housekeepers replaced our coffee maker on day two. This looks interesting, we thought, so we tried it. It leaked water all over the cabinet. The second new coffee maker worked well. Beds were comfortable. We had plenty of hot water. PARKING: valet parking is $25 per day with unlimited in-out privileges. THE GOOD NEWS: A fine restaurant called Handle is only about 100 steps from Main & SKY. And that was one of the few good things about our Main & SKY stay. OVERALL: we'll probably not stay at Main & SKY again. It was okay but certainly not great.
Dave M - Jackson, Wyoming
---