Please select your dates to see prices:
---
Phuket Marriott Resort & Spa in Phuket, Thailand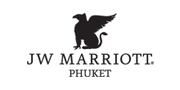 Set against one of Nai Yang's most private beaches, the Phuket Marriott Resort & Spa in Phuket is a luxurious Thai resort experience. Lush gardens and coconut groves embrace the resort's tropical grounds while pristine sands and crystalline waters are mere steps away. Each genteel touch and thoughtful amenity is designed to provide you with absolute relaxation and rejuvenation of mind, body and spirit. Spacious accommodations - all rooms are 550 square feet or larger - provide ample living area and modern comforts, with harmonious indoor/outdoor spaces. Private balconies overlook the sea or the swimming pool, and are perfect for sipping a cool cocktail or enjoying quiet quality time. Suites and private villas make ideal venues for gala occasions and serve as ideal accommodations for larger groups and families. The resort's Adamas Spa & Wellness Centre welcomes you with a suite of traditional Thai massage, aromatherapy and herbal treatments based on the region's renowned tradition in the healing arts. All you find at Phuket Marriott Resort & Spa is sure to be exquisite in every way.
Dive into the resort's 3300-square-foot infinity pool, which winds around the property, to begin your enchanting vacation experience. Of course, the brilliant Andaman Sea is steps away and beckoning, and, truly, sunning and swimming here is one of Phuket's most extraordinary pleasures. Snorkeling, scuba diving and sea kayaking are just a few of the ocean adventures available. Head into Phuket Town on the resort's complimentary shuttle bus. Blue Canyon Golf Course is a 20-minute drive from Phuket Marriott Resort & Spa and beaches such as Patong, Kata and Karon are also just a short distance away. Your tastes will be delighted with the resort's multiple dining options. The beachfront Chai Lay Bar & Grill features tempting tropical snacks and delicious lunches by day, serving up entrées and fresh-grilled seafood in a soothing, candlelit setting. Unwind with a sunset drink or a nightcap under the starry skies. All-day indoor dining is available at The Terrace, where the extensive menu is sure to please a variety of palates. For a romantic rendezvous, arrange for a private dining experience or enjoy a tantalizing meal in your own room. The best of Phuket is here for you at Phuket Marriott Resort & Spa.
Location of Phuket Marriott Resort & Spa
Phuket Marriott Resort & Spa
92 Moo 3, Baan Na Tai Naiyang Beach
83110
Phuket, Thailand
Nearest Airport: HKT
Amenities for Phuket Marriott Resort & Spa
General Information
88 Guest Rooms
Dining
Outdoor Dining
Private Dining
2 Restaurants
2 Bars
Room Service
On-Site Amenities
Shuttle Service
Spa on Property
Wellness Center
Limousine Service
Steam Room
Outdoor Whirlpools
Infinity Pool
Complimentary WiFi
In-Room Amenities
Bathrobes
Direct Dial Telephones
DVD Players
Hair Dryers
In-Room Safes
Mini Bar
Televisions
Coffee & Tea Facilities
Mini Refrigerators
Walk-In Closets
Activities
Kayaking
Scuba Diving
Snorkeling
Business
Conference Facilities
Reviews for Phuket Marriott Resort & Spa
---
My husband and I had reserved a 3 night stay but decided on an addional 2 nights because we enjoyed it so. The serenity and the natural beauty of the mountains and ocean were perfect for us. I was not feeling well upon arrival, the staff was awesome. Amm, in particular was a great help, she welcomed us with tea and towels and checked us in. Even blessed us with a complimentary premiuim upgraded room. Had dinner at the BIG FISH restaurant on the property, staff was friendly and helpful but food was just mediocre. Drinks coud have been a little stronger. We did venture out to Patong and got caught in a rainstorm! The pool is amazing the temperature was perfect and the beach sun provided me with a sun kissed tan!
JamesLuvsDana - Los Angeles, California
---
I stayed at Phuket Marriott Nai Yang and after 10 days of being looked after, it was hard to leave! The staff seem to be born with the DNA of service in their blood as they succeeded in ensuring our time there was memorable. I would like to give the suggestion to possibly have an additional scheduled bus to go into the village. Also, staying 10 days I had to find a place to do laundry by the bulk so may I suggest that be an offering in future? Laundry by the pound! Many other hotels do it and they gave a flat rate. Just a thought ... other than what I suggested... my stay was heaven on earth and the people at the Marriott made it possible. Thank you! Christina
diazcx - Tung Chung, null, Hong Kong
---
We had a wonderful 3-night stay at the resort. The location is only minutes away from the airport so we were able to start our holiday as soon as we arrived to Phuket. We stayed in a Garden Cabana Pool Access room which I highly recommended as it's very close to the main pool, the beach and Big Fish restaurant yet offered privacy and peace. The room has modern design, very clean and comfortable bed. The food in both restaurants provided great variety as well as taste. Last but not least, the staff were all very hospitable and genuinely happy taking care of guests. Overall, our family would definitely come back here for our next Phuket vacation.
---
We enjoyed our pool villa. Beautiful beachfront villa with a nice sized pool. The rain shower & Thann amenities were lovely. Comfy blue slippers provided too. The food and staff is amazing. Mr New brought us by buggy to the villa. F & B service staff in Big Fish & breakfast were very very friendly. Breakfast is one of the best we have ever had. Room service was very quick. Night housekeeper who brought us mosquito coils was very innovative & unfortunately I didnā€™t get his name. Spa- it was only ok. Ginger tea was nice. Wished there was a ceiling fan at the sala during the humid day/night. Too warm. Just wondering if you could add a tap outside for washing off sand would be useful as I noticed the bottom of pool was sandy. Dislike - invasion of my pool villa garden by gardeners both morning & afternoon on same day. They just enter whenever they wish from the front or back. No permission was sought. Do note thereā€™s no taxi Q at airport. Itā€™s monopolized by companies. Cheapest we got was Bht400 to Marriott. Most expensive was Bht800. Be wary. Hotel didnā€™t offer us transfers options by email. We would have gladly taken that option. Many many ā€œThank Youā€ to Exec Chef Bastian & his colleagues. Great & delicious food.
---
We had an extremely pleasant stay here. We had a pool access room which was fabulous for our seven year old. The room itself was lovely and had everything you could need (including flip flops!) Every member of staff is an absolute credit to the hotel; very polite, welcoming and helpful. Oui, Ochin and Ake looked after us every evening in the Lounge bar and the staff in the Andaman and Big Fish restaurants were equally as super! P-Norn was delightful at breakfast and even left a present for our little boy when we were leaving. So kind. I felt we were really looked after and made to feel special. Just a note about the shuttle bus to Nai Yang. Make sure you book it in advance as we went to get on it one day and we hadnā€™t booked so it went without us ā˜¹ļø. Thanks to all at Marriott Nai Yang beach šŸ–
---