Please select your dates to see prices:
---
Twinpalms Phuket in Phuket, Thailand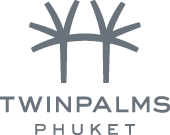 Phuket's Most Exciting and Stylish Contemporary Resort, located in a tranquil and exclusive environment, 175 meters from Surin Beach, 25 minutes away from Phuket International Airport, in an area with one of the most beautiful stretches of golden tropical sand in Phuket, often referred to as "millionaires' row".
Twinpalms offers the comfort of luxury resort, combined with the relaxing tranquility of a secluded getaway. There are only 97 luxurious and spacious Residences, Suites and Rooms, each surrounded by palms, and featuring a private terrace facing the pool with garden view. Among which, 21 unique apartments are designed to lift to your spirits with a generous space and private pool. With a brief to produce a property that has an integrated landscape, the "Contemporary Tropical" design and landscaping incorporate a stunning, world-class water garden. For your dining pleasure, we offer: the ORIENTAL SPOON Grill & Bar, the PALM, the HQ BEACH LOUNGE - dining with beach-side experiences, the POOL BAR - with pool-side experiences, & the WINE ROOM.
Location of Twinpalms Phuket
Twinpalms Phuket
106/46 Moo 3 Surin Beach Rd., Cherng Talay
Phuket, Thailand
Nearest Airport: HKT
Amenities for Twinpalms Phuket
General Information
97 Guest Rooms
Dining
Poolside Dining
Wine Bar
Lounge
Restaurants
On-Site Amenities
Beauty Salon
Pool
Spa Services
Library
Gift Shop
Fitness Center
Butler Service
Gardens
Beach Access
2 Outdoor Pools
In-Room Amenities
Private Terraces
Activities
Yachting
Elephant Trekking
Golf
Reviews for Twinpalms Phuket
---
We had a studio in two floors with own swimming pool. Duplex pool suite over 180 square meters. Excellent contemporary room. Service with extra helpful personnel was great. Rooms are not in direct sunshine. So your own swimming pool does not get direct sunshine. The hotel swimmingpool area is on the otherhand good for sunbath. All needed services available.
Topi P - Helsinki, Finland
---
We have just arrived back from a five night stay at the Twin Palms. A room upgrade made our stay even better than we anticipated. Pool area is nice and quiet with decent facilities and sun beds with ample shaded areas. Food and drinks were good. Relatively close to Surin Bay Beach but it's nothing special. The only downside occurred on our last night after settling our account (due to us having an early departure the following morning), an unsavoury event happened which I'm not prepared to go into detail over at this time. Suffice to say it was unpleasant.
---
From the outside this seems like a very upmarket 5 star hotel. Unfortunately I have to say this hotel falls short of my expectations of 5 star and I have stayed in other hotels in Phuket and the Far East which cost less and have better facilities. We travelled as a couple and were at this hotel for 9 nights holiday. When you walk in the room on the left hand side there was one small wardrobe (approx 5 hangers each) and there were 3 small drawers. Then an area built in with a coffee machine and fridge. You were supplied with limited coffee and no tea (I was told you could purchase extra) There was a dressing table no mirror above the dressing table so no point really. There was a chaise type sofa. At each side of the bed there was a small bedside table (12") off the floor - far too low to be any use. The lighting in the room was poor. The bathroom was quite large however there was only a shower and toilet and two wash basins. We had to ask for an iron and ironing board (not standard). The pool area had notices beside the sunbeds advising if you reserved a bed after 30 mins if not occupied your items would be removed. This did not happen and people were reserving sunbeds at 8am and then not arriving until 11am. The good point I will make is the staff in the restaurant were very pleasant and helpful. In all I felt quite disappointed as this did not feel like a 5 star luxury hotel.
phunter346 - Marske-by-the-Sea, United Kingdom
---
I never write reviews ever but this resort stands out like no other. We checked in on the 25th of Feb 2018 to the 8th March 2018 10 nights we are a party of 6 we booked 3 Penthouse rooms 102,104,106 it is our last day today but what a resort from the checking in process to the rooms was fantastic we have been to a lot of fantastic hotels over the years but this one tops them all the Penthouse rooms are fantastic and are really big with a pool on the roof they also come with a host ours room 102 was a lady called YAH well what can we say about her she is FANTASTIC she helped us with every day of our vacation YAH is an absolute credit to Twin Palms she really did make our holiday the best ever and one we will never forget.Thanks Twin Palms Andrew Rigby UK.
andrewrigby19 - Bolton, United Kingdom
---
From start to finish, our stay at Twinpalms Phuket was a warm and unforgettable one! My boyfriend and I recently took a month-long trip to Asia, with Phuket being our first stop on the itinerary. I had travelled to this popular tourist destination many times before and always had positive experiences, so as it was my boyfriend's first time to Asia, I selected this locale in particular because of its "tried, tested, and true" nature! Thailand is one of the most, if not THE friendliest Asian nation, so I knew this would be the best introduction to this part of the world for him. I hadn't stayed at Twinpalms before, but my aunt and cousin had—and they gave it a very positive review, citing good service, an intimate and comfortable environment, and affiliations with local beach clubs and restaurants as highlights. A true boutique experience...with an absolutely gorgeous pool and grounds to boot! Well, they weren't kidding. Fresh off the plane (from freezing cold Canada), jet-lagged and looking forward to a warm and relaxing beach vacation-start to our holiday, stepping onto the Twinpalms property after a decent cab ride from the airport (about 35 minutes) was like walking into a marble-laden dream. Large, spacious, inviting, clean, and SERENE, we were welcomed by friendly staff, cold towels, and (alcoholic or non-alcoholic...we chose alcoholic!) beverages. Simple, but just what any hotel guest would hope for to kick-start their stay anywhere! We set aside 4 days for our stay in Phuket, choosing February (probably the best time of year to go...low 30s temperature, warm and balmy, breezy, virtually no rain) as our escape period. The hotel was busy, but not full so that it was teeming with people. It was just right, and I guess the time of year worked in our favour as well because we got a complimentary upgrade to a room that included a whole extra living area—large sofa with TV and dining table! We were SO thrilled about this! All the rooms pretty much look out onto the pool area (with some opening into the pool directly from the room) so either way, we would have been happy, as the property itself has been constructed to make the entire place feel incredibly private and spacious, yet intimate at the same time. It was like sharing a magical lagoon... Overall, we found the place to be clean, well-kept, beautiful in design and layout. The staff was AMAZING! Katie at the front desk was such a sweetheart when we checked in, and all the people working in the business centre helping us book our tours were caring and friendly over our needs. People who worked to maintain the grounds would smile as we walked by at any time of day, and the best part which made us feel RIGHT at home and appreciated so much was that the staff knew our coffee orders after our first morning having breakfast there! They really pay attention! "Strong soy capu," she said...meaning a double-shot soy cappuccino. We were beaming when we walked in for breakfast one morning and they knew exactly what we needed :) We did so much sightseeing in our four days there, but always looked forward to retiring to our room, first stopping by the pool as the sun was setting to enjoy the peaceful serenity of the idyllic ambience that the people behind this property have created. We are SUCH fans of Twinpalms!!! Can't speak highly enough about it... We can't wait to come back for a visit...it was such a great find on TripAdvisor. Believe all the warm and positive reviews, because they speak the truth!!! We would recommend this hotel to anyone, whether young or old, couples or families...although there is not much in terms of kids activities, it's certainly more of a romantic spot...but that's not to say that you can't bring your children and have a nice, quieter time away. It's in a great location on a quiet strip of hotels and a few restaurants along Surin Beach...so if you want to be in Phuket without all the noise and craziness...if you want a boutique experience, then PLEASE stay at Twinpalms!!!
TorontoBbes - Toronto, Canada
---