Please select your dates to see prices:
---
Twinpalms Phuket in Phuket, Thailand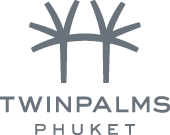 Phuket's Most Exciting and Stylish Contemporary Resort, located in a tranquil and exclusive environment, 175 meters from Surin Beach, 25 minutes away from Phuket International Airport, in an area with one of the most beautiful stretches of golden tropical sand in Phuket, often referred to as "millionaires' row".
Twinpalms offers the comfort of luxury resort, combined with the relaxing tranquility of a secluded getaway. There are only 97 luxurious and spacious Residences, Suites and Rooms, each surrounded by palms, and featuring a private terrace facing the pool with garden view. Among which, 21 unique apartments are designed to lift to your spirits with a generous space and private pool. With a brief to produce a property that has an integrated landscape, the "Contemporary Tropical" design and landscaping incorporate a stunning, world-class water garden. For your dining pleasure, we offer: the ORIENTAL SPOON Grill & Bar, the PALM, the HQ BEACH LOUNGE - dining with beach-side experiences, the POOL BAR - with pool-side experiences, & the WINE ROOM.
Location of Twinpalms Phuket
Twinpalms Phuket
106/46 Moo 3 Surin Beach Rd., Cherng Talay
Phuket, Thailand
Nearest Airport: HKT
Amenities for Twinpalms Phuket
General Information
97 Guest Rooms
Dining
Poolside Dining
Wine Bar
Lounge
Restaurants
On-Site Amenities
Beauty Salon
Pool
Spa Services
Library
Gift Shop
Fitness Center
Butler Service
Gardens
Beach Access
2 Outdoor Pools
In-Room Amenities
Private Terraces
Activities
Yachting
Elephant Trekking
Golf
Reviews for Twinpalms Phuket
---
This has been our second stay at Twinpalms and it has been as magical as the first one! From impeccable service to the most amazing breakfast buffet, a 50m pool for our daily morning laps, a relaxing spa and spacious rooms - it has definitely not been our last stay! Make sure to book a dinner at Palm Seaside for the best Thai food in the world and a unique, utterly beautiful setting!
finchkind - Cologne, Germany
---
We are Twin Palms members and recently had a wonderful stay to celebrate our wedding anniversary. The accommodation, the food, and particularly the staff, were absolutely wonderful. Special mention for Kate on Reception who was so welcoming from the minute we arrived. She is a credit to Twin Palms. The restaurant staff and staff at the pool bar were also great. I would have given five stars but for two reasons. There is a very frustrating issue with an inadequate number of sun-loungers at the pool. Management must know this as if you read the other reviews, mine is certainly not the first to mention it. There is additional space for more sun-loungers, why don't you buy some? After we checked in, we had planned to spend the whole day relaxing by the pool. We live in Phuket and so we did not want or need to go outside to visit anywhere else. We had a day and night off work and just wanted to relax. Unfortunately, we had nowhere to sit by the pool as all the sun-loungers were taken. Instead we went for lunch and then came back a few hours later, when we managed to get some chairs. Far from ideal as half the day was over. The other reason I am not giving five stars is because of one of the outside attractions promoted by Twin Palms in their suggestions for things to do. Fantasea is one of the cruelest, outdated "attractions" in a country renowned for the abuse of animals for tourist entertainment. Fantasea uses live elephants in their shows, night after night, and these creatures have been through horrendous abuse to get them to the point where they will perform. Baby elephants are routinely stolen from their mothers and physically and mentally tortured so that they will either perform in shows like this or allow tourists to ride them. I was shocked to see that in this day and age, a hotel of Twin Palms' standard would recommend such a place. Other local resorts such as Trisara have long stopped promoting such cruelty. Can Twin Palms please consider moving with the times? By way of example, a far more appropriate recommendation would be the recently opened Phuket Elephant Sanctuary, where these beautiful animals are finally given some love and respite and where tourists are welcome to visit and see them without any cruelty involved. I am not affiliated in any way with this place, but it seems a far better alternative to promote than anything that contributes to the abuse of the Asian elephant. Please consider it, Twin Palms. Thank you.
---
Stayed at the Twimpalms Phuket as a trusted "special weekend getaway" resort, and as Catch Beachclub was hosting a favourite DJ during the 'Vibes' series of events. On this stay we were upgraded to a Grand Deluxe Lagoon Pool Room, which we really enjoyed. The "flowing" access from the Room to your private (to a certain extent) terrace and directly into the lagoon pool system is really comfortable, and gives the guestroom an even greater sense of space. It is somewhat like having a "private pool" but without being completely secluded behind a high wall or screen. The facilities remain very good, even though the sunbeds aren't the most comfortable design for "all day lounging". We had dinner at 'Oriental Spoon' which was nice without being mind-blowing, and Room Service was good quality and delivered in a timely manner. The in-house movie entertainment system is very good, with many movie/music options for a variety of interests. The staff service remains top-class, despite the resort often operating at high occupancy. Surin Beach is popular and lively but not crowded, and just a short walk back to the resort or to the nearby convenience stores and restaurants. The Twimpalms remains a favourite on Phuket, and we would recommend it to most for a very comfortable stay.
GandCAdventures - Bangkok, Thailand
---
Stayed here for 4 nights. Loved everything about it. Check in nice and smoothe, staff very nice and smiley. Nice big pool, compare to some other resorts that are bigger and smaller pools. Food by the pool very nice and reasonable prices. The things that we noticed, is the way is managed. Read some reviews, and some1 mentioned lack of fresh fruits before. It looks like management heard them and made the changes. They will offer some during the morning and between 15-16.00 you can go and have a very nice fruit salad inside on an air conditioned room. It shows that management is willing to listen and make changes, top marks. The only thing that didn't make much sense for me was their private beach. You had to pay for the first and second row, even though it was almost empty, only us and another 4 lounge sets. I would understand if it was pretty full. Anyway I thought their hote surroundings where better the bang tao beach, and the beach in front of the hotel is much better. Definitely will be back.
---
We stayed at the Twinpalms for 4 nights at the beginning of the busy Easter holiday period. It is a beautifully landscaped hotel with a fabulous, spacious pool area which is pretty serene even when busy. As clearly advertised by the hotel it is not directly on Surin Beach which is less than 5 mins walk away. Surin Beach itself and the water there is beautiful, not so much the mess of vendors and rubble among the palm trees and between them and the road. The immediate vicinity of the resort is a bit of a struggle as far as choice of 'nice' restaurants goes (Beach Restaurant at The Surin is recommended), but the shuttle set up they have to ferry customers back and forward to Catch and HQ beach clubs is fantastic (runs all day until 2AM!) and can get you to other options at Bangtao and Kamala beaches. Catch was everything you'd want in a funky beach club...HQ was a bit sad and deserted, while Cafe del Mar next door was a wild party! Breakfast at the hotel was great with lots of options, highlights being fresh smoothies and the breads / pastries. They could do with a bit more variation and choice with the fresh fruits though. Our room was the entry level palm room and it was very comfortable with a spacious balcony with comfortable lounging furniture and modern touches like USB charging at the bedside. I would be happy to rate the Twinpalms excellent were it not for the situation I describe below. EASTER SUNDAY: This was not a pleasant day at Twinpalms and unfortunately the hotel staff failed to deal with a situation and put the safety and comfort of hotel guests first. We went to breakfast not long after 7AM and sat at an outside table. A gentleman (already drunk) sitting a few tables away, having a bottle of Champagne for breakfast, immediately began talking / shouting to us. This rapidly deteriorated from pleasantries to him loudly denigrating the wait staff, Thai people in general and then moving on to obscenities about women, sex etc. A family sitting nearby had to get up and leave. He loudly talked at anyone sitting nearby and if they failed to respond would get right into their personal space in a threatening manner. We were shocked that despite the quiet restaurant at this time that the staff sat a couple immediately next to this man, but perhaps the couple asked for that table and the staff simply lacked the language skills to tactfully warn them off. Regardless, even at this stage a staff member of some seniority should have been aware of and monitoring the situation. We couldn't wait to leave and did ASAP. Unfortunately it did not end there. We were horrified to see the man wander down to the pool bar approximately 2 hours later, sit himself down and order another bottle of Champagne. It is also shocking that he was allowed to sit in the breakfast room that whole time and behave in the way he was doing...but we later learnt from other guests who went to breakfast much later that that is exactly what happened. And so he continued. Bothering anyone sitting nearby, sitting himself down at other peoples' tables and harassing them. There was just the most incredibly tense atmosphere around that pool for the whole morning and the pool bar unusually remained largely empty as others felt obliged to stay away...those who inadvertantly strayed in were harassed. Although the Twinpalms is not really a kid hotel, being the Easter holidays there were quite a few children around and I think some families chose to leave the scene. I complained to reception staff, and I wasn't the only one...I think they had been receiving complaints all morning. How did the hotel respond? By doing nothing and continuing to supply more alcohol! People were angry and staff simply looked helpless and said they were waiting on the GM to arrive. Ridiculous! Someone should be empowered to deal with situations like this in the absence of the GM...hotel 'security' did not get involved once from what I could see. It appeared to me that somehow this man was above 'the law'? Indeed he talked about how he was a wealthy VIP, had 'bodyguards' and was a regular customer of the hotel restaurant. I asked one of the reception staff if he was a 'very important man' to which she replied 'Yes'...then became flustered! One thing is for sure, for 5 hours that day his needs were put over and above everyone else in the hotel...and what is especially galling is that I do not believe he was even a hotel guest! As a direct result of the hotel failing in its duty of care to guests, the inevitable happened around lunchtime and the gentleman was involved in a physical fight. Suddenly there was a commotion, and bar chairs and tables being thrown around - as I understand he took a mobile phone from a hotel guest in the bar area. The hotel guest I think received some minor cuts in the incident. So what happened next? As guests lined up in reception (again) to demand action, the gentleman went and sat back down and was allowed to continue with his Champagne. Reception staff were still 'waiting on the GM'. Frankly, a completely unacceptable response. Shortly thereafter the man left...and only once he was ready to do so. As one of many who complained, it would have been nice to receive some sort of response from the GM (including to my comments card handed in on departure). I am aware that he did arrive after the gentleman had already left.
Bazza76 - Melbourne, Australia
---