Please select your dates to see prices:
---
Twinpalms Phuket in Phuket, Thailand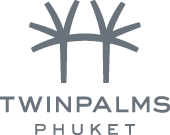 Phuket's Most Exciting and Stylish Contemporary Resort, located in a tranquil and exclusive environment, 175 meters from Surin Beach, 25 minutes away from Phuket International Airport, in an area with one of the most beautiful stretches of golden tropical sand in Phuket, often referred to as "millionaires' row".
Twinpalms offers the comfort of luxury resort, combined with the relaxing tranquility of a secluded getaway. There are only 97 luxurious and spacious Residences, Suites and Rooms, each surrounded by palms, and featuring a private terrace facing the pool with garden view. Among which, 21 unique apartments are designed to lift to your spirits with a generous space and private pool. With a brief to produce a property that has an integrated landscape, the "Contemporary Tropical" design and landscaping incorporate a stunning, world-class water garden. For your dining pleasure, we offer: the ORIENTAL SPOON Grill & Bar, the PALM, the HQ BEACH LOUNGE - dining with beach-side experiences, the POOL BAR - with pool-side experiences, & the WINE ROOM.
Location of Twinpalms Phuket
Twinpalms Phuket
106/46 Moo 3 Surin Beach Rd., Cherng Talay
Phuket, Thailand
Nearest Airport: HKT
Amenities for Twinpalms Phuket
General Information
97 Guest Rooms
Dining
Poolside Dining
Wine Bar
Lounge
Restaurants
On-Site Amenities
Beauty Salon
Pool
Spa Services
Library
Gift Shop
Fitness Center
Butler Service
Gardens
Beach Access
2 Outdoor Pools
In-Room Amenities
Private Terraces
Activities
Yachting
Elephant Trekking
Golf
Reviews for Twinpalms Phuket
---
this place is magic, everything is just perfect. from the welcome at the reception to the room, the pool, the location, the beaches service and shuttle service they have in place. the breakfast. the services all around, personnel take good care off you and always with a smile and professionalism.
enzaenza - Brussels, Belgium
---
This was our 3d visit at twinpalms after 8 years. The hotel looks still fresh and modern. We had a a grand deluxe palm room and loved the room better than the penthouse suite we had the last 2 times. This room is closer to the (pool) action and more cozy. I recommend a room on the first floor for more privacy. Only downside is the view/location NOT at the beach, like e.g. the surin hotel. But the beach shuttle to twinplams runs every 30min. The surin beach is close though, but does not provide nice loungers ot other beach facilities. Hotel is excellent value for money, especially compared with the surin hotel (in high season). If beach location is a must for you, I recommend the surin hotel with its beautiful beach (prices are affordable in low season).
luxuryvoyage - Switzerland
---
very warm welcome from all the staff! 5 stars relationship quality and price. You can not fins a better resort for this price at Phuket! NO WAY! nice rooms and beautiful swimming pool! Thank u for all!
āļžāļīāļ—āļąāļāļžāļ‡ āļĨ
---
We recently returned from Twin Palms at Surin Beach, lovely resort set in beautiful gardens. After arriving we were greeted with a Welcome drink and a wrist garland of flowers, we were then shown to our room by Manita one of the front desk staff who was full of information about the hotel and surrounding area which allowed us to plan our time during our stay. Front desk staff always very helpful and friendly our thanks go especially to Margaux who greeted us every morning with a smile. Rooms were spacious and clean we stayed in a grande deluxe pool lagoon room and also in a deluxe palm room, being so close to the main pool I don't think I would spend the extra for the lagoon room, the deluxe palm room that we got (Room 96) was on the second story close to the reception and had a wonderful view of the main pool. We had breakfast included and enjoyed the buffet each morning and the occasional dinner at Oriental Spoon. Spent most mornings by the pool but found if you did not get there early it was hard to get a sun bed. Really enjoyed our time at HQ and Catch beach clubs especially liked the beach at Kamala cannot say the same about beach at Surin there is no beach club and surf seemed a little rough ( Lifeguards on duty in flagged area) Beach is across the road from the resort but we found if easier and preferred to catch shuttle bus from resort to either of the beach clubs which were only a short drive away. All in all had a great stay.
Anita B - Victoriastaymonth=11
---
A beautiful stay. WE were upgradedon arrival which was a lovely surprise. Many thanks to Pek and her team following after us. We arrived late at night, the chef stayed on to cook for us and that set the tone for our stay. The staff were wonderful and nothing was too much traouble. The hotel has a really. Tranquil and relaxing feel. The pool area is running. I wouldn't hesitate to book even a standard room here. The only disappointment was Surin Beach itself. We understand and agree with the clean up of Phuket beaches. However everything has gone fro Surin Beach which is a shame. So a day at the beach was difficult as hard to get food and definitely no alcohol. We would therefore hesitate to stay at Surin again although we loved the Twin Palms.
caroline1232015 - Binfield, United Kingdom
---