Please select your dates to see prices:
---
Dolphin Bay Resort & Spa in Pismo Beach, California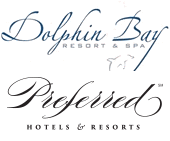 On the scenic, rugged coastline of Central California, halfway between Los Angeles and San Francisco, Dolphin Bay Resort & Spa – part of the LVX collection of Preferred Hotels & Resorts – in Pismo Beach offers an ideal getaway for your next West Coast vacation. Whether you are exploring the nearby wine country, or driving along the fantastic Pacific Coast Highway for its splendid panoramas, Pismo Beach is the perfect place to stop and relish in the area's beauty. Dolphin Bay Resort & Spa's accommodations are exclusively suites, none of which feature less than 985 square feet of well-appointed living space. Your full gourmet kitchen makes meals and snacks a breeze, while a modern entertainment center and complete in-unit laundry facilities provide additional convenience and luxury. Spread out on your private terrace or patio and allow the sweet comforts of Central California to relax you. Should you need a little further unwinding, La Bonne Vie Spa is there with just the thing. Signature offerings designed to rejuvenate and replenish are the hallmark of this holistic oasis, so indulge in a massage or mineral-rich body treatment to experience ultimate bliss.
When you are ready for some classic California weather, take to the sunshine and go for a dip in Dolphin Bay Resort & Spa's sparkling outdoor pool. A fitness center, weekend yoga classes, and a seasonal children's program ensure every guest has what he or she needs, while the 24-hour concierge service attends to anything that you desire. With the ocean just steps away, take a few of the resort bicycles out and discover the local area of Shell Beach. Foodies will adore the resort's Lido Restaurant, where California Coastal Cuisine is showcased through a menu featuring the best of the region's many bounties. An on-site cooking school offers intimate classes with the restaurant's executive chef, and further embraces the natural abundance of San Luis Obispo County. Within a short distance of Dolphin Bay Resort & Spa are a number of boutique wineries, as well as excellent golf courses, wildlife sanctuaries, and historic missions to see. For a getaway that has it all, and has so much more in reach, Dolphin Bay Resort & Spa is a terrific time for all.
Location of Dolphin Bay Resort & Spa
Dolphin Bay Resort & Spa
2727 Shell Beach Road
93449
Pismo Beach, California
Nearest Airport: SBP
Amenities for Dolphin Bay Resort & Spa
General Information
55 Suites
Pet Amenities
Pet Friendly
Dining
Poolside Dining
2 Restaurants
Picnics
On-Site Amenities
Concierge
Pool
Spa on Property
Fitness Center
Live Entertainment
High-Speed Internet Access
Boutique
Outdoor Pool
Beach Access
Outdoor Whirlpool
Laundry Facilities
Outdoor Spa Treatments
Culinary School
Infinity Pool
In-Room Amenities
Private Patios or Balconies
Air Conditioning
DVD Players
Fully-Equipped Kitchen
In-Unit Laundry Facilities
Flat-Screen Televisions
Luxury Linens
Coffee & Tea Facilities
Walk-In Closets
Private Terraces
Activities
Bicycling
Cooking Classes
Croquet
Fishing
Hiking
Kayaking
Tennis
Wine Tasting
Yoga
Whale Watching
Jet Skiing
Surfing
Family
Kids Club
Arts & Crafts
Nearby
Historic Sites
Shopping
Wineries
Golf
Antique Shopping
Parks
Market
Reviews for Dolphin Bay Resort & Spa
---
A true beauty on the bluffs! I stayed here with my family and we brought our dog with us. Overall, it was a wonderful stay. Room: I have stayed in a lot of hotels, and I can say with confidence that this place had the most spacious rooms!! This made a huge difference. The welcome basket for my dog and kids was a wonderful touch. I really appreciate it when places go above and beyond to make things special. It's the little details I notice. The bed was comfy, they had a pillow menu, great shower with awesome water pressure. The pullout beds were the most comfortable pullout sofabeds my family has encountered. The kitchen had everything we needed. Get an ocean view. It's so beautiful! Pool/Beach: The pool is heated and there are towels they provide. There are bbq grills for use nearby. There are lawn games like croquet and bean bag toss. The grass is well manicured and lush. To the other dog owners, there are doggy waste bags provided, but also bring your own in case they run out and please scoop your poop! There is a path, and then steps down to the beach. The beach is not really swimmable, but you can explore the tide pool areas. Please be mindful and respectful of the creatures that you might find. Food: There is a restaurant on site. The two times we went, service was slow. We enjoyed the food though. There are a bunch of restaurants nearby. There was a great deli with prepared sandwiches and such. Things to do: Hearst castle is about an hour away. There's ATVing on Pismo Beach. We went to Dinosaur Caves Park, which is great for toddlers. There's wineries, shopping, etc. Overall it was a relaxing vacation. Everyone we encountered was friendly and helpful. Would recommend!
SassyGRL - Los Angeles, CA
---
We had a 1 bedroom suite with a queen sofa bed with a foam mattress (very comfy). Full kitchen, laundry. In room coffee was excellent - very surprising really. We stayed only two nights but will return for a longer stay. You can bring food, prepare in room, snacks etc. they have 3 or 4 bbq's was that you can use as well. Restaurant on site, we had room service one night and it was excellent - very fast. Heated pool, hot tub, games available for playing outside. Beach is not suitable For swimming but good for exploring.
---
What a wonderful nights stay at Dolphin Bay. Condos were spacious and comfortable. The lady at check-in could not have been nicer. She knew the family was going to visit the dunes the next morning and would want to rinse off after their trip. She kindly gave us a late check out. Very thoughtful staff! The Spa was also a great place to relax. Highly recommend this beautiful place.
---
Dolphin Bay has only gotten better and better. My original stay was just for a long weekend but I extended my vacation a total of four times because I couldn't bear to leave this amazing Resort. the entire staff, including Erica the hotel manager, to the bus boys, including Alex, was so attentive and always had a smile on their face. I wouldn't stay anywhere else and I wish I was there right now. Please feel free to ask questions, I stayed in a 2-bedroom Suite which is really the size of a small home. It was divine. The views were spectacular and as I said before everyone made sure my stay was flawless. I'm still dreaming about the pillows, and choosing from the pillow menu for my family and friends, and the outrageously large bathtub. In fact this was by far the best bathtub I've ever seen - and I've stayed at some of the nicest hotels in the world. I could go on and on about this Resort. I also want to thank whoever reads this from the bottom of my heart for all you did for me during my stay at Dolphin Bay.
Christy H - Los Angeles, California
---
Our family of four booked a spacious three bedroom suite. The second-floor ocean view was fantastic. The amenities were adequate, if not Four Season's quality. Who needs that in Pismo Beach where it is all about the outdoors. Dine at Lido, a fine dining experience that focuses on seafood and a modern twist on the classics. The wine list is surprisingly good with a great selection of champagne and some good wine with a little age on them. After dinner watch a movie and played board games, provided by our host's. The staff was attentive and clean.
Richard G - Studio City, CA
---