Please select your dates to see prices:
---
Thompson Beach House in Playa del Carmen, Mexico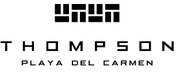 With only 27 guestrooms and suites Thompson Beach House offers a guest a relaxed and intimate environment with oceanfront accommodations in an exclusive Playa del Carmen beachfront setting. Guest at this luxury boutique hotel will experience highly personalized, intuitive service and private check-in. Indulge with an in-room Spa treatment, or 24 hour room service while soaking in the ocean views. Enjoy a Luxury Beachfront Experience, complete with day beds, sofas, and loungers.
Guests at Thompson Beach House have access and signing privileges at Thompson Playa del Carmen its larger sister property located two blocks from the property. Amenities include: 24-hour Fitness Center, rooftop pool and cabanas, Catch and Cinco Restaurants.
Location of Thompson Beach House
Thompson Beach House
Calle 8 y Playa S/N Centro
77710
Playa del Carmen, Mexico
Nearest Airport: CUN
Amenities for Thompson Beach House
General Information
Non-Smoking Property
Dining
Pool Bar
Bar & Restaurant
On-Site Amenities
Concierge
Bicycle Rental
Beach Beds
Beach Amenities
Beach Cabanas
Infinity Pool
Activities
Bicycling
Yoga
Nearby
Shopping
Restaurants
Nightlife
Interests
Beach
City
Hotels
Reviews for Thompson Beach House
---
Despite the fact I am absolutely livid for reasons I'll explain I want to be completely fair in my review so first I'll briefly say this: the service, staff and room were outstanding. Almost flawless. Normally this would be a 5 star review, no problem I would continue with compliments in this vain however I will now outline my problem. Having left the hotel they mistakenly put through my bill of numerous thousands of dollars TWICE. Once was totally fair. The second dupe charge for the same amount was not. We are a young, newly married couple and this was our honeymoon. We are trying to get our foot on the property ladder and so our credit rating is very important to us and therefore inevitable chaos ensued. I was woken up to calls from the bank, penalty charges late charges on penalty charges and credit rating downgrades followed. I was simply devastated. This was not my fault and almost brought me to tears. The bank advised my to speak to the hotel who refused to do the following: a) They did not let us speak to the Hotel Manager, Carlos Carreon. b) They did not acknowledge they had charged me twice claiming the second charge was probably pending and therefore would probably not be debited (but they were not sure). I am yet to find out but either way the bank considered it a charge which is the important point here. c) They assured us we would receive a phone call from the manager after his suspiciously long meeting. (Still waiting on that call - didn't realize meetings lasted half a day!) The member of staff (perhaps a hotel receptionist) did however tell us it was "probably a technical error or something on their machine" and not to worry. Yeah, thanks for that. I am yet to see how this will resolve itself - the expensive 2 hour phone call to the bank, the international phone charges to Mexico, the terror of waking up to calls telling me I've had penalty charges from the bank when I've always given my all for my wife and hopefully one day child to be diligent and responsible financially. One of the saddest things of all; this was going to be our hotel anniversary trip every year to celebrate the most beautiful of holidays. And, again, to be fair it's a great destination. They were all lovely at the time. Just maybe the long term consequences of their error will effect my family's security for years to come. So please beware.
---
Stylish beach hotel with gorgeous decor and an incredible restaurant but the staff stand out above all those things. Everyone is an absolute delight - so lovely, kind, caring and friendly. The management should be very proud of their wonderful staff.
VR747 - London, United Kingdom
---
We stayed at the Thompson for over a week and loved it! The hotel was beautiful and the room was very clean and comfortable. We enjoyed the poolside and beach side relaxation options, there are a variety of options of where to relax. All the staff at the hotel and restaurant were very welcoming and helpful. We felt very safe at the Hotel as there was always security at the entrances. Lezlie at the front desk was for us one of the highlights of our stay. She was so helpful in planning outings and her attitude was always so positive. Thank you Lezlie for all your help! We also ate most meals at the hotel and hotel restaurant. The food is good and the service usually very efficient. They were also sure to cater to our food allergies. Ricardo was our favourite waiter and always was very helpful. You also have access to the other Thompson hotel and their rooftop pool which was beautiful but busier. The atmosphere was very relaxing except the music from the hotel next door, but we got used to it after a few days. We had a lovely stay and would highly recommend for anyone looking for a high end hotel in Playa.
---
This is a very chic hotel on the beach. It is pricey but elegant and cool. The rooms are big and the walk-in shower fabulous. The pool is small but nice. Everybody at this hotel is super nice and helpful. Comes highly recommended as a place to hang out and relax at the super trendy Playa del Carmen on the Mayan riviera
Binni-ice - Reykjavik, Iceland
---
Our family of four enjoyed a spectacular stay at the Thompson Beach House! The concierge, Nadia, should be awarded every accolade. She's truly special! The housekeeping was beyond awesome. Fabulous food! Great location.
---