Please select your dates to see prices:
---
Alma del Pacifico Beach Hotel & Spa in Playa Esterillos Este, Puntarenas, Costa Rica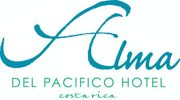 Immerse yourself in nature, art and design at this ultimate seaside escape. Just a 90-minute drive from San Jose International Airport, between the towns of Jaco Beach and Quepos, you will discover Alma del Pacifico Hotel, hiding in the rainforest next to one of the country's quietest, prettiest beaches, Playa Esterillos Este. Here you will enjoy glistening ocean waves, steep verdant cliffs and walking paths that wind through colorful ornamental, herb and vegetable gardens to your oasis bungalow. The highlight of each bungalow is the mosaic-tiled shower that opens into a private tropical garden, perfect for spotting an endangered scarlet macaw spreading its wings over the treetops.
This cute and original hotel has a bit of a California feel, designed by husband-and-wife team Sherrill and Charlene Broudy. Architect Sherrill created sweeping arced ceilings of indigenous wood, while Charlene, a world-renowned artist, filled the space with vibrant paintings, mosaics and tapestries totaling over 150 pieces of original art work displayed throughout the resort. The restaurant features gourmet international and Costa Rican dishes with emphasize on fresh seafood and produce grown in the hotel's own gardens. The lovely seaside spa offers guests an extensive menu of therapies that incorporate organic local ingredients.
Location of Alma del Pacifico Beach Hotel & Spa
Alma del Pacifico Beach Hotel & Spa
Playa Esterillos Este, Manuel Antonio Area
10 6300
Playa Esterillos Este, Puntarenas, Costa Rica
Nearest Airport: SJO
Amenities for Alma del Pacifico Beach Hotel & Spa
On-Site Amenities
Housekeeping Service
Beach Access
Beach Amenities
Infinity Pool
Indoor Jacuzzi
Activities
Nature Walks
Yoga
Boogie Boarding
Surfing
Zip-Lining
Golf
Interests
Beach
Honeymoons & Romance
Reviews for Alma del Pacifico Beach Hotel & Spa
---
A really lovely hotel and spa that sits on a beautiful beach. Rooms are very spacious and clean. Food is plentiful - maybe over generous! Must try rice and shrimps, as well as the orange chicken bowl. Staff are very attentive and fun. Gardens are well set out and colourful. The complex tends to focus on the American market and it is a good distance out of town, so excursions can get pricey if you need transport.
TrevorCrichton - Chesham, United Kingdom
---
I booked this property 6 months before visiting and anxiously awaited my time in January 2018 to arrive. Finally! i was at the hotel of my dreams. I was impressed at the spacious and private room all to myself :) The bathing products were wonderful smelling and organic. The coffee provided in the room was just fine and I really enjoyed the variety of meals at the restaurant. As a single traveler, i found everyone I encountered to be friendly and helpful. I booked an excursion to M.A. while there and the driver was very punctual. It was a bit sad to leave and as I type this, I hope to return next year as well. A few things that were exciting while there was the massive but short lived thunder and lightning storm, and the tropical sized grasshopper which appeared on my tv one evening...all in all, I enjoyed every moment and felt extremely safe.
Monquiface - San Francisco, California
---
We stayed for 10 nights with our kids and have not one single bad thing to say about Alma del Pacifico. The staff was amazingly friendly, the food was excellent, the rooms were wonderful, and the beach is so beautiful. Would recommend to anyone anytime.
---
The five-star reviews are all correct! This is indeed a taste of paradise. An absolutely lovely, small hotel. Originally built by an high end architect and his artist wife for themselves, friends and eventually guests, the 20+ villas are themselves works of art and, quite simply, the best rooms we've ever stayed in and we travel a lot! A tranquil spa centre plus two large outdoor swimming pools and whirlpool set in lovely gardens complete the property. We sunbathed in the grounds right next to the beach and watched hundreds of pelicans 'commuting' to and from the nearby estuary – delightful. CONSIDERATIONS The hotel is very isolated, you need transport to get anywhere other than a couple of adjoining small hotels. The hotel can, however, arrange car hire or a taxi if required. There again, why would you want to go anywhere else! The hotel is a family resort and on our visit about half the villas had one or more children although there is so much space they did not spoil the tranquillity of the place.
Travlintone - Chippenham, United Kingdom
---
Alma is close to San Jose, great beachfront location. Clean and beautiful rooms, good food and very good service from all the staff. A place to relax not feeling crowded even when full. There is enough space for everyone to do their own thing within getting in the way of others.
---