Please select your dates to see prices:
---
Mirbeau Inn & Spa at The Pinehills in Plymouth, Massachusetts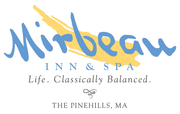 In the past, you might have hopped the Concorde to walk among the lily-filled ponds and gardens immortalized in Claude Monet's Impressionist paintings. Mirbeau Inn & Spa at The Pinehills saves guests the jet lag and adds a touch of time travel, too. This Old World-style manor house feels like it was transported from the countryside just outside of Paris, where stone fences and warm architectural details are bathed in soft, amiable light. There are just 16 guest rooms in the manor house, including two fairytale turret suites, and all are outfitted with a cozy fireplace and oversized French-style soaking tub. In the converted 19th century Family Chapel, Henri-Marie restaurant preserves an upscale Art Deco ambiance, while a more casual bistro serves up 1930s-style cocktails.
Wake on your own and luxuriate in bold fleur de lis bedding in colors that complement the Monet painting in your room. Listen to tree frogs murmur during a reflective walk through the pond garden. Visit Plymouth's most famous sites, including the eponymous rock that welcomed the Pilgrims. After a spa treatment, breathe in eucalyptus-infused steam and melt into the heated foot massage bath in the relaxation area.
Location of Mirbeau Inn & Spa at The Pinehills
Mirbeau Inn & Spa at The Pinehills
35 Landmark Drive
02360
Plymouth, Massachusetts
Nearest Airport: PYM
Amenities for Mirbeau Inn & Spa at The Pinehills
50 Rooms
Non-smoking Property
Fireplaces
Wine Bar
Pilates
Reviews for Mirbeau Inn & Spa at The Pinehills
---
Stayed at Mirabeau due to power outage. First greeted by Stephen at front desk. He was amazing. Gave his flashlights and told us to keep on gas fireplace in case electricity went out. Room was lovely beautifully appointed bathrooms !! Dinner was delicious and the host was fabulous. He was so accommodating to us with a limited "blizzard" menu. Then on our way out the next morning our car was stuck in the lot due to snow and ice. The front desk called maintenance. Within minutes he came out. Jack went out to his car to get 2 shovels and got us out of the parking lot. He dug us out and chatted. He then asked us if we needed anything else and waited to make sure we could get out. What a great way to end a fabulous visit. Thanks Jack! Can't wait to come back!!
Alison H - Cape Cod, Massachusetts
---
I had lost power on Friday March, 2 and was looking for a place to stay with my family. After my husband and I had spent hours trying to find a place with availability, we were happy to see that there was vacancy at Mirbeau. We arrived at approximately 8pm. We were not informed the hotel did not have a back up generator until the gentleman who showed us to our room had advised us to leave the switch on for the gas fireplace for heat for when/if the power "should go out". As Im sure you can imagine after trying to find a place for your family for hours and driving in unsafe conditions, I was in no position to get back on the roads to look for other options. We just settled in and hoped this would not happen. At approximately 9pm the hotel lost power. We sat in the dark until 5 am the next morning. In addition to having no power, we also were disturbed from getting any rest due to a dog barking for a good portion of our stay. I may be judgmental in saying this, but I was surprised that this was a pet friendly hotel. My husband and I had anticipated coming to enjoy the accommodations at some point but have to say after this experience, we are more than disappointed. We had ordered room service and spent $100, only to eat that in the dark. This is after spending $308.00 for the room. We believe being charged for this stay is completely unacceptable. We were not able to enjoy any of the amenities the hotel offered. The only reason for our stay on 3/2 was because we had lost power, something that the facility was unable to provide to us and we feel should have been communicated to all visitors prior to charging for the stay.
daniellegrace129 - Hanson, Massachusetts
---
We are currently here for an overnight and have experienced amazing service from every staff member we have encountered, especially Rick! Between the amazing hospitality and gorgeous accommodations we are already planning our next trip back to this fantastic hotel. Thanks Mirbeau!
---
We did a girls day and spent the whole day. We had a great lunch upon arrival and then headed to the spa after. Overall the spa was great, very relaxing and a fun experience. We all had pedicures done at 2pm and our next treatments were at 6pm so we figured we'd spend our time in the hot tub in between. At the start of the pedicures we were told to pick our color, they said certain colors would dry faster than others. We each picked our color out thinking the drying time would just be a little longer. Then at the end of the pedicure the nail tech said we had to wait 2 hours for the polish to dry and that we couldn't use the hot tub or steam room. That was basically the entire time we would be there before our next treatment. We all would have chosen the fast drying polish had we known we had to wait 2 hours. I think it should be made clear at the beginning of pedicures that you won't be able to use the spa amenities if you chose a certain type of nail polish. Or since the pedicure is already $85 maybe only offer the fast drying polish. We didn't want to miss out on the amenities so we still used the hot tub and the polish ended up melting off of one of our friends nails. It was just really disappointing. We overall otherwise had a good experience though and made the most of it.
---
Surprised my husband for an overnight spa package for his birthday. The accommodations, atmosphere were awesome. The Bistro meals were fantastic. At Spa - we did A Couples Massage - it was very good. Even being outside in the hot tub & fire pit in the cold w/bar service was fun. Looking forward & planning a return visit.
peabodypunk - Boston, Massachusetts
---