Please select your dates to see prices:
---
Grand Papua Hotel in Port Moresby, Papua New Guinea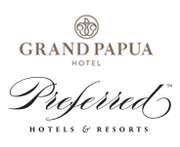 The beauty, history, and cultural mystique of Oceania come to life at Grand Papua Hotel – Papua New Guinea's premier luxury boutique hotel. Situated between the cerulean waters of the Gulf of Papua, and lush, verdant hillsides of Port Moresby, Grand Papua Hotel offers luxury accommodations, unparalleled service, and an unforgettable experience far from home. As you enter the majestic lobby, the simple black and white color scheme takes on luxurious form in marble and glass. Elegant design details embrace the beauty and authenticity of the locale, from the bold accents of color to the regionally inspired art and indigenous florae adorning the common spaces. Despite its location in the city center, Grand Papua Hotel offers a quiet, sophisticated setting in which to unwind and disconnect from the rigors of daily life.
Each of the hotel's 161 rooms, including deluxe rooms, one-bedroom suites, and executive suites exhibit a blend of contemporary design with colonial influences from the region's past. Each room level comes complete with thoughtfully appointed amenities such as plush bathrobes, flat screen television with satellite, stocked mini bar, work desk, and masterfully crafted textiles. Over-sized windows draw in abundant natural light during the day while dim lighting favors an amorous ambiance at sunset and beyond. Dining and entertainment options include the exclusive Executive Club Lounge, offering an ideal vantage point to gaze over the city, and Grand Brasserie, a stylish eatery serving Pacific Rim delights daily. Casual cocktails reign supreme at Grand Bar, while the Poolside Terrace offers alfresco dining by the pool and Jacuzzi. Explore the gorgeous tropical backdrop with a tour guide, or stay in and discover the depths of luxury at the on-site spa after working up a sweat at the hotel's state-of-the-art gym.
Location of Grand Papua Hotel
Grand Papua Hotel
Mary Street
Port Moresby, Papua New Guinea
Nearest Airport: POM
Amenities for Grand Papua Hotel
General Information
161 Rooms and Suites
Dining
Poolside Dining
Outdoor Dining
Restaurant
Room Service
Dining Room
Restaurants
On-Site Amenities
Housekeeping Service
Fitness Center
WiFi
Sauna
Complimentary Parking
Outdoor Pool
In-Room Amenities
Bathrobes
Hair Dryers
In-Room Safes
Mini Bar
Iron/Ironing Boards
Flat-Screen Televisions
Coffee & Tea Facilities
Microwaves
Work Desks
Business
Business Center/Services
Meeting Rooms
Conference Facilities
Reviews for Grand Papua Hotel
---
I like to stay in local branded hotels; hence booking this hotel. The reviews and websites do give a feel of a grand hotel; but it was ok. Airport pickup and drop off. This was a nice service included as part of the booking; its in a nice air con and the driver was nice and friendly. When I arrived there was no one from the hotel; I had to call and ask the lady had disappeared and then came back. Which did annoy me as I was worried no one was there. Checkin Felt like they were a bit slow and not very welcoming. But after my checkin they were ok. Concierge I think the guys name was George; he was good and always there. Location Is right in town; but its very dead. You have to get a tour guide to take you around. Room Was small and clean; but had a great sea view. The room despite being clean was very small and felt a bit miniture. Breakfast Good selection of food; was very average. Resturant food I had a T bone steak and it was very good but expensive; I had my desert in my room and I didnt like the fact they charged me for a tray service which was 1/3 cost of the desert. For a hotel of this standard I wouldn't expect them to charge. Spa I did use them for a hair cut; which was average. Overall It's a good business like hotel; not sure what it is but it felt a bit empty with no atmosphere; Im not sure if this PNG as it wasn't very busy in the area. I even popped into the Crowne Plaza next door and it was dead. I would go back as it is a good business hotel; not so exciting with family. Other They need to be more responsive to emails. I requested them multiple times to advise me of a tour guide; after chasing several times each contact they kept giving me were either non responsive or they didn't provide that service. They need to improve on the communication level. Tour Guide, After going through multiple forums I found Daniel; he was an excellent tour guide and I highly recommend. Im including the details if you need a tour guide; as the hotel are unable to provide. Daniel Wakra +67576880978 / 7266 9696 DanielWakra@yahoo.com or NGtours@yahoo.com
---
This is my second time to Port Moresby and the first time staying at this property. I was greeted with a smile upon my arrival. Free shuttle from the Airport to the hotel. My room was very nice and overlooking the waterfront from the 14th floor. Continental breakfast was nice, but lacking a little in the food selection. Well, at least for my taste. Overall, everyone was very nice and friendly. Despite what many say about Port Moresby, I have never felt uncomfortable during my visit, not felt unsafe at any time. Most of the locals greet you with a smile and enjoy talking with you. Perhaps not a typical place to take a holiday, but perhaps someday. Beautiful BSP bank building just two minute walk from the hotel. Also, views from my room overlooking the water.
Ron780 - Sydney, Australia
---
If you are looking for different cuisines. Grand Brasserie has them all, great valued for money, varieties choices for lunch and friendly services. It is perfect location for quick lunch business catch up.
lisayee2018 - Sydney, Australia
---
Check in was a breeze, staff were very polite and helpful. I booked online hence made some savings.Stayed on the 7th Floor and the view was not to bad. The decor was beautiful however the carpet needs change. The bed was wonderfully soft. Ordered dinner from the in-room menu. 3 different dishes are was delivered to the room in less then an hour. Food was still hot and loved the use of fresh vegetables. And of cause the food was delicious.
MeriPacifica - Port Moresby, Papua New Guinea
---
This hotel is very close to where I needed to be for work. It was safe, comfortable, friendly and convenient. I took advantage of the special floors for women's traveling alone. (They are only booked to women, but keep in mind that this is a hotel not an all- girls dormitory - one morning I ran into a woman escorting a younger man who seemed to have had joined her the night before, to the elevator ;-) The hotel seemed very safe though, and the restaurant was very good. The only thing holding me back from a full set of stars is that the swimming pool isn't a real pool- some fancy camera angles make it look like one, but it is more like a deep reflecting pool. 4 stars, and probably any floor is just as good as another.
---