Please select your dates to see prices:
---
The Heathman Hotel, Portland in Portland, Oregon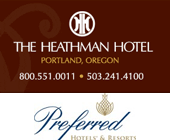 The Heathman Hotel Portland is one of only 30 hotels in the world to enjoy a four-diamond rating for 27 consecutive years. And that's not the only reason why a stay here is memorable. Bright, eclectic rooms compliment an art collection that includes Henk Pender and Andy Warhol, and a cozy lending library stocks signed editions by authors who have stayed there – more than 2,500 titles to date, all available to be delivered to your bedside. A recent landfill-free "green" renovation makes this pet-friendly hotel one of the best environmental options in Portland.
Explore the Pearl District, stopping to shop in local boutiques and bookstores. Take a midday yoga class. Unwind further with a craft microbrew. Back at the hotel, listen to live jazz next to the fireplace in the hotel's original eucalyptus-paneled Tea Court Lounge. Sample Kumamoto oysters followed by a leg of bacon-wrapped venison, or opt for a creative vegan tasting menu.
Location of The Heathman Hotel, Portland
The Heathman Hotel, Portland
1001 SW Broadway at Salmon
97205
Portland, Oregon
Nearest Airport: PDX
Amenities for The Heathman Hotel, Portland
General Information
150 Rooms and Suites
Pet Friendly
Dining
Private Dining
Restaurant
24-Hour Room Service
Bar
Afternoon Tea
Wine Bar
On-Site Amenities
Concierge
Complimentary Newspaper
Library
Fitness Center
WiFi
Valet Parking
Art Collection
In-Room Spa Services
Complimentary Local & Long Distance Calling
In-Room Amenities
Turndown Service
Bathrobes
Hair Dryers
In-Room Safes
Mini Bar
Iron/Ironing Boards
Marble Bathrooms
Flat-Screen Televisions
Luxury Linens
Luxury Bath Amenities
Bottled Water
Nearby
Historic Sites
Shopping
Zoo
Museums
Restaurants
Golf
Parks
Shopping Mall
Theatres
Public Transportation
Convention Center
Interests
Active & Adventure
City
Culture & Arts
Family
Golf
Reviews for The Heathman Hotel, Portland
---
Great place for anyone looking to enjoy Portland! Came here with my girlfriend to explore the area and the hotel staff has been a great help. Located in the heart of downtown and walking distance from great parks by the water, shopping, food and all.
---
Renovations are still continuing though nearly completed. Will look good when eventually finished. At the moment you can't help but feel slightly cheated that you aren't experiencing the whole hotel. We were given one of their refurbished rooms which was bright, well decorated and with the most enormous television screen we've ever seen in a hotel room. One annoyance was that there was no chair, upright or easy or indeed desk so that you could not work or sit other than on the bed. Never been in a hotel room without a chair before and when we pointed this out on checking out was told that 'they were aware of this and were looking to source the appropriate items' - well great but why charge full price for an unfurnished room? Also, if you have booked via a website remember that there are additional charges added by the hotel. We parked in the next road for half the price of the hotels valet parking by the way.
47ontheroadagain - London, United Kingdom
---
I have stayed at the Heathman Hotel, once or twice year for the past four years. Despite a sense a deterioration over this time, I thought I would give it another try for a three night stay 12-15 October. I liked the little chocolate/coffee store downstairs, the drinks in the lobby, the bar/tearoom, the lounge/library/business area. I prepaid for the trip a few weeks before, on the hotel website. I was shocked, on arrival, to find that i had checked into an active construction zone. No lobby, no chocolate shop, no library/business area. A curtailed bar/check-in/tea-room surrounded by scaffolding and tarpaulins. One working elevator. Dust. The rooms have been remodeled and have the industrial odor of new synthetic carpets and paint. I questioned the lobby staff as to why was not informed of this situation - at the time of my prepaid booking. They were not able to answer. I requested that management get back to me. They did not. I sent very emails to Hotel managers and PR but no real response. Even the small gym did not a working bicycle. One "text" in response to my complaint - suggested I come back when it is all finished. Unlikely. I really did give the hotel an opportunity to respond. I have waited a week since checking out and have not heard from them. What I find particularly galling is that there are multiple similarly priced alternative choices all around Portland. If I was going to check into a room without hotel amenities, obviously Airbnb would be preferable. I truly feel that it was dishonest and cynical on the part of the hotel to rent out a room with out warning during construction. I do not know how to upload photographs onto this site, or I would. They are not pretty.
rogerew - New York City, New York
---
I tried the Heathman again, as it was close to the event I was attending. The hotel is in the finishing phase of a remodel, something I think I should have been told when I reserved the room. Was checked into Room 909, clearly designed for ADA accessibility (something I did not need and I was not told this when I checked in). So the room layout was odd. The new decor in the room is 'Kimpton-like.' So, as I indicated in an earlier review, I think it's time to move back to a Kimpton hotel in Portland.
Duck1949 - Eugene, Oregon
---
We had to go to Portland for a meeting, so I thought I'd splurge a little and get a suite at the Heathman. What they don't tell you at Expedia, or on the Heathman's website, is that the hotel is undergoing major construction. There's only one elevator now, lots of boarded up space and noise. Of course the $474 price tag didn't reflect that. The suite was ok, but certainly not impressive. The only choice of pillow was a really tall synthetic pillow that was quite uncomfortable. The hotel's common areas for some reason were heated to some ungodly, tropical temperature. So I set the thermostat down to 70 degrees. The problem is that the ancient, built-into-the-wall AC unit made such a terrible ruckus, that we chose to be too hot instead. You might think this is a really minor point, but the wine glasses in the suite didn't match at all, so you have to choose who gets the crappy, small, rolled-rim glass, and who gets the nicer one. For $500, I expect more! Then I decided to valet my car. As if the almost comically high price of $49.50 per night wasn't enough, mysteriously, upon check-out, there was also a facilities fee and related taxes, bringing the total to park for 8 hours to $75.96. Really?? I can park at a 5 star hotel in Manhattan for less! I was not present at checkout, so didn't find out until later. When I texted back the "GM" who texted me to inquire about the stay, and asked about the fee, I got silence. Same with an email. Avoid this hotel.
---