Please select your dates to see prices:
---
The Heathman Hotel, Portland in Portland, Oregon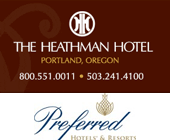 The Heathman Hotel Portland is one of only 30 hotels in the world to enjoy a four-diamond rating for 27 consecutive years. And that's not the only reason why a stay here is memorable. Bright, eclectic rooms compliment an art collection that includes Henk Pender and Andy Warhol, and a cozy lending library stocks signed editions by authors who have stayed there – more than 2,500 titles to date, all available to be delivered to your bedside. A recent landfill-free "green" renovation makes this pet-friendly hotel one of the best environmental options in Portland.
Explore the Pearl District, stopping to shop in local boutiques and bookstores. Take a midday yoga class. Unwind further with a craft microbrew. Back at the hotel, listen to live jazz next to the fireplace in the hotel's original eucalyptus-paneled Tea Court Lounge. Sample Kumamoto oysters followed by a leg of bacon-wrapped venison, or opt for a creative vegan tasting menu.
Location of The Heathman Hotel, Portland
The Heathman Hotel, Portland
1001 SW Broadway at Salmon
97205
Portland, Oregon
Nearest Airport: PDX
Amenities for The Heathman Hotel, Portland
General Information
150 Rooms and Suites
Pet Friendly
Dining
Private Dining
Restaurant
24-Hour Room Service
Bar
Afternoon Tea
Wine Bar
On-Site Amenities
Concierge
Complimentary Newspaper
Library
Fitness Center
WiFi
Valet Parking
Art Collection
In-Room Spa Services
Complimentary Local & Long Distance Calling
In-Room Amenities
Turndown Service
Bathrobes
Hair Dryers
In-Room Safes
Mini Bar
Iron/Ironing Boards
Marble Bathrooms
Flat-Screen Televisions
Luxury Linens
Luxury Bath Amenities
Bottled Water
Nearby
Historic Sites
Shopping
Zoo
Museums
Restaurants
Golf
Parks
Shopping Mall
Theatres
Public Transportation
Convention Center
Interests
Active & Adventure
City
Culture & Arts
Family
Golf
Reviews for The Heathman Hotel, Portland
---
We came in for a romantic overnight trip from Seattle. We walked from the Amtrak station which was a short walk. From the moment we walked into the hotel we knew it was the perfect location and choice for our stay. The décor is beautiful and the room was of perfect size. After checking in we went to the lounge for a cocktail and the bartender created a great specialty drink for me when I said I just wasn't sure what I had wanted...he surprised me. Andrew told us about the tea and we knew we needed to sign up for it. We scheduled it for the next day and he showed up during the tea to ensure we were having a good time, which we were and the whole experience was the perfect end to our out of town trip. Andrew was outstanding and took the extra time to ensure we had a great stay. We appreciated him and his outstanding service. The food for the tea and our breakfast which we had in the restaurant was also wonderful.
ChristinainWashingto - Tacoma, Washington
---
Hello Daryn, I have to be completely honest, we are somewhat disappointed with our stay. We are first disappointed that you are under construction and we did not see this on your website. Nor did we realize that some of your amenities would not be available because of it. We booked a king deluxe room and was really taken aback by the tiny bathroom. My spouse uses a cane, has 8 pieces of hardware in his back and it is hard for him to bend and twist and the bathroom is so tight it is so hard to move in there. We usually do not book a handicap room as we have never needed to, as the bathrooms have always been larger than a closet where we have stayed before. We like to save the handicap rooms for someone who truly needs it. Anyway, I will tell you that when we come to the city we usually always stay at the Nines. We have never had a bathroom issue there. We booked this hotel as we are attending a show next door. We were told, years ago, that you had a walkway to the theatre and we would not be out in the weather, then we found out that you do not use your walkway. That is OK, we booked this place based on your location. But we have been kind of disappointed because we only have the Nines to compare you to. We did not understand why the room service (food) was not on a cart. The tray was hard to deal with as well. Look, it is a good neighborhood and the food, thus far, tastes good. I must tell you that we will think before we book next time.
wonderwomanx10 - Salem, Oregon
---
We stayed in a recently renovated room on the 9th floor. I assumed it would be worth the amount we paid to stay for three nights. I have average hearing and could hear people talking while they walked down the hallway; yes, our door was shut. Throughout the night, other rooms' doors could be heard loudly closing. One night at 3am, a huge thud against a wall or something woke us up. Not the fault of the hotel- but not soundproofed very well. We were surprised the brand new shower, (although shiny and clean!) leaked water onto the floor with normal use. When I booked the reservation, no mention was made of the lobby being closed. I even commented on the photos of the spacious lobby when speaking to someone before our stay, and no mention was made of its inaccessibility. The check-in felt makeshift and there was one small elevator for the whole hotel. On the pro side, we enjoyed free beverages in the evening! Most of the staff seemed genuinely caring and helpful.
ronjon08 - Thousand Oaks, California
---
The old and beautiful hotel is undertaking a renovation. It's open and I found nothing disturbing from this work. My room in the 9th floor was already renovated. It was convenient. The door to the main floor and a connecting door to an adjacent room were both pretty poor in terms of accoustics. You could understand every word from the other room. The service for the bar in the room needs a bit more training. Even after three days I still had a dirty cocktail glass in my room. I had expected more overall from this time-honored hotel. Seems to me they had a management change and need to redefine. Hopefully they will, cause if not it's just another hotel, without his old charm. BTW the reception people were wonderful.
---
great time as always...renovation is a bummer but the Heathman is always a great way to be in Portland...hope the Library stays and those great paintings of the ports of the ...Crab Omelette is the best...
---