Please select your dates to see prices:
---
Hotel Poseidon in Positano, Italy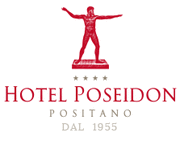 Gaze out over the glittering Mediterranean Sea, shimmering far below verdant, majestic cliffs, and breathe in the crisp, lemon-kissed coastal breeze as you enter the fabulous Hotel Poseidon. Nestled in the hills of Positano, on Italy's beautiful Amalfi Coast, this fabulous hotel breathes with the timelessly relaxing ambiance of the sea. Step out through glass French doors onto your private balcony, and soak in the sunlight as it brightens your room. Crafted in a tranquil Mediterranean style, each room is open and inviting, with pure white walls and a flowing design accented by elegantly tiled floors. Rich period furniture enhances the enchanting atmosphere, transporting you back to a more simple time, while deep beds wrap you in plush comfort each night. Discover the true beauty of Positano, immersing yourself in the classic charm of this gorgeous seaside town, and let Hotel Poseidon be your guide.
After a fabulous breakfast in the family dining room, with the coast warmed by the sun, venture down to the beach for a day of complete relaxation. Find the perfect day bed on Spiaggia Grande, the lively central beach, or stroll down the beautiful coastal path to the Fornillo Beach for a quiet day of splashing in the surf. Enjoy a delightful ride in a sea taxi to the secluded bays of Remmese or Clavel, or tour the coast on your own as you glide along in a kayak. Before returning to the cliffs, head out for a wonderful fishing trip aboard one of the local boats. In the afternoon make your way through the Lattari Mountains, hiking amidst lemon and olive trees in the limestone hills, and take in a sweeping view that is unsurpassed. In the evening watch the sun set above the shimmering tiled dome of the church of Santa Maria Assunta, and shop at fabulous town boutiques before dinner. Return to the hotel that night for classic Neopolitan cuisine at Il Tridente, and savor homemade pasta, delicious local meats, and fresh seafood, served with the perfect Campania wine. With your stay at Hotel Poseidon the beauty of the Amalfi Coast will captivate your heart and soul, and you may truly want to stay forever.
Location of Hotel Poseidon
Hotel Poseidon
Via Pasitea, 148
84017
Positano, Italy
Nearest Airport: NAP
Amenities for Hotel Poseidon
General Information
48 Guest Rooms
Dining
Poolside Dining
Outdoor Dining
Restaurant
24-Hour Room Service
Room Service
Piano Bar
Bar & Lounge
Dining Room
On-Site Amenities
Spa Services
Laundry Service
Fitness Center
Currency Exchange Service
Live Entertainment
Garden
Terrace
Outdoor Pool
Rooftop Terrace
Elevator
Rooftop Sun Deck
Complimentary WiFi
In-Room Amenities
Air Conditioning
Hair Dryers
In-Room Safes
Mini Bar
Satellite Television
Flat-Screen Televisions
Individually Designed Rooms
Private Terraces
Business
Business Center/Services
Nearby
Historic Sites
Shopping
Art Galleries
Restaurants
Beach
Nightlife
Antique Shopping
Reviews for Hotel Poseidon
---
Wow. There is so much that I can say but I'll try to make it short. It was our first time at the Hotel Poseidon. Before the trip even began, Margherita (daughter of owner)wrote me with information about the hotel and area. I was able to ask her questions and get great feedback. Once arriving, we asked for a potential upgrade and were given a choice of views. We upgraded for the better view and spent a lot of time on our balcony because of the view with....coffee...prosecco etc. There was a robe and special flip flops upon arrival as well. We enjoyed snacks/drinks at the bar and the free breakfast (lots of hot/cold choices). We also ate dinner once night and loved it. The location was also great. There are 352 steps each way to the beach or a stroll down the street to the beach from the hotel. I HIGHLY recommend this jewel of a hotel with top notch service (Angelo is a gem), great views, good location and food.
---
What a Place!! From check-in to check-out a PERFECT Place!! The Room!! Our Terrace!! Breakfast!! The Pool!! and Service worth SIX STARS!! Located up the hill from the Beach yet close enough if you wish to walk to beach and ferries. The location keeps you away from ALL the crowds and noise YET you are near to so many FINE RESTAURANTS and shops if you are into shopping. BEAUTIFUL BEAUTIFUL HOTEL!! and for Positano a very good value!! one of the BEST Run Hotels we have ever stayed in!!
Claire W - Plainview, New York
---
My girlfriend and I stayed at Hotel Poseidon for 2 nights in late April and had an absolute perfect experience! From the welcome email, to the concierge, to the pool/deck/restaurant/bar area, to the room and balcony - everything was beyond expectations. The staff is so professional and helpful - they really made the experience a special one. Breakfast by the pool was delicious and complimentary (they even had champagne!). We also enjoyed some wine on their huge terrace around sunset - they had a great menu and great service. The location of the hotel is opposite Sirenuse and allows for an amazing view of that side of the mountain, as well as the water down below. Many of the restaurants are a mere 15 minute walk away and a beautiful one at that. We cannot wait to return to this special, family-owned villa/hotel. It is one of a kind!
ajpappas2591 - New York City, New York
---
We really had a perfect experience here. Our suite had an enormous terrace bigger than the huge room with a picture perfect Positano view. The bathroom had a beautiful tub shower combo that allowed us to soak the soreness after trekking up and down the hills. The staff was incredible. The food was delicious and the breakfast buffet beyond bountiful. I love lemons and the Amalfi Coast has some of the best that they incorporate into all varieties of dishes. The morning lemon cake was a favorite and evening desserts of Delice di limone! The pasta with lemon cream sauce is not to be missed. I just can't wait to return.
ddenne - San Francisco, California
---
Truly the best hotel in Positano, Italy. The staff is outstanding, views are amazing, breakfast is wonderful, the location is perfect and it is well known and respected by the Local businesses. We received top service at restaurants when they knew we were staying at Hotel Poseidon. I cannot say enough about our wonderful stay. It truly is the best hotel in Positano.
---