Please select your dates to see prices:
---
Hotel Poseidon in Positano, Italy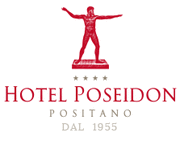 Gaze out over the glittering Mediterranean Sea, shimmering far below verdant, majestic cliffs, and breathe in the crisp, lemon-kissed coastal breeze as you enter the fabulous Hotel Poseidon. Nestled in the hills of Positano, on Italy's beautiful Amalfi Coast, this fabulous hotel breathes with the timelessly relaxing ambiance of the sea. Step out through glass French doors onto your private balcony, and soak in the sunlight as it brightens your room. Crafted in a tranquil Mediterranean style, each room is open and inviting, with pure white walls and a flowing design accented by elegantly tiled floors. Rich period furniture enhances the enchanting atmosphere, transporting you back to a more simple time, while deep beds wrap you in plush comfort each night. Discover the true beauty of Positano, immersing yourself in the classic charm of this gorgeous seaside town, and let Hotel Poseidon be your guide.
After a fabulous breakfast in the family dining room, with the coast warmed by the sun, venture down to the beach for a day of complete relaxation. Find the perfect day bed on Spiaggia Grande, the lively central beach, or stroll down the beautiful coastal path to the Fornillo Beach for a quiet day of splashing in the surf. Enjoy a delightful ride in a sea taxi to the secluded bays of Remmese or Clavel, or tour the coast on your own as you glide along in a kayak. Before returning to the cliffs, head out for a wonderful fishing trip aboard one of the local boats. In the afternoon make your way through the Lattari Mountains, hiking amidst lemon and olive trees in the limestone hills, and take in a sweeping view that is unsurpassed. In the evening watch the sun set above the shimmering tiled dome of the church of Santa Maria Assunta, and shop at fabulous town boutiques before dinner. Return to the hotel that night for classic Neopolitan cuisine at Il Tridente, and savor homemade pasta, delicious local meats, and fresh seafood, served with the perfect Campania wine. With your stay at Hotel Poseidon the beauty of the Amalfi Coast will captivate your heart and soul, and you may truly want to stay forever.
Location of Hotel Poseidon
Hotel Poseidon
Via Pasitea, 148
84017
Positano, Italy
Nearest Airport: NAP
Amenities for Hotel Poseidon
General Information
48 Guest Rooms
Dining
Poolside Dining
Outdoor Dining
Restaurant
24-Hour Room Service
Room Service
Piano Bar
Bar & Lounge
Dining Room
On-Site Amenities
Spa Services
Laundry Service
Fitness Center
Currency Exchange Service
Live Entertainment
Garden
Terrace
Outdoor Pool
Rooftop Terrace
Elevator
Rooftop Sun Deck
Complimentary WiFi
In-Room Amenities
Air Conditioning
Hair Dryers
In-Room Safes
Mini Bar
Satellite Television
Flat-Screen Televisions
Individually Designed Rooms
Private Terraces
Business
Business Center/Services
Nearby
Historic Sites
Shopping
Art Galleries
Restaurants
Beach
Nightlife
Antique Shopping
Reviews for Hotel Poseidon
---
Staff were excellent and helpful, including an owner. Room was good size. Be advised: Tables are glass top, so often banged into the corners when moving around the room. Bed ok. Bathroom: Needs updating. Only one sink. Shower water pressure just ok. Location problematic, but this is the case for most hotels in Positano that are not near sea level. Street system is mostly one-way. Taxis from the beach have to take a circuitous route -- 25 euro. Elevator, which the hotel claims is the first in Positano (I think circa 1950's/60's), is a real pain. A definite negative. The big problem is the cost. For over 700 euro/night we expected more value.
GREG D - Wollerau, Switzerland
---
We were booked at this hotel through Mario Fortini of Bellarome Travel Agency, and he really knew the best place on the Amalfi Coast! The hotel is a jewel, the rooms are comfortable and lovely. The staff is very helpful and friendly. The food served here is the best we had anywhere in Italy! The breakfast was wonderful, so many local pastries! We had dinner there and the lemon fettuccini was my favorite. The next night they were booked up at the restaurant but they served us a nice dinner on the patio while we enjoyed the beautiful view and lovely live music. I'm just sorry we didn't stay longer. I give this hotel my highest recommendation!
Becky L - Ocean Springs, Mississippi
---
After the drive around the bends getting there, it was fantastic to offload our car to someone who would park it safely until we needed it again. Hotel Poseidon not only looked after our car, their service levels and friendliness was top notch (very good). The location was great for local restaurants and not even far to walk to the beach. Also the internal bus stopped just a few meters away. Perfect! The restaurant and bar were pretty goods, with a nice breakfast and a lot of places to relax and put your feet up. Only downside was the noise - so take some earplugs. I think the noises from outside would affect most hotels in the area, although some of the internal noises came from our location which I think was just below the kitchen area. Really enjoyed our 3 nights here and would highly recommend.
Fodinette - Melbourne, Australia
---
Wow. There is so much that I can say but I'll try to make it short. It was our first time at the Hotel Poseidon. Before the trip even began, Margherita (daughter of owner)wrote me with information about the hotel and area. I was able to ask her questions and get great feedback. Once arriving, we asked for a potential upgrade and were given a choice of views. We upgraded for the better view and spent a lot of time on our balcony because of the view with....coffee...prosecco etc. There was a robe and special flip flops upon arrival as well. We enjoyed snacks/drinks at the bar and the free breakfast (lots of hot/cold choices). We also ate dinner once night and loved it. The location was also great. There are 352 steps each way to the beach or a stroll down the street to the beach from the hotel. I HIGHLY recommend this jewel of a hotel with top notch service (Angelo is a gem), great views, good location and food.
---
What a Place!! From check-in to check-out a PERFECT Place!! The Room!! Our Terrace!! Breakfast!! The Pool!! and Service worth SIX STARS!! Located up the hill from the Beach yet close enough if you wish to walk to beach and ferries. The location keeps you away from ALL the crowds and noise YET you are near to so many FINE RESTAURANTS and shops if you are into shopping. BEAUTIFUL BEAUTIFUL HOTEL!! and for Positano a very good value!! one of the BEST Run Hotels we have ever stayed in!!
Claire W - Plainview, New York
---