Please select your dates to see prices:
---
Alchymist Grand Hotel & Spa in Prague, Czech Republic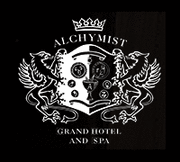 Combine gracious hospitality with a 16th-century Baroque landmark and you have the beautiful Alchymist Grand Hotel & Spa. Just steps from the fabled Charles Bridge, this intimate retreat reflects the nobility of historic Prague. From the Imperial Suite with its view of Prague Castle to the Presidential Suite in the historic wing, each accommodation is a romantic sanctuary. Savor Mediterranean cuisine at Aquarius Restaurant, and enjoy a morning espresso or evening nightcap at the Casanova-inspired Barocco Vaneziano Café.
To prepare for your day's excursion, indulge in a treatment at the Ecsotica Spa, whose healthy offerings also include a sushi bar. Thoroughly relaxed, you can set off to explore the Old Town, take a boat ride along the Vltava River or day trip to the Bohemian town of Trebon. Beer halls, Renaissance architecture,golf, wineries and a magnificent castle complex - whatever you are in the mood for, you will find it in Prague and its picturesque surrounding countryside.
Location of Alchymist Grand Hotel & Spa
Alchymist Grand Hotel & Spa
Trziste 19
Prague, Czech Republic
Nearest Airport: PRG
Amenities for Alchymist Grand Hotel & Spa
General Information
47 Guest Rooms
Dining
Restaurant
Cafe
Bar
On-Site Amenities
Spa on Property
Fitness Center
Sauna
High-Speed Internet Access
Wellness Center
Indoor Pool
In-Room Amenities
Air Conditioning
CD Players
DVD Players
In-Room Safes
Mini Bar
Satellite Television
Marble Bathrooms
Business
Business Center/Services
Meeting Rooms
Nearby
Historic Sites
Art Galleries
Restaurants
Theatres
Interests
City
Culture & Arts
Summer Getaways
Winter Getaways
Reviews for Alchymist Grand Hotel & Spa
---
I have discovered this gem 10 years ago and since then, I love to come back on every business or private trip. Alone or with family. Perfect for leisure , with best and most magical spa area in basement. Best balinese hands as a cherry on the cake when you decide for one of the treatments down there. You will be charmed with amazing athmosphere, the magical scents, best massages , for which it is worth to pay a bit more . Small pool with a historical large bed aside offering relaxation after sauna , swimming or massages . Simply the best way to spend time when the weather outside does not allow sightseeing. For me even in case it does, but I am exhaused after long business day. Rooms are each different and great. Personal lets you feel welcomed and at home. And when you wish to finish the day the perfect way, go down to their restarant Aquarius and you will be in culinary heaven. Whatever you choose. I could not recommend this place more! Thank you for being my home while away from home!!! <3
---
Excellent Hotel in the old city of Prague. Close to the castle. Very calm and extremely friendly staff! The Spa has a wonderful interior and the staff is friendly, professional and discret. The breakfast buffet is great and the rooms are marvelous!!!
---
We can't speak more highly of the Alchymist. The hospitality here truly raises the bar. All staff were very friendly consistently. The decor is quite regal and generally a little too fussy for my normal taste, however, the architecture, soft furnishings and royal welcome genuinely do mix together to give a real Bohemian Boutique experience. We stayed for 3 nights for our first visit to Prague. The hotel is located up a quiet street traffic wise (due to its proximity to the American Embassy.) It was easy to access on foot the hustle and bustle of The Charles Bridge and other attractions, while retaining an elegant charm and tranquil vibe. Staff accommodate special requests, such as dietary needs like gluten free with total ease. Nothing was too much trouble. We would definitely choose to return there on a heartbeat. Thank you to everyone there who made our stay so perfect!
DezHayleyandHolly - Cannock, United Kingdom
---
From the minute you walk out of the car, you are greeted with 100% care and concern on what they can do to make your stay the best ever.....and they did! I really didn't leave the hotel for 3 days! It's that magical. I will be back and there is no reason to stay anywhere else in Prague. Gotta go with me on this. I stayed at the Hilton also and all I kept thinking about was the Alchymest Grand Hotel. It's across from the US embassy and in lesser town. A short walk down the hill and you are in the mecca of quaint shops, cafes, anything. You're also by St. Nicholas' church and the Lichtenstein Palace where I recommend you go to an ensemble concert. Getting back to the hotel, the breakfast that is included is to die for! The service is like you were a queen or king, crystal, china, linen tablecloths. the lovely manager always comes by to see if your stay is going well. The flowers, in the courtyard are stunning. The Spa is amazing, there are no words. Rhatmi was my therapist and it's like walking into Tahitian Royal getaway. Walk over a koi pond with bridge. Wind around little alcoves that are your treatment room. Always serving you dried fruit and tea. I've been to many spas around the world, I have to say this is my favorite and so was Rhatmi. Get the signature Alchymest massage, a combo of many styles and I highly recommend it! Ok, I've gone on long enough but this gave me an opportunity to live this dream again!
---
Based on TripAdvisor reviews, we intended to stay at the Alchymist hotel twice before, but had to cancel at the last moment (kids getting sick, etc.). This time we made it - although only for one night, staying in Prague on our way to Marianske Lazne. We did not regret it at all. The Alchymist hotel met all our expectations. The room was absolutely fantastic - very authentic and comfortable at the same time, nothing to complain about. Our youngest daughter, aged 5, did not want to the leave the fairy-tale Tower Suite (we were upgraded there from the Family Suite booked). The service from the porter to the reception to the room service to the cleaning was exemplary - these people do care about what they do and how they do it. All our requests were met at once and with pleasure. The hotel itself is a piece of art - a memorable place to stay. Highly recommend to anyone who appreciate authenticity and impeccable hospitality.
Wanderer250372 - St Petersburg
---