Please select your dates to see prices:
---
Le Palais Art Hotel Prague in Prague, Czech Republic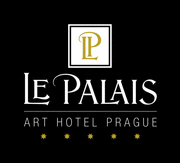 A masterwork of Belle Époque design, Le Palais Art Hotel Prague is a classic Prague landmark and a luxurious boutique hotel just outside of Old Town. After a thoughtful restoration it now showcases magnificent frescoes by one of its own creators, celebrated bohemian painter Luděk Marold. This esteemed member of Leading Small Hotels of the World presents a confident grace, historical elegance, and exquisite attention to detail throughout every aspect.
Le Palais Art Hotel Prague treats you to innovative cuisine at its signature restaurant, Le Papillon, where modern seasonal fare is based on the freshest ingredients from around the world. Relax to a splendid view on the Garden Terrace, or retreat to the Lobby Bar for a perfect ending to a wonderful day. The hotel's central location makes an ideal base for guests to discover the dazzling city that surrounds. Among its many highlights are Prague Castle, home to St. Vitus Cathedral, and the Royal Palace. Other beloved destinations include nearby Old Town, with its intrepid Renaissance architecture.
Location of Le Palais Art Hotel Prague
Le Palais Art Hotel Prague
U Zvonarky 1
120 00
Prague, Czech Republic
Nearest Airport: PRG
Amenities for Le Palais Art Hotel Prague
General Information
72 Guest Rooms
Pet Friendly
Dining
Private Dining
Restaurant
24-Hour Room Service
Bar
On-Site Amenities
Beauty Salon
Concierge
Shoe Shine Service
Spa on Property
Laundry Service
Library
Fitness Center
WiFi
Currency Exchange Service
Sauna
Live Entertainment
High-Speed Internet Access
Valet Parking
Art Collection
Hamam
Cigar Lounge
Car Rental
Private Garage
In-Room Amenities
Air Conditioning
Direct Dial Telephones
Hair Dryers
In-Room Safes
Mini Bar
Satellite Television
Marble Bathrooms
Coffee & Tea Facilities
Luxury Bath Amenities
Heated Floors
Bottled Water
Bathrobes & Slippers
High-Speed Internet Access
WiFi
Business
Business Center/Services
Meeting Rooms
Nearby
Historic Sites
Shopping
Restaurants
Parks
Convention Center
Interests
City
Culture & Arts
Hotels
Summer Getaways
Reviews for Le Palais Art Hotel Prague
---
Very pleasant stay: Check-in: 8/10: Very friendly and warm welcome. Was suprised how small lobby and bar was on arriving. Room/facilities: 7/10: Beautiful bed. Slept very well. Furniture was outdated though and in need of upgrade. View was of a chimney 5 inches from velix window and other window I needed to stick head out and look. Great mini bar. Underfloor bathroom heating. Great shower and bath. Room service was 5 star. No iron in room. Touch to open lock was great. Cleanliness: 9/10: Superb. Some dust and toilet was not sealed before use to certify it had been disinfected. Very petty but just not a 10. Location: 8.5/10: A good walk to main area but many shops, restaurants and bars within a few minutes walking distance. Would prefer to be closer next time. Would I return? Yes but would probably choose another hotel closer
---
Would like to say thank you to all the staff who made our stay one of the best ! The hotel rooms and design are really excellent ! Our room was in the 2nd floor and it was a very spacious room with a beautiful view of Prague with a marbled bathroom ! All the essentials were there and especially the blinds they are with a switch near the headrest so during morning time you can literally stay in bed and open them. Breakfast was very very good too, different choices to choose from oats, cereals, english breakfast, waffles, cheese, cakes etcc. Location was perfect only few minutes away from the centre. Would like to thank all the staff who made this experience an unforgettable one !
tutacirasa - Island of Malta, Malta
---
We just spent an amazing four days in Prague. Apart from the beautiful city, we also really enjoyed our stay at this hotel. We had an executive room which had everything we needed and apart from the top class hotel facilities I must say the staff at Le Palais Art Hotel were super friendly and helpful ! The location in Prague 2 area, was also really convenient as it was nice and quiet but at the same time only a 10 minute tram ride from the city centre !! Definitely would recommend and hope to visit again one day.
---
A very elegant boutique hotel in a decent part of town. Old town is a 25 minute walk or accessible by metro or tram. Our room on the 4th floor was small but comfortable. We ate breakfast only. Overall we had a good stay. There were however issues with our room where our coffee/tea cups disappeared after our room was made up(twice). Similarly the complimentary water also went missing. Not the end of the world, but annoying and not 5* service. Breakfast was good quality and included complimentary prosecco, a nice touch. Again though the service was sadly lacking. On Sunday it appeared all the guests wanted to breakfast at the same time. Consequently it was chaos! There was no system to seat people in order of arrival (how difficult is it to note room numbers and call guests through in the correct order?). Instead it was a free for all, with those nearest to the restaurant being seated. We waited in the lobby as directed. I lost patience after 30 minutes, when we were eventually seated. Please get a system in place to cope with this. On a positive note, Pavlina, one of the breakfast staff was delightful! Always there with a coffee refill or offer of a glass of Prosecco and when time allowed was able to chat for a while. She made us feel very welcome and did a great job. Thank you Pavlina! 10/10!!
CarlSss - Norwich, United Kingdom
---
My wife and I stayed at this 72 room hotel for four nights - my wife's inspired choice. The hotel, which was acquired in 2013 by it current Its Ian owner, hosts in its public areas both paintings and sculptures from artists such as Ludek Marold, Le Corbusier, Milos Reindl, Patel Brunclik and Lea Vivot . The hotel location - in a quite cul de sac with spectacular views across the city is superb and gets better when the dawn chorus starts. A short 10 minute walk takes you to Peace Square where you can find good Czech, Belgian and Italian restaurants. After another 5 minutes you arrive at the National Museum and Wenceslas Square and Old Town. The staff - from front of house to room services to waiting staff were all brilliant in every respect - courteous, helpful and informative. Our room (105) was warm, had every comfort, lots of hot water for the post walk soak and was maintained to a very high standard. Breakfast was a joy - a wide selection of both hot and cold food including fresh fruit. Would I stay here again - most certainly - if you get the chance take it
Scotsman449 - Linlithgow, United Kingdom
---