Please select your dates to see prices:
---
Le Palais Art Hotel Prague in Prague, Czech Republic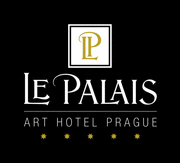 A masterwork of Belle Époque design, Le Palais Art Hotel Prague is a classic Prague landmark and a luxurious boutique hotel just outside of Old Town. After a thoughtful restoration it now showcases magnificent frescoes by one of its own creators, celebrated bohemian painter Luděk Marold. This esteemed member of Leading Small Hotels of the World presents a confident grace, historical elegance, and exquisite attention to detail throughout every aspect.
Le Palais Art Hotel Prague treats you to innovative cuisine at its signature restaurant, Le Papillon, where modern seasonal fare is based on the freshest ingredients from around the world. Relax to a splendid view on the Garden Terrace, or retreat to the Lobby Bar for a perfect ending to a wonderful day. The hotel's central location makes an ideal base for guests to discover the dazzling city that surrounds. Among its many highlights are Prague Castle, home to St. Vitus Cathedral, and the Royal Palace. Other beloved destinations include nearby Old Town, with its intrepid Renaissance architecture.
Location of Le Palais Art Hotel Prague
Le Palais Art Hotel Prague
U Zvonarky 1
120 00
Prague, Czech Republic
Nearest Airport: PRG
Amenities for Le Palais Art Hotel Prague
General Information
72 Guest Rooms
Pet Friendly
Dining
Private Dining
Restaurant
24-Hour Room Service
Bar
On-Site Amenities
Beauty Salon
Concierge
Shoe Shine Service
Spa on Property
Laundry Service
Library
Fitness Center
WiFi
Currency Exchange Service
Sauna
Live Entertainment
High-Speed Internet Access
Valet Parking
Art Collection
Hamam
Cigar Lounge
Car Rental
Private Garage
In-Room Amenities
Air Conditioning
Direct Dial Telephones
Hair Dryers
In-Room Safes
Mini Bar
Satellite Television
Marble Bathrooms
Coffee & Tea Facilities
Luxury Bath Amenities
Heated Floors
Bottled Water
Bathrobes & Slippers
High-Speed Internet Access
WiFi
Business
Business Center/Services
Meeting Rooms
Nearby
Historic Sites
Shopping
Restaurants
Parks
Convention Center
Interests
City
Culture & Arts
Hotels
Summer Getaways
Reviews for Le Palais Art Hotel Prague
---
The room was located on the top floor and was small with head space affected by the sloping roof. The view was very limited and was of neighbouring roofs although excellent block out of light was provided by the roller blinds. The bathroom was very small and awkward to use because of this. I requested a larger room and the reply was -" I don't think one is available but I will check and get back you you" She never did get back! The meals in the dining room were excellent although the Restaurant Manager was an interesting character to say the least with his 'touchy, feely' approach with dinner guests and his general demeanour. The dining room almost had a whiff of 'Fawlty Towers' about it! The included breakfast was very good with a large variety of food on offer. The hotel position in a quiet cut de sac in a nice area of Prague was good and it was easy to catch a tram (No.22) to the city centre. The concierge was excellent in giving directions and advice. A nicely appointed and furnished hotel with interesting works of art on view but for this sort of money and 5 stars, it is a bit over-priced.
parrots438 - Adelaide, Australia
---
I went on a business trip in Prague in April 2018 and the travel assistant of our company had arranged rooms in this hotel. I arrived in the evening and hotel's staff blocked about 150$ on my credit card as a minibar deposit. I approved this blocking transaction with a PIN code. On the next day, however, I revealed another blocking transaction in the amount of 960$, which is even higher than my total accommodation fee. When I asked the hotel's staff about the second transaction, I received the following answer: On my arrival, they thought that my room is prepaid, but when they found that it is not, they just blocked 960$. Attention please - at the moment when they performed the second blocking, they DID NOT have my credit card, and I DID NOT confirm this transaction! So, they just blocked that money without my agreement and awareness! I am just shocked if they have such a policy to charge a guest any amount they want without any approvement, and even worse, that they have a technical opportunity to do so. I am not a lawyer, but I feel that such an action can be qualified as a fraud. When I was checking out, they cancelled pre-authorization of payment since I paid with another card, but it has now been five days since I left the hotel, but 960$ is still blocked on my account. Another thing which makes me upset is that when the travel assistant contacted with the hotel's manager to clarify the situation, he was explicitly dishonest. For example, in his answer, he said that "all clients are informed upon check-in about the pre-authorization fee" which was not true in my case, otherwise I would personally approve this transaction. His words "we actually made pre-authorizations lower than is final amount" is a next lie since my final amount was about 16000 CZK and the pre-authorization sum was 20000 CZK, and he cannot be unaware about it. Finally, he said "it depends on customerĀ"s bank when they release blocked amount", while two banks are involved the customer's bank and the hotel's bank, and it might take up to two weeks to release money. I don't know how to classify this last answer either a lie or an unprofessionalism. These answers demonstrate attitudes of the management of this hotel. Instead of saying sorry and assure that they make changes in their corporate policies to improve quality of providing service, they just say, metaphorically, "we don't care, these are your personal problems". Overall, think twice about would you like to pay for a 5-star hotel and, finally, be one-on-one with "your own problems" originated by the hotel?
---
Overall impression from hotel was good, if I haven't faced with huge issues with payment. While check-in receptionist said that hotel would like to take a small deposit for mini bar in room (3000 CZK). And this transaction was authorizaed through PIN-code. But on the next morning I have seen notification from my bank, that hotel withdrawal from my bank account during the night 20000 CZK. So, I went to reception and asked for reason. No one in reception could explain me why they did it, except stupid explanation like "We have thought that you have pre-paid room, and during the night we have noticied that this is not true". How is it possible? You don't know was room pre-paid or not, really? So I my question was how is it possible without PIN-code or my signature, it was very strange. Also I was lucky, that my bank have performed this operation like deposit and have freezed money on my bank account, but some my colleagues were not so lucky, and their bank made these operations like a withdrawal and hotel could't return these money to account before check-out, as they said in the beginning.
---
This nice hotel, once classified Small Leading HĆ"tels, is still a Must if you want to get quality and escape quantity in the crowded city of Prague. It is a small 5 star hotel , designed with taste, comfortable and pleasant. Price/quality ratio is fine and all services are to your expectations . Location of hotel is very quiet , although still quite close to Wenzelas place. Maybe breakfast could be a little more innovative, but it is overall still very complete .
Charles-Louis_C - Luxembourg City, Luxembourg
---
Very pleasant stay: Check-in: 8/10: Very friendly and warm welcome. Was suprised how small lobby and bar was on arriving. Room/facilities: 7/10: Beautiful bed. Slept very well. Furniture was outdated though and in need of upgrade. View was of a chimney 5 inches from velix window and other window I needed to stick head out and look. Great mini bar. Underfloor bathroom heating. Great shower and bath. Room service was 5 star. No iron in room. Touch to open lock was great. Cleanliness: 9/10: Superb. Some dust and toilet was not sealed before use to certify it had been disinfected. Very petty but just not a 10. Location: 8.5/10: A good walk to main area but many shops, restaurants and bars within a few minutes walking distance. Would prefer to be closer next time. Would I return? Yes but would probably choose another hotel closer
---